Article and photos by Margot Liebman
The entrance to Eataly from 23 street
Eataly was the perfect combination of old-world European market and true Manhattan glamour. Centrally located on 23 Street, one of the main cross-town routes in New York City, it was easy to get to and fun to visit. I went with friends on a Saturday afternoon in October, a popular time to go, and again in March. It seemed to me that locals and tourists were visiting Eataly.
An example of the signage scattered throughout Eataly
When I walked in I noticed two things, an exquisite selection of produce and a huge crowd. I admit that I panicked, but only momentarily. After marveling at the orange chanterelle mushrooms, baby purple artichokes, and tiny rock-like potatoes, I made my way into the main part of the market.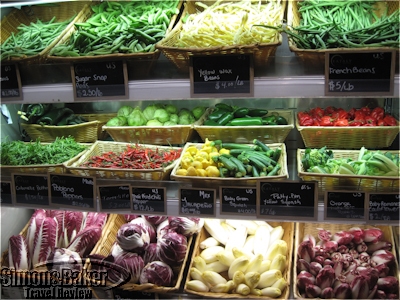 The produce display near Eataly's main entrance
The entire place was over 50,000 square feet (4,600 square meters) with high ceilings and pools of light. There were marble tables, white walls, stainless steel shelves and an abundance of food. The market sections had packaged pastas, sauces, olives, meats, sweets and many imported items. There was a Gelateria (Italian ice cream section), an espresso bar, a chocolate counter, a fishmonger, a butcher, and a bookshop. It was a bit overwhelming, but after I took some time to wander around I got the lay of the land.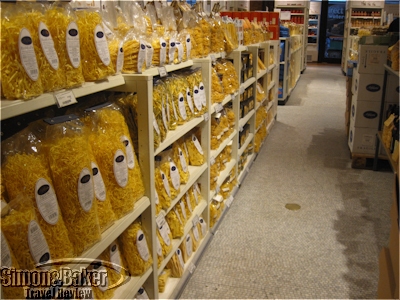 One of the pasta aisles in the market
There were six restaurants, each one focusing on one type of food. Il Manza (reservations were required for this one), Il Pesce (Italian for the fish), Le Verdure (Italian for vegetables), Birreria (Italian for the beer place), La Piazza (The Plaza, selling sandwiches and charcuterie products) and La Pizza & La Pasta. We found a spot at the bar at Il Pesce where we had a direct view into the kitchen.
Macelleria, where you can buy fresh red meat
To start we ordered a raw fish selection that included sea bass and tuna topped with tiny roe and a citrus glaze. It was better than my favorite sushi restaurant. Next was a whole branzino (a silver-skinned fish found in European sea and saltwater lakes) prepared simply on a salty bed of paper-thin potatoes. We also ordered grilled scallops in a lemon and butter sauce served in a large seashell. On the side we had a bed of sautéed, garlicky mustard greens. The fish was fresh and flavorful, and each dish complemented the other. The service was fast and friendly and we had a great time watching the chefs prepare each plate.
Rounds of cheese stored near the wine bar
Next, we toured the market. On some days Eataly offered classes. I planned to check the website's Learn section for a schedule of upcoming programs. In the past, topics have ranged from olive oil tastings to cooking classes, to history of Italian Cuisine with prices between $60 and $275.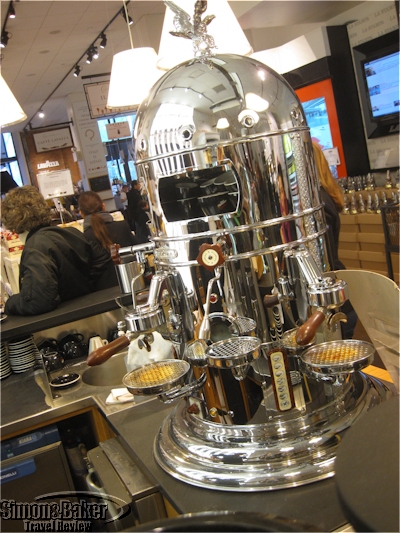 The antique-style espresso machine made a delicious cappuccino!
That day there was a free grappa tasting so we tasted a few sweet liquors like Strega and Limoncello. Next we made our way to the espresso bar where coffee was served from an antique-style machine. Of course, we also had to try the Gelateria and helped ourselves to a raspberry and chocolate double-scoop; when I closed my eyes I thought we were eating a real raspberry.
Overall, Eataly appeared to me to be a food-lover's paradise. Offerings the day I was there were high quality, exotic, fun and well organized. Staff served the food quickly. We paid the kind of high prices we have paid at upscale Manhattan food shops.
Mushrooms, artichokes and dried peppers in the produce section
Eataly was founded and created by Oscar Farinetti, an Italian entrepreneur. His partners included Mario Batali and Lidia Bastianich, celebrity chef and restaurateur respectively, as well as Joe Bastianich, a restaurateur and Lidia's son. I liked that Eataly partnered with Slow Food, a nonprofit organization founded to counteract fast food and fast life.
The store offers many imported goods such as these pasta sauces
I will return because I had so much fun exploring the whole place and I would like to try the other restaurants. If I were in the neighborhood, I might stop in just for a scoop of gelato at Eataly NYC (200 5th Avenue, New York City, (212)229-3560, info@eataly.com, www.eatalyny.com).