By Elena del Valle
Photos by Gary Cox
The SeaDream I
Last December we spent a week aboard the SeaDream I making our way between small Caribbean islands. As with the European SeaDream II voyage we took in the past what we liked most was the intimate ambiance, gourmet offerings and service orientation of the all-inclusive luxury voyage.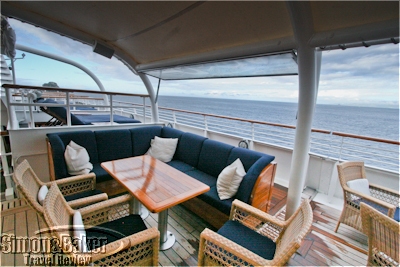 A great spot for morning coffee near the Top of the Yacht bar
We were half full with 54 passengers and nearly a full crew compliment of 94 aboard the 344 feet long vessel with a 47 foot beam. Although our ship was small and offered a limited variety of entertainment options compared to the mega cruise ships with scores of decks, multiple restaurants and facilities and thousands of passengers and crew that now pepper the oceans it was the perfect size for a small group such as ours. While there were fewer activities than aboard larger vessels there were enough options to meet our desires. We were pleased to relax and meet some of the other passengers at happy hour, meal times and between shore excursions.
Our cabin on the SeaDream I
One of the hallmarks of SeaDream is service. When we arrived at the dock on our way to the ship, as we were exiting our taxi, an energetic young man from the ship, in uniform, approached us and introduced himself purposefully. He immediately coordinated the delivery of our luggage and escorted us through the security point. That kind of friendly and efficient service was repeated on board. That first impression set the tone for the remainder of the trip.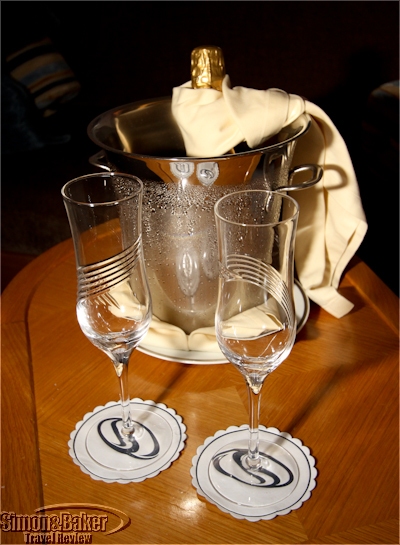 Welcoming bubbly on ice
The size of the group and ship offered myriad advantages we enjoyed. Aboard the ship there were never crowds, lines or reservations necessary for meals. Staff and even fellow guests could often easily recognize each other. Nearly all the staff we encountered greeted us and other guests by our names during that week.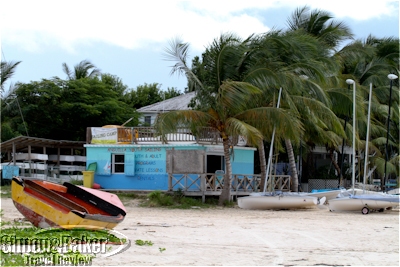 On the beach in Anguilla
At anchor we were often the only large vessel at the places, several of them off-the-beaten-path islands, we visited. As we walked along the beach in Sandy Ground, Anguilla a local couple we spoke with commented that it was rare to see ships in that area. In Saba, we heard from the crew and the locals that often inclement weather prevented access to the island and few large ships stopped there. Although the weather had been dubious at times Lady Luck smiled upon us that day, making it possible for us to explore the tiny and picturesque Dutch island.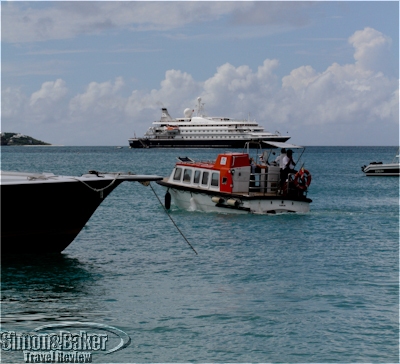 The SeaDream I tender heading out to the yacht
Another benefit we appreciated were the speedy and comfortable shore transfers within covered tenders. We became aware of the difference when observing fellow passengers from a similar ship embarking and disembarking, partly wet, from their ship's dinghy when we went ashore completely dry and in the superior shelter and comfort of our small water craft.
Grilled lobster tail on a bed of vegetables
What we noticed and many experienced cruise aficionados in our group shared with us was how special the meals were aboard SeaDream I. Food, as is common aboard cruises, was abundant. Meals, often plated and prepared a la minute, were outstanding. Gilles de Cambourg, executive chef, Ferenc Béres Molnar, pastry chef, Pablo Raschetti, sommelier, and the dining service staff went the extra mile to ensure our meals were delicious and well served, every time. There was even a celebrity chef from the United Kingdom, Levi Root, spicing things up aboard that week. The quality standards extended to room service meals. Twice we ordered from the in-room dining menu; both times the dishes were well prepared, well presented and served within minutes of our order.
A favorite breakfast and lunch dining spot
We will keep Sea Dream yachts at the top of our list for luxury, laid back, all-inclusive, service and gourmet oriented intimate sea voyages and recommend them to friends who share our appreciation for cozy luxury voyages. Click here to read more about our week in the Caribbean aboard SeaDream I.