Article and photos by Elena del Valle
Braised "prahok" with coconut milk at Cuisine Wat Damnak
It was a rainy night in Siem Reap, Cambodia and I was hungry after spending the better part of the day in tourist endeavors. I was scheduled to have dinner with a friend who called Cambodia's most popular tourist city home. We had narrowed our choices down to two, Italian for a comfort food meal or as my friend put it, "interesting" food at a newly opened gourmet Khmer restaurant owned by Joannès Riviere, the former chef of the Hotel de la Paix in Siem Reap (see Delicious tasting menus at Meric in Siem Reap, Cambodia) for five years and a native of Rhone, France. Italian we could eat anytime. A gourmet Khmer meal, at least for me, was a limited time option since I was leaving the following day. We called Cuisine Wat Damnak and were fortunate to find a table as a large group had booked most of the restaurant that night. The restaurant was named Wat Damnak for the pagoda next to the restaurant and the area where it is located.
Carol Salmon and Joannès Riviere of Cuisine Wat Damnak
"We decided to call it like this in honor of this neighborhood we've been living in since we arrived in Cambodia," said Carole Salmon, a native of Nantes and one of the owners. "It is also a way to indicate where we are since we are a little bit out of the way. Cuisine because it is a French word (and we are French) that either means kitchen, cooking and gastronomy at the same time. Our vision was to create a place entirely dedicated to Cambodian food."
Steamed Mekong langoustine with rice wine and Kurata pepper
Pan fried wild snakehead fish and eggplant
There were two set menu options with amouse bouche, a four course ($17) and a five course ($24) selection, presented in a four-page printed menu with beverages in the first and last pages and the set menus in the middle. There were four types of cocktails, a variety of spirits and aperitifs, Cambodian, Asian and European beer options, soft drinks, mineral water, two types of cider and a selection of red, white and rosé wines from Argentina, Australia, Chile, France, New Zealand, and South Africa.
Free range chicken and grilled garlic sour soup
We both chose the five course menus: Siem reap sausage and cucumber salad with dry shrimp and chili; Steamed Mekong langoustine with rice wine and Kurata pepper; Free range chicken and grilled garlic sour soup with purple yam and wild mushrooms; Braised "prahok" with coconut milk; pan fried wild snakehead fish and eggplant, and Chocolate and wild cardamon light ganache, cashew nut praliné and puffed rice. We shared a bottle of red wine to accompany the meal.
Dinner in the air conditioned and colorful restaurant was very good. Staff were friendly and helpful and the set menu was satisfying. There were enough exotic ingredients to make it fun without any seriously challenging flavors. It was one of my favorite meals during my 10 day visit to Cambodia.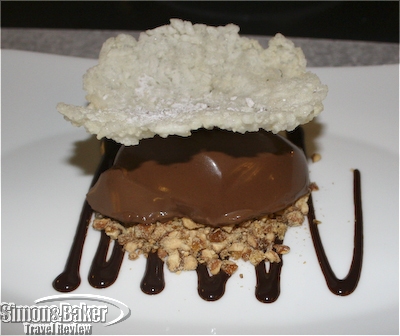 Chocolate and wild cardamon light ganache, cashew nut praliné and puffed rice
At the end when all the guests were gone Chef Riviere and Salmon, the owners, joined us briefly for a drink. The chef had learned to cook with his father who was a chef and an organic vegetable farmer and his grandmother who graduated from the Cordon Bleu cooking school in the 1950s. The young couple from France had recently had a baby and opened their new restaurant almost at the same time. Cuisine Wat Damnak restaurant (Siem Reap, Kingdom of Cambodia +855 (0) 63 965 491, www.cuisinewatdamnak.com, info@cuisinewatdamnak.com).
A refined dinner at Raffles Hotel Le Royal
The food I sampled in Cambodia was surprisingly flavorful and, in some cases, refined. In Phnom Penh, the capital city, the restaurants at Raffles Hotel Le Royal, my hotel, were good and quite convenient. I was particularly impressed with Le Royal the hotel's fine dining restaurant which was managed by Christoph Sclatter, a Swiss executive with exacting expectations and great enthusiasm. My dinner on a quiet night was a blend of recreated traditional Khmer dishes from the royal household and western dishes like tuna tartare and crepes suzette prepared table side.
Crepes for dessert at Raffles Hotel Le Royal
A nice chicken mayonnaise amouse bouche was the first eatable item to arrive at my table. In addition to the tuna, which was served with a full compliment of condiments, I sampled the Duck consomme with Takoe River lobster won tons; Takoe River lobster with coconut milk and red curry (mild at my request); and a delicate and perfectly cooked Black cod with fish eggs and Madagascar vanilla sauce.
Khmer Kitchen, a family owned restaurant in central Siem Reap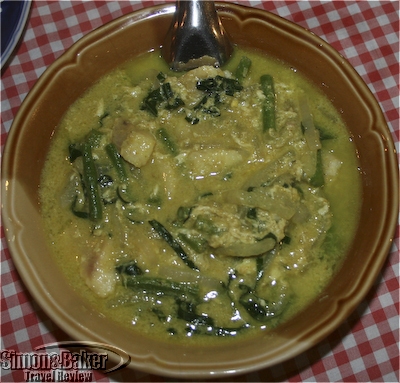 My favorite dish at Khmer Kitchen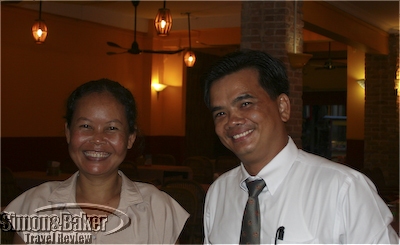 The owners of Khmer Kitchen
I spent twice as much time in Siem Reap as I did in the capital. The extra time afforded me the opportunity to dine at several places. Khmer Kitchen, a family owned restaurant founded by Perk Sophalon, on Pup Street in the heart of the tourist area of the city, served tasty Khmer dishes including the traditional Amok with fish. Their recipe was savory and flavorful. While I'm no expert in Khmer dishes, it was my favorite Amok dish. I also enjoyed their fruit juice. Started in 2000 with four tables the popular restaurant had grown to two locations 200 meters apart. Khmer Kitchen Restaurant & Khmer Kitchen Restaurant BBQ (#203 Group 6 Khum Svay Dang Kum, Siem Reap Kingdom of Cambodia, +855 63 964154, 855 77688677, info@khmerkitchens.com, www.khmerkitchens.com).
The owners of The Sugar Palm Restaurant & Bar, an open air restaurant in a two-story building
Crispy rolls at The Sugar Palm
On another rainy night I visited the Sugar Palm Restaurant and Bar, owned by Bruce and Kethana Dunnet who had moved to Siem Reap from New Zealand (Kethana was originally from Cambodia). The open air restaurant was on the upstairs of a two story building with indoor and terrace seating, high ceilings and fans to cool guests. There was artwork for sale on the walls and Cambodian music played in the background. I liked the crispy rolls made with fine noodles and served with julienne of green papaya and sweet sauce; the minced pork eggplant had a smokey sweet delicious flavor.
The only down side was finding a tuk tuk (covered bicycle for hire commonly used in Siem Reap) to take me back to my hotel. After a long wait, about 40 minutes, two showed up but refused to take me because they didn't know where my hotel was located. In the end, the kind server offered me a ride on his motorbike. By then the rain had become a drizzle and I gladly accepted. Sugar Palm Restaurant & Bar (Taphul Road, Siem Reap, Kingdom of Cambodia, +855 63 964 838).