Article and photos by Elena del Valle
On a recent visit to Siem Reap, Cambodia I had the pleasure of dining at Meric, the gourmet restaurant of my stylish and centrally located hotel. Named after the highly sought-after Cambodian pepper grown in the Kampot region Meric served a seasonally-inspired Khmer menu using the produce of local farmers. Established in 2005, the 217 square meter restaurant was in the capable hands of American Chef Bryan Gardner, who had just become executive chef, and Restaurant Manager Sokthea Mao. They and their enthusiastic team of 18 produced some memorable meals.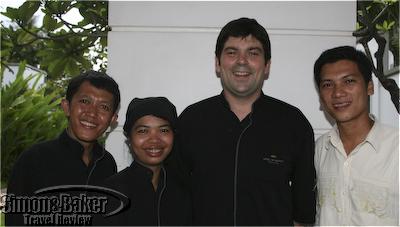 Chef Bryan Gardner and his staff
Chef Gardner grew up in Eastport, Maine known for its seafood. After attending the University of Southern Maine, he pursued a Culinary Arts degree at the New England Culinary Institute in Vermont. In 2005, he went to the Martini House in Saint Helena, Napa Valley before working with Joseph Humphrey, chef at the Meadowood Resort (a Relais and Chateaux property). He later worked under Japanese Chef Hiro Sone at Terra, where he observed the fusion of Asian and Western cuisines. In 2007, his passion for Asian cooking drew him to South East Asia where he fell in love with Cambodia. In July 2010, after working for two years at Hotel de la Paix as sous chef he became executive chef of the hotel's restaurant. One of his goals is to raise the profile of Khmer cuisine within Asian and international circles alongside a la carte dishes with French, American and Asian influences.
Outside swing seating facing the courtyard
I particularly liked the restaurant's dining swings set along a tranquil internal courtyard with a water feature. This was my favorite area of the hotel. The restaurant, said to have one of the largest collections of international wines in Siem Reap, could accommodate up to 108 guests, 64 indoors and 44 outdoors. I liked the outdoors best, especially at a table with a view of the courtyard.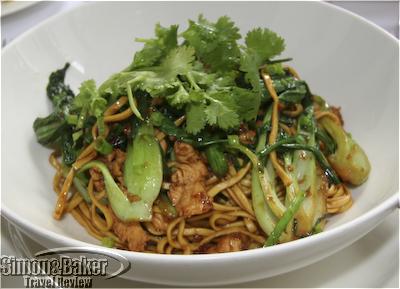 A Cambodian breakfast dish with fresh herbs and vegetables
Although the menu changed daily depending on the produce available from the local farmers and growers, while I was at the Hotel de la Paix where the restaurant is housed, I sampled the seven-course Khmer Tasting Menu.  It was outstanding and, at $31 per person, an excellent value for money.
One of the courses from the Meric Khmer Tasting Menu
Twice I had the tasting menu. The first time on a Monday I had Pomelo Salad with Prawn served at the same time as Chicken and Banana Bud Salad. Next there was Grilled Beef with Cucumber and Prahok Sauce served with Khmer organic white rice next to Pork Rib Sour Soup "Jungle Style." Next there was Stir Fried Frog with Fresh Ginger served at the same time as Cat Fish and Green Curry. The final dish was a small tray of Assorted Khmer Sweets for each of us.
Dishes were served in pairs for contrast
On Wednesday, I had Pomelo Salad with Crispy Pork Fritter served at the same time as Green Mango Salad with Dried Snake (both favorites). Then there was Grilled Prahok with Khmer Crudites served with Khmer organic white rice at the same time as Prawn with Water Lily Sour Soup. The final savory courses served at the same time were Stir Fried Frog with Ginger (had a definite bite) and Beef Shank Curry with Morning Glory (a favorite). For dessert there were assorted Khmer Sweets. Of the two tasting menus the first was my favorite although both were outstanding and worth a detour.
Dessert was a stylized interpretation of Khmer classics
Congratulations to the team at the Meric restaurant for its noteworthy gourmet dining.  Visit the Simon & Baker Travel Review for additional information about Siem Reap and the Hotel de la Paix.