Article and photos by Josette King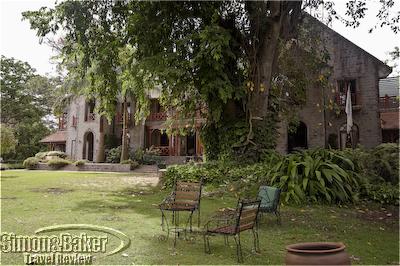 The lodge was a colonial era country manor
Arusha has come a long way since in its origins as a sleepy early 20th century garrison town. Built by Germany as its center for colonial administration of the area, it was then little more than a backwater boma (fortified enclosure) and a few shops in a corner of the northern highlands of what is now Tanzania. A few decades later, the development of commercial air travel, and with it the popularity of mass tourism, changed all that. Ideally located within easy reach of Mount Kilimanjaro as well at the famed safari destinations of northern Tanzania (Serengeti, Ngorongoro Crater and Lake Manyara, a.k.a. the Northern Circuit), Arusha was poised for explosive growth.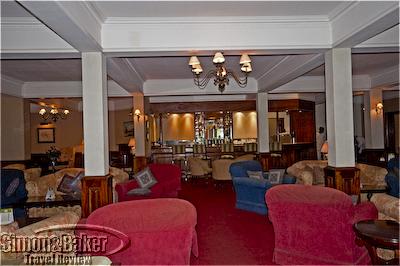 A mahogany-paneled bar occupied the rear wall
Today, with Kilimanjaro International Airport within an hour's drive, the city has become a necessary stopover for most of the of the 300,000 foreign travelers that arrive there yearly, on the their way to the Northern Circuit via Arusha's own small domestic airport. Modern international-style hotels are springing up throughout the town, along with all the businesses that cater to tourists; and the colorful chaos inherent in a booming African city of 400,000 inhabitants.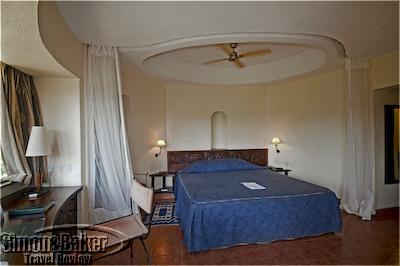 The sleeping area had mosquito netting draperies
However, when traveling to and from the bush my personal choice is for a more serene transition. I had already been in Tanzania for two weeks, visiting the remote parks in the south of the country by the time I arrived in Arusha to enter the Northern Circuit. When lack of coordination between the schedules of the various small local airlines that serve the two areas necessitated an overnight stopover, I turned my attention to hotel options in the outskirts of the city. I was delighted to discover the Serena Mountain Village.
A bird's eye view of Mount Kilimanjaro
Located on the shore of Lake Duluti in the verdant foothills of Mount Meru, the property was a tranquil luxury retreat a mere 12 miles from Arusha. I loved the English country manor atmosphere of the main lodge, the contemporary comforts of the guest accommodations located in lush gardens overlooking the lake and the warm welcome of the well-trained staff. And when time came for my early morning flight to the Serengeti, I appreciated that Arusha airport was a stress-free 20 minute drive away.
Visit the Simon & Baker Travel Review to read more about Tanzania and my stay at the Serena Mountain Village.