Article and photos by Laura Scheiber
Exterior of Barberstown Castle
When catching an international flight, it is comforting to know that traffic to the airport will not be an issue. Thanks to its location near the airport Barberstown Castle offered this security and also provided a unique experience of staying in a four-star medieval castle previously owned by Eric Clapton.
Art in the lobby area of Barberstown Castle
My travel partners and I arrived at Barberstown Castle, located a half hour outside of Dublin city center, in the late afternoon after five days of touring South East Ireland. Candy, a 15 year-old golden retriever who made her home at the castle, greeted us with a wag of her tail as we entered the naturally-lit cheerful lobby. A friendly and unassuming receptionist showed me to room 59.
Room 59 at Barberstown Castle
Although the view looked out onto a parking lot, the room was clean and spacious with a double and twin bed. Details that contributed to the cozy ambiance of the room included an attractive glass chandelier and antique furniture that fit the castle setting. As it was a blustery evening, I appreciated the plush bathrobe and towels hanging on an electric towel warmer.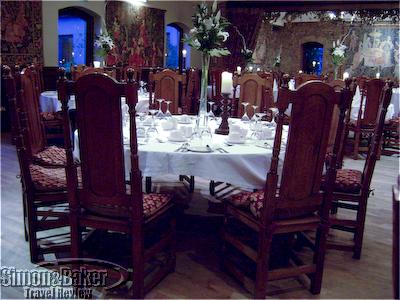 Table used for receptions
Just before dinner, my travel companions and I enjoyed complimentary champagne in the lobby before getting a tour of the castle. Originally built in 1288, the current proprietor, Kenneth Healy, bought the castle in 1987 from Eric Clapton and converted the 10-bedroom guesthouse to 59 bedrooms. While the oldest section dated back to medieval times, additional wings had been added on during Victorian and Elizabethan times. The castle maintained its historic infrastructure and design, and also incorporated modern comforts, such as heating and a pleasant sitting area with large glass windows looking out onto the property's well-manicured gardens.
Dining in the 13th century castle
We enjoyed a delicious six-course dinner in the oldest section of the castle. The candle-lit room added to the already enigmatic atmosphere. After dinner we moved to the cozy bar area and enjoyed live Irish music with a professional singer, flutist and traditional Irish bodhran drummer.
The next day we headed to the airport for our return to the United States. The route from Barberstown Castle was on a motorway with no major traffic lights. As promised, we made it to the airport in 30 minutes.
My stay at the castle (Barberstown Castle, Straffan, County Kildare, Ireland, telephone +353 1 6288157, http://www.barberstowncastle.ie/) was a delightful way to wrap up my Irish holiday. The castle's unique setting dating back from medieval, Victorian and Elizabethan times, the tasty dinner, hospitable staff, live Irish music and close proximity to the airport offered an enjoyable alternative to staying in Dublin city prior to departing Ireland.