By Matthew Harris
Antarctic Wildlife book cover
Photos: Princeton University Press
The allure of Antarctica's vast wilderness captures my imagination, particularly as it is home to some of the world's most beautiful wildlife, living in a pristine environment devoid (mostly) of troublesome humans. Identifying this wildlife can be quite a challenge for amateur and expert alike, so having a comprehensive field guide is a must for the discerning traveler heading south. Antarctic Wildlife A Visitor's Guide (Princeton University Press, $22.95) by James Lowen is just such a guide, written by an accomplished guidebook author who brings to bear his experience as an Antarctic naturalist guide working for Polar Star Expeditions.
The first part of the book provides information on conservation, choosing an Antarctic cruise, tips on identifying wildlife, and the animals that might be encountered in each of three regions visited on a typical cruise leaving from South America. The second part is a field guide with 155 pages of wildlife identification photos and supporting text.
Having visited Antarctica I found the background information in the first part of the book to be accurate and informative, especially with regard to choosing an ecologically sound cruise and the potential seasickness perils of the infamous Drake Passage. That said, since the main aim of this book is to be a field guide, some may find these sections a bit brief compared to dedicated books on topics such as Antarctic conservation.
The wildlife introduction and identification tips are clear and should be a great help to those new to wildlife observation. One well thought out aspect of the book is that the author summarizes the animals and plants which might be encountered in each of three geographic regions: The Beagle Channel, Drake Passage, and Antarctic Peninsula. These summaries include look up tables the reader can use to jump to more detailed Species Accounts in the main field guide section. Since the vast majority of Antarctic cruises visit these three regions, this layout should enable the reader to identify wildlife quickly in the field.
The book really comes into its own with the main field guide section. Each page has Species Accounts with accompanying photos. The exceptions are especially notable animals which have longer dedicated sections (e.g. Penguins). The text provides details on how to identify each animal as well as interesting tidbits of information called Talking Points. Also included are tables listing rarity, conservation status, species metrics and the area where each animal is typically encountered.

James Lowen, author, Antarctic Wildlife
The identification text is split into two sections, one basic summary for the amateur and beneath this a more detailed description for the avid enthusiast. The supporting images are excellent, chosen for clear field identification, and it's impressive to note that the author took many of them himself. Overall the list of animals seems comprehensive and covered everything I saw on my trip, plus a host I would hope to see the next time I visit.
This is an excellent field guide, well laid out with photos and easy-to-access information. The guide has good emphasis on conservation throughout and some of the proceeds go to the Save the Albatross campaign. It will definitely accompany me on my next trip to Antarctica.
---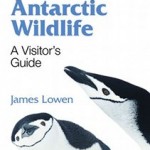 Click to buy Antarctic Wildlife
---