By Elena del Valle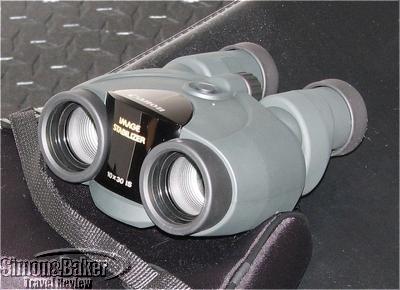 My Canon 10 x 30 IS binoculars
After years of borrowing binoculars while on safari I decided I wanted a pair of good quality binoculars to get the most out of my game viewing trips. I had tried a pair of high end binoculars at one of the luxury properties we stayed in during a trip in late 2007 and realized how much I was missing by not having my own high quality binoculars.
The challenge was that the price of the binoculars I had tried was $2,000 and up. Considering the travel time and cost of a safari trip and the effort to reach the destination I wanted as good a pair as possible and was willing to look closely at the options. At the same time, with the luggage weight restrictions and increasing pilfering problems at airports it would not be safe to pack my new binos with the checked in luggage. Our carry-on luggage allowance was severely strained already with computers, camera gear, food, emergency clothing and adding binoculars would be difficult.
My binoculars came with a carrying case, lens covers and a shoulder strap
When I first heard about the new Canon binoculars with image stabilizer, Canon 10 x 30 IS, I was skeptical. Could these new battery operated binoculars with image stabilizing technology really improve the quality of my game viewing experience without costing or weighing a ton?
After a three week safari trip to Botswana and South Africa I can answer that question confidently, yes. The image stabilizing feature came in handy many times, especially when I was viewing birds and animals in action or far away. The binoculars were light and small enough to carry with easily on game drives and in our carry-on luggage.
Using the binoculars was simple. I adjusted the lenses to my viewing preferences and whenever I wanted added clearness I pressed the image stabilizer button located in the top middle of the binoculars.  The only inconvenience was that in order for the feature to work I had to keep pressing the button. A soon as I released it the stabilizing function stopped.
An advantage was that although we brought rechargeable batteries I was able to rely on a single battery set for the entire Southern Africa trip and for another one week trip to Panama shortly after our return from Africa. Overall, the Canon 10 x 30 IS performed well, was easy to carry and well priced.