By Gary Cox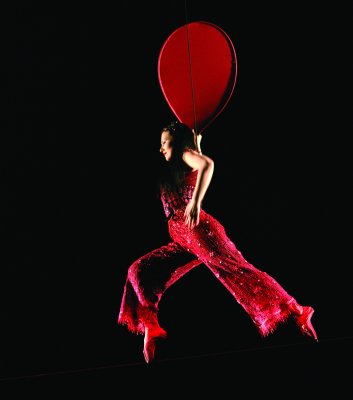 Tightwire, one of the Corteo acts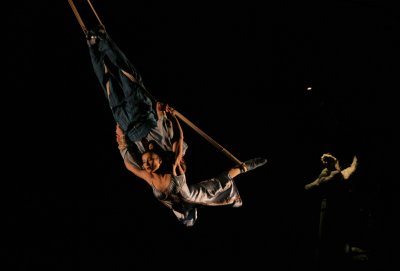 Corteo Duo Strap, one of our favorite acts
Wonderful! Corteo, Cirque du Soleil's Italian themed traveling show, was a pleasure to watch. We enjoyed a Saturday matinee during the show's visit to Miami, Florida. It was a harmonious and well staged performance with elegant and colorful costumes, melodious music, humor, and an enthusiastic troupe. From our premium seats in the section nearest the stage we had an outstanding view.
Corteo reminded us of the first Cirque show we saw which filled us with a sense of excitement, fun and wonder. From a visual point of view it was like looking at a Renaissance painting come to life with angels, elegant clowns and period costumes in elaborate detail. The acts were a mixture of acrobatic feats, Cirque's characteristic live music performance, and striking images. These included:  Acrobatic Duet,  Bouncing Beds, Chandeliers, Cyr Wheel (a favorite), Duo Straps (a favorite), Helium Dance, Juggling, Ladder, Paradise, Puppet Artist, Teeterboard, Tightwire and Tournik.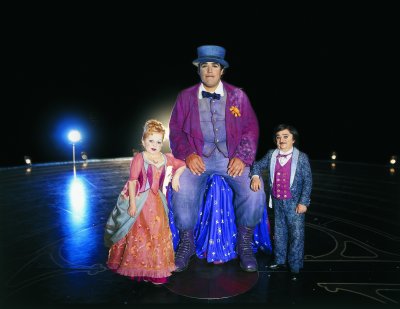 The Corteo Clowness, Little Clown and Giant Clown
Beautiful violin and classic guitar passages, Italian words throughout the show and a whimsical performance involving whistling, water glasses, crystal and musical instruments were some of Corteo's distinctive highlights.
We parked in the designated area on the grass ($20 per vehicle). This required us to walk about four city blocks to reach the Cirque tent entrance. We saw a few ladies in high heels struggling to get through the uneven grass. There were long lines to the rest room and for snacks and merchandise. Corteo will remain in Miami through December 21, 2008. Next stop: Japan.
Corteo was designed to represent a festive parade imagined by a clown and located somewhere between heaven and earth. As the show unfolded the clown pictured his own funeral taking place in a carnival atmosphere, watched over by angels. The creators set out to contrast the large with the small, the ridiculous with the tragic, the perfect with the imperfect. The show strives to highlight the strength and fragility of clowns and their wisdom and kindness while illustrating "the portion of humanity that is within each of us."
Photos: Marie-Reine Mattera  and Richard Termine Cirque du Soleil, Inc. 2005