The library in the main building at 1933
A family owned and managed four suite villa on the banks of the Sabie River within the large Sabi Sand Reserve and across from the http://simonandbaker.com/kruger, 1933 offered luxury accommodations including many creature comforts, appetizing home style meals, Big Five game viewing, and a dedicated team of staff for villa guests.
"In fact, 1933 is the family recreating the old camp," said Nick More, partner and co-owner of the property, about the role of 1933 within the Lion Sands Reserve where it is located. The Lions Sands Reserve is situated within the larger Sabi Sand Reserve. "The old camp which was built in 1936 by my great grandfather and was called Warthog Wallow Camp. Since the great floods of the Sabie River of 2000 our family has wanted to rebuild and rekindle those memories that we created from that camp, and that was achieved late last year, 2007. We called it 1933 in memory of the year in which Lion Sands was first purchased."
A lioness and her cubs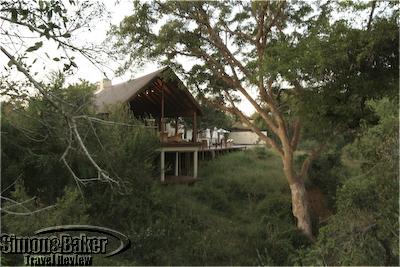 A view of the main building from one of the neighboring suites
"Working at this area where the word 'no' does not exist exaggerates the demand of the position in ensuring that every guest in catered for. A home style menu is served daily, allowing me to draw inspiration from the environment which surrounds me, resulting in classic dishes. Lunches are light and simple offering a range of flavours, influenced by combinations to compliment to each other.
Dinner varies from night to night, from home style a la carte dinners, boma, Bush Dinners, each offering a unique feel and experience with a zest of flavours. I also enjoy working with other people as it gives me an opportunity to gain experience in all levels of cooking. It allows me to experience different cultures which I can include in the preparation of my dishes," said Sannie Mbeva, cook at 1933.
Guests view a sleepy male lion at Lion Sands
The newly built riverside rental home provided personal service and posh bush accommodations ideal for small corporate groups, celebrities and families. 1933, ensconced within the world famous Sabi Sand Reserve, was a setting of  lavish comfort in a game viewing reserve, offering guests the pleasure and space of a carefree home and exclusive access to the property for the duration of their stay. Our team's visit was enhanced by private game drives, delicious meals and on site spa treatments. Click here to read a dedicated article about 1933.