The Mont Rochelle main pool and restaurant
Foodies and fine wine enthusiasts from all over the world converge in the wine region of South Africa, searching for vineyards and gourmet restaurants. In an effort to explore a little of this region located a short drive from the ever popular Cape Town area, our team dedicated a weekend to the Cape Winelands late last year. During their visit, they made the village of Franschhoek their temporary home. While in Franschhoek, they stayed at the Mont Rochelle Hotel & Mountain Vineyards, a charming small hotel.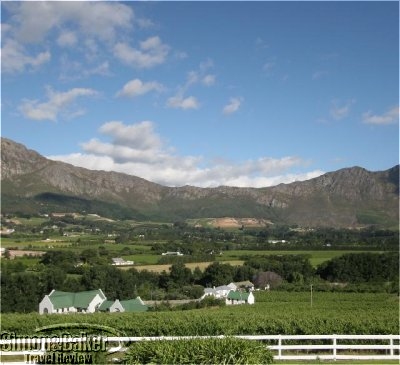 View of the surrounding area from the Mont Rochelle Hotel
Our one bedroom suite at the Mont Rochelle
The Mont Rochelle stood out for its luxurious and spacious suite with private plunge pool, in house gourmet restaurant and magnificent views of the village and the neighboring vineyards. Click here to read our dedicated article about the Mont Rochelle Hotel & Mountain Vineyards.