Article and photos by Josette King 

Sculpture garden on Canyon Road
When I first heard of Santa Fe two decades ago, it conjured up magical images to my francophone ear (fée is French for fairy).  I visited and was immediately enchanted by the city's unique blend of Native American, Hispanic and Anglo cultures and its colorful Pueblo-style adobe buildings strung along easily walkable streets. I have returned several times to enjoy its old-world charm and  vibrant artistic life: catch an opera under the stars during the summer-long opera season, linger in the  many museums or browse the hundreds of art galleries scattered  around the historic Plaza and along the mile-long Canyon Road.
Recently, I was back for a new experience of the city, a relaxing winter weekend get away. Beneath the brilliant high desert sky, the southern Rockies vistas were especially spectacular under a dusting of snow, tourists were few and the pace pleasingly slow. It was a great opportunity to browse at leisure through the uncrowded streets and quasi deserted museums, enjoy a day of decadent pampering at one of the superb spas, and unhurried meals at old and new favorite eateries.
Santa Fe offers such a varied selection of tempting restaurants and cuisines in all price ranges that is difficult to single out favorites. During this visit, in addition to the outstanding Anasazi Restaurant at the inn of the same name (see separate story) I especially enjoyed:
The Shed
113 East Palace Avenue, Santa Fe, New Mexico, +1 505 982-9030
Tucked away in a courtyard behind the thick walls of a hacienda built in 1692, half a block away from the Plaza, the Shed is a local institution and my favorite place for a casual meal in Santa Fe. Owned and managed by the Carswell family since its inception in 1953, it is a lively place where locals and tourists crowd around tiny tables to enjoy robust portions of a unique blend of Pueblo, Mexican and Spanish cuisine.  I particularly liked the Posole, a Pueblo stew of Nixtamal corn (a hominy-like grain) stewed with lean pork, garlic and oregano, which was served on its own or as an accompaniment with various enchiladas; my favorite being the Chicken Enchilada Verde, baked in The Shed's signature roasted green chili sauce. But I made sure to save room for the fresh lemon soufflé, especially tart and light, and served right out of the oven. Lunch was seated first come, first served, and reservations were strongly recommended for dinner.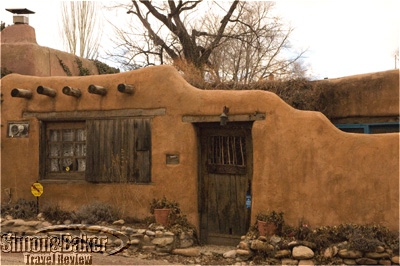 Antique Santa Fe style home on Canyon Road
La Boca 
72 West Marcy Street, Santa Fe, New Mexico.  + 1 505-982-3433
The brainchild of Chef Joseph Campbell Caruso, a Boston-born Basque Italian and former executive chef of a well-known Canyon Road Spanish restaurant, La Boca dished out a wide assortment of imaginative tapas to a weekend crowd of enthusiastic dinners. With its ivory painted walls, track lighting and white linen-clad confetti-size tables, the place was a bit short on atmosphere, but there was nothing minimalist about what came out of the kitchen, one delicious small plate after another.
On the night of my visit, the menu featured 25 enticing tapas, each more tempting than the next. The ahi tuna carpaccio served with a blood orange aïoli, chopped Kalamata olives and a drizzle of smoked sea-salt was superb. The canelone filled with lump crab and scallop and topped with broiled creamy Manchego cheese was another of my favorites. I found the house salad of crisp greens and grilled pears lightly seasoned with pomegranate-walnut vinaigrette and Cabrales toping (Asturian blue cheese) a satisfying palate cleanser.
There were also a handful of main course specials on the menu. I tried the paella but found it unremarkable. It was rather bland as it can be when precooked. However, it was soon redeemed by my dessert selection: a glorious slice of helado de torron (semi frozen nougat mousse) drizzled with candied orange syrup. The Mediterranean menu was complemented by a small, reasonably priced wine list that featured offerings from Spain, Italy, France, and Argentina. Although this 54-seat storefront restaurant had only been open since the fall of 2006, it was already recognized around town as "not to be missed" among the myriad dining options in Santa Fe. Reservations were strongly recommended for dinner.
Dusk in Santa Fe
Shopping is one of my favorite pastime times in Santa Fe, especially for native jewelry and craft. My first stop is always the open gallery in front of the Palace of the Governors, where Native American artists offered a broad selection of handmade turquoise and silver jewelry, beadwork and pottery. In addition, this is one of my favorite galleries:
Keshi
227 Don Gaspar Street, Santa Fe, New Mexico.  + 1 505-989-8728
I especially enjoyed shopping at Keshi, a downtown gallery started in 1981 as a Zuni-owned co-op. Now privately owned, it still carried only authentic works by artists from the Zuni Pueblo as well as a few artists from other pueblos. In addition to stunning stonework and silver jewelry, and a nice assortment of pottery, Keshi carried a large collection of fetish animal carving as well as high quality Hopi Kachina dolls (stylized religious icons representing figures from the Hopi mythology).  Click here to  read more about Santa Fe and my recent visit