Article and photo* by Chester Godsy
We used Sexy Beast on Wager, our model dog
During a recent trip with our dogs we tried Sexy Beast, a new hypo-allergenic and vegan product grooming line for dogs made by Project Rover, LLC. Sexy Beast is a three step refresher process, Fresh, Powder, and Gloss, to condition dog coats. While Fresh is described as a gentle cleanser and deodorizer, Powder promises to add body, fluff and shimmer to a dog's coat, and Gloss is described as a laminating mist "to restore luster and shine." A travel set in due to be released soon.
We tried Sexy Beast on our three dogs and a friend's two dogs that traveled with us. We keep our dogs fairly clean; we bathe them frequently and they live in our house. We use a variety of products to keep our dogs clean and keep their coats healthy. I must admit that I was a bit skeptical of this product. However, I found that the dogs did not mind having these products on their coats. Often dogs will react poorly to perfumes on their coats. After shampoos and product application dogs will usually go outside and roll around.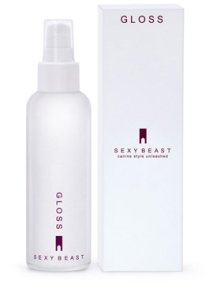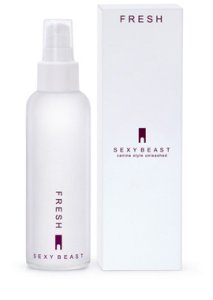 Sexy Beast Gloss and Fresh
This was not the case with these products; they reacted well to the Sexy Beast line. At the same time, people liked the fragrances. A little bit of the Sexy Beast product goes a long way in terms of fragrance. There is no substitute for keeping a dog clean. Although Sexy Beast was pleasant for dogs and their human friends, the products won't cover up an already stinky dog. 
We used Sexy Beast products on our dogs just before we traveled so that they would smell better to the people we encountered along the way. We also traveled with two other dogs owned by friends. One of these two dogs had a reputation for smelling poorly. After we treated the smelly pooch with Sexy Beast products things improved for us humans. One thing I liked about the products was that the were made with natural ingredients.
Based on my experience with Sexy Beast , I recommend it to my friends who want to improve the scent of their dogs and keep their coat clean and shiny between shampoos. The line is available on the company website and at luxury pet stores.
*Product photos courtesy of Sexy Beast