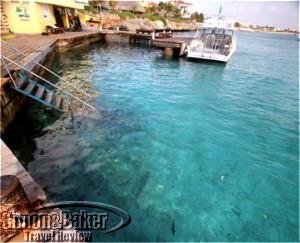 The dock at Buddy Dive in Bonaire
Diving options and destinations abound across the globe. Warm water diving destinations are fewer but there are still many to choose from. Having sampled a few we favor Bonaire for several reasons: the island itself holds a charming appeal, friendly locals, lots of shore dive spots, numerous dive operators to choose from and nearby dive locations within a 15 to 30 minute boat ride. Other advantages include a southern Caribbean location away from the hurricane belt, an arid climate with limited rainfall, an on island recompression chamber in case of an accident, as well as protected and pristine tropical waters to showcase the best of the island's underwater world.
Although the visibility was not 100 feet, as we read in many promotional websites and brochures before visiting the island, the water was clean and with minimum signs of human visitors. One of the reasons for the excellent condition of the marine environment is that all the area surrounding the island up to a depth of 200 feet has been a protected marine park for 25 years.
Locals care for their marine park and instruct visiting divers about the importance of protecting the environment. For example, first time visitors and those who have not been on the island in a year or longer are required to have an orientation with a local diver and pay for a marine park tag. We also noticed the dive staff we went out with were always protective of the coral reef and sea life when diving and reminded everyone on the dive boats to do the same.
For dive courses, relaxed diving, small groups, personalized attention, and resort shore diving we loved Great Adventures Dive & Water Sports Bonaire at Harbour Beach Village Club. On our last visit, we enjoyed many a shore dive including a brief sunset dive just off the beach. There were plenty of opportunities where we were one of a handful of guests on the dive boat. Several times we were the only two divers to go out. We enjoyed those especially because it was like chartering a private dive. Staff members were experienced and knew the area and dive sites well. They were helpful and friendly.
We also liked Buddy Dive at the Buddy Dive Resort. There was a constant buzz of activity, a healthy selection of dive options, courses and packages, and a well stocked dive shop. They catered to guests staying onsite, luxury property renters who only needed tank replacements and off site guests like us who needed an island orientation, were taking a course or fine tuning their diving skills. In spite of the many guests and staff, one of the characteristics we enjoyed most at Buddy Dive was the personal touch and service oriented staff.