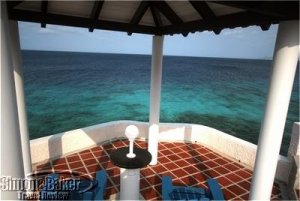 Crown Court 44A – Sajo's Reef waterfront view
When our travel team members visited Bonaire earlier this year they stayed at Crown Court 44A – Sajo's Reef, a waterfront luxury rental villa, for a week. Read all about their visit, in the articles we published on the island including Crown Court 44A (see below for more on the villa); Harbour Beach Village Club, the island's premier resort; and a couple of the top dive operators, Great Adventures Dive & Water Sports Bonaire at Harbour Beach Village Club and Buddy Dive at the Buddy Dive Resort.
Crown Court 44A – Sajo's Reef
We were delighted to discover the southern Caribbean island of Bonaire offered many accommodation options, including luxury rental villas. After a few email exchanges with Sunrentals, one of the largest rental agencies on the island, we were rewarded with last minute space in Crown Court 44A, one of their most popular rental homes and one of very few waterfront homes with WiFi. The roomy three bedroom waterfront $2 million villa was in Bonaire's most luxurious residential neighborhood.
Click here to read more about Crown Court 44A Sajo's Reef