By Elena del Valle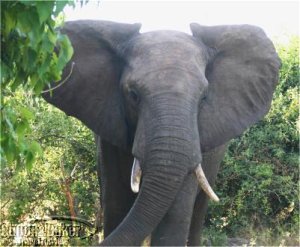 An elephant at the Chobe Safari Lodge
Visitors to Botswana are almost guaranteed an elephant sighting 
For those thinking of going on safari in a remote area, this might be a good time to visit or revisit Botswana. The small and sparsely populated country is best known as the largest producer of gem quality diamonds in the world. The landlocked country, home to exclusive and remote safari camps and one of the largest herds of free roaming elephants in Africa, is making travel and tourism a priority.
Thanks in part to its mining wealth, this southern Africa country took the time and effort to develop its travel and tourism industry by planning ahead and focusing on luxury. Setting aside a large portion of its land for game viewing, the Botswana government issued concessions to private companies to establish temporary luxury oriented camps with minimum impact on the environment.
Although foreign companies and workers were allowed in initially, the government places strong emphasis on recruiting and training locals. The goal is for the luxury game viewing concessions to eventually be managed by Botswana natives. As part of the process, thousands of families were relocated from their ancestral homelands to make way for the game viewing reserves. At the same time, promising youth who grew up in farming and fishing families, were hired and placed on the fast track to training and promotion opportunities. This formula, though at times bumpy, seems to be paying off for Botswana.
The future of tourist travel in Botswana is bright according to the Tourism Satellite Accounting (TSA) report produced by the World Travel & Tourism Council (WTTC) and commissioned by the Government of Botswana and the Botswana Tourism Board. The report estimates the travel and tourism industry in Botswana will generate $1.6 billion in economic activity.
Over the next ten years Botswana's travel and tourism industry is expected to achieve an annualized real growth of 5 percent, exceeding the world average at 4.3 per cent and the Sub-Saharan African average at 4.5 percent. According to the forecasts detailed in the report, travel and tourism already contributes over 10 percent of total employment and 16 percent of the non-mining gross domestic product of the country.
World Travel & Tourism Council report on Botswana
"Although this growth is positive and the country is one of the Africa's most exciting travel destinations, it remains relatively unknown and is heavily dependent on intraregional tourists. Indeed, as far as long-haul markets are concerned, it is probably Africa's best-kept secret," said Jean-Claude Baumgarten, World Travel & Tourism Council. "However these forecasts show that, with the right policy framework, Botswana has the potential not only to expand rapidly but also to significantly broaden its tourism product base, appealing to much a wider range of tourist tastes and budgets."
Baumgarten believes the Botswana government has set many examples on how to run a country's travel and tourism industry and preserve its environment, culture and heritage. Onkokame Kitso Mokaila, Botswana's Minister of Environment, Wildlife and Tourism indicated that travel and tourism will be a priority for the country's economy, which can no longer depend on its mining industry.
"This report comes at a crucial point for Botswana and will help the government to reach the highest level of potential that can be realized," said Kitso Mokaila. "Travel and tourism will contribute enormously to the country's economy and we are committed to running a conscious campaign to publicize the strategic role and benefits of tourism in order to stimulate a more positive perception to the wider public."
The World Travel & Tourism Council is the forum for the chairs and chief executives of 100 prominent travel and tourism companies. The Council works with industry and governments to raise awareness of the strategic importance of travel and tourism, one of the world's largest industries employing more than 230 million people and generating over 10 per cent of world GDP.
To find out about our travel teams experiences in Botswana click on the hyperlinks Botswana, Camp Okavango, Chobe Safari Lodge, Deception Valley Lodge, Kings Pool Camp, Kwara Camp, Kwetsani Camp, Lebala Camp, Nxai Pan Reserve/John Chase Safari, Savute Safari Lodge, and Xigera Camp.