The hotel entrance on the busy rue de Rivoli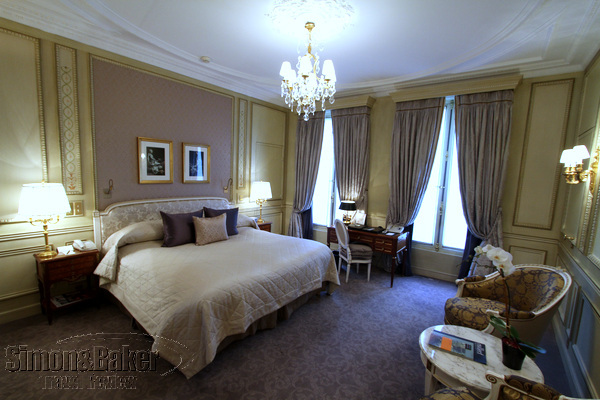 Room 317, our team's 40 square meter Deluxe Room on the fourth floor
In 2011* we profiled the Hotel Le Meurice in Paris, France and its eponymous restaurant following a brief team stay at the luxury property. From the restaurant profile that year: "Our Terroir Menu with wine pairing was centered on ingredients produced in Paris and its environs. The setting was beautiful, the meal was pleasant and the service was outstanding." At the time the hotel, owned by Bruneï Investment Agency, was child and pet friendly. A representative has shared the property's updated policies regarding both. Watermarked photos were taken by our team during their 2011 stay at the five-star property. Other photos were provided by a hotel representative.
The popular Le Bar 228
Recently Solene Duchez, communications and press relations assistant, Le Meurice, responded to our questions. Below are our questions and her answers (edited for brevity and clarity).
LTR: Are you welcoming international travelers?
SD: Yes
LTR: A number of travel business across the globe shut down or reduced their offerings post pandemic. What can you share regarding the Hotel le Meurice Paris in 2023?
SD: There is no longer any impact of the pandemic on the hotel and restaurant occupancy.
LTR: What, if any, policies and safeguards do you have in response to Covid-19?
SD: As there is no longer any impact, we do not apply the policies and safeguards anymore. However, hydraulic gel distributors are still available in all the hotel areas and the cleaning process is still reinforced.
LTR: Are guests checking in and dining at the restaurant required to show proof of vaccination, negative Covid-19 tests, wear a mask or take any other measures?
SD: No
LTR: Any updates to your menu, restaurant and services you care to share.
SD: (Regarding) children: Upon request, the concierges are available to help keep your children occupied during your stay.
Class of Accomodation (accommodation): Five Star Hotel & Palace label
Concierge: Jean Mora
Connectivity: High speed connection included
Pets Allowed: We're pleased to welcome up to two small dogs per guest (max 7kg/15lbs) with an extra fee. Your special guests will even be spoiled with a dog bed, bowl and treats throughout their stay.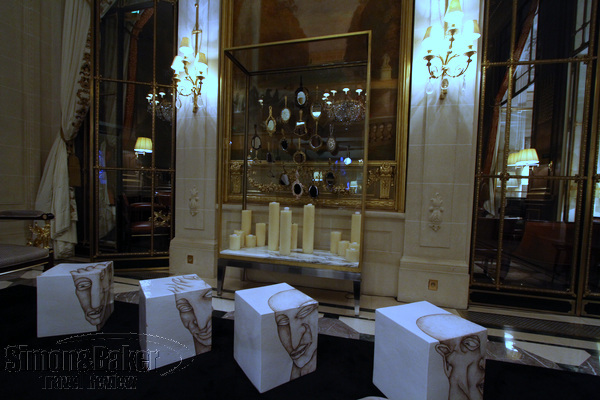 We do ask that they remain in your room while you visit Bar 228, Restaurant le Meurice Alain Ducasse and the spa, or kept in a carrier at Restaurant Le Dalí. Please also keep them on a leash or in a carrier when moving around the hotel. Our concierge team can arrange a pet-sitter if you need one – just give us 24 hours' notice.
Of course, service dogs are welcome throughout the hotel.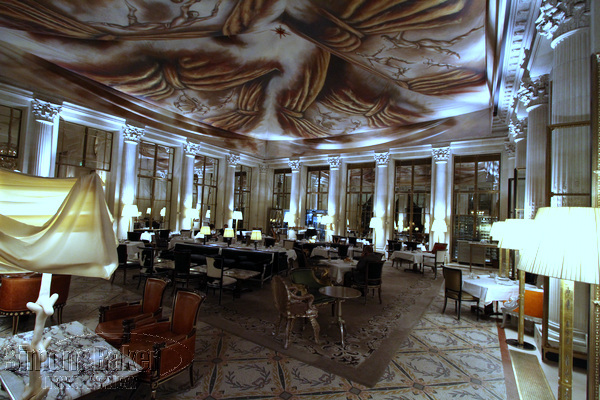 The ground floor
Renovated: The hotel opened its door in 1835. The most recent renovations of the lobby, bar and restaurants were completed in 2016. Philippe Starck was brought in to assist with the renovations at that time. Since 2019, the renovation of the rooms and suites has been signed by the hands of the trio formed by Charles Jouffre, Margaux Lally and Luc Berger. The new spaces, more luminous and refined, stay loyal to the classic 18th century style for the greatest pleasure of our future guests looking for a genuine experience à la française.
Fitness Center and Spa: Since 2020, La Maison Valmont has also opened its Paris flagship store at Le Meurice.
*Under normal circumstances our articles are based exclusively on the experiences and photography of our contributors at a destination and voyage. Due to the Covid-19 pandemic we have halted travel. For those ready to travel now we are offering limited updates about destinations, properties and restaurants we featured in the past and whose representatives have responded to our questions and requests for updates. This series of updates began in 2021.