At the Federal Airlines terminal in Johannesburg, South Africa in 2016
Under normal circumstances our articles are based exclusively on the experiences and photography of our contributors at a destination and voyage. Due to the Covid-19 pandemic we have halted all travel. For those ready to travel now we are offering limited updates about destinations, properties and services featured in our pages in the past. To that end we are reaching out to those companies and requesting news and updates. Those who respond are featured in the series.
Our most recent profile of Federal Airlines was in 2016 on a safari trip to South Africa's well known Sabi Sand Reserve. Our two contributors especially liked the safety and convenience of flights from the city to the bush as well as the relaxed comfort of the airline's dedicated terminal away from Johannesburg's congested international airport. The first flight, aboard a 1900D Raytheon aircraft, was from Johannesburg to the Mala Mala Reserve (see our most recent update on MalaMala at After year of closure luxury South Africa property reopening). It was comfortable with a minimal amount of bumpiness. It stopped at Ulusaba, Londolozi and Rattray's on Mala Mala.
The second and the only nonstop flight was from the Mala Mala Reserve to a nearby reserve, two properties located within the Sabi Sand Reserve. A road transfer between the properties would have required a multi-hour drive. The final flight was from Sabi Sand back to Johannesburg, slightly earlier than originally expected due to heavy rains the previous day. Refer to the detailed profile of Federal Airlines for details.
For this update Julian Edmunds, chief commercial officer, Federal Airlines, responded to questions from his office via email. Below are our questions and his answers.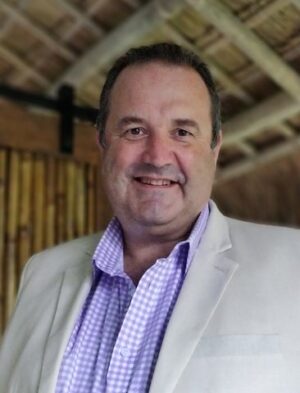 Julian Edmunds*, chief commercial officer, Federal Airlines
LTR: Is Federal Airlines flying scheduled and charter flights from a dedicated terminal at JNB to safari properties such as MalaMala, Singita, Sabi Sabi, etc and back?
JE: We fly a hybrid type of flight, which we call a Shuttle flight. Technically they are no scheduled flights, but they differ from Schedules in the fact that they don't always operate to each runway (ie only on demand) and they differ from charters in the fact that you can buy seats rather than having to rent the whole aircraft.
Most of our flights operate in and out of our Private Terminal at OR Tambo, we offer an complimentary minibus shuttle service between our terminal and the main International and Domestic Terminals
LTR: What title applies for you in relation to Federal Airlines?
JE: I am the Chief Commercial Officer for Federal Airlines and also the same title for fastjet Zimbabwe. Effectively I am the group Chief Commercial Officer, but as many, such as yourself do not naturally relate Federal to fastjet it is easier to have the two separate titles. I have email addresses for both.
LTR: Can travelers book flights through your website?
JE: We place ourselves as a B2B business and thus it is best for Guests to book, either through their chosen lodge or alternatively through a Tour Operator. This allows for seamless coordination.
LTR: What, if any, Covid-19 protocols have you put in place?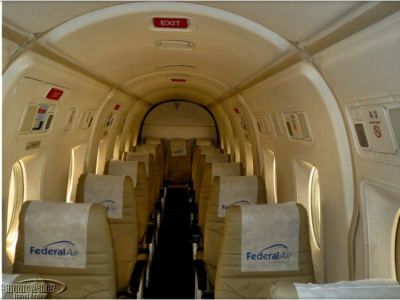 Inside a Federal Airlines aircraft, photo from 2016.
JE: We strictly follow all of the state protocols as required by law. From a working basis ONLY essential staff go to the office. We have the mantra that if your job can be done from home, do it from home. I am personally based in Malta and have not bee in either a Federal or fastjet office since 28 February 2020!
From a passenger perspective, we do not require any special testing, unless the passenger is flying with us internationally, in tese [these] cases the rules relating to the country they are visiting are followed.
We practice as much social distancing within our private terminal at OR Tambo, as we can. On board the aircraft, we ensure that all passengers are wearing masks for the duration of the flight, except when drinking water. We do NOT offer any cabin service or food.
From a booking perspective all of our bookings are fully flexible. A guest can change their booking as many times as they like with no charges as long as it is done at least 72 hours before the flight. We have also softened our cancellation terms to make them more sympathetic to people's needs and we offer free changes within the 72 hour period to any passenger, who becomes COVID Positive, prior to their departure.
LTR: What recommendations would you share with travelers to stay ahead of the uncertainties presented by travel during a worldwide pandemic?
JE: Plan ahead. Take each day as it comes look to book with service providers that offer flexibility.
*Photo courtesy of Julian Edmunds