Ordinarily our articles are based exclusively on the experiences and photography of our contributors at a destination and property. The near complete Covid-19 pandemic travel pause made it necessary to offer alternatives for those adventurous souls ready to seek new horizons or return to ones visited previously before we do. So… we are reaching out to properties our contributors have visited (often more than once) and asking about their status and updates.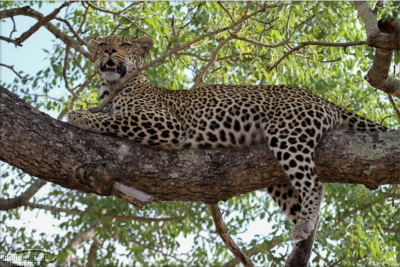 Leopard on a tree at Rattray's in 2016
Because they have consistently impressed us with their reliability and high standards in past stays over the years, and thanks to their representative's speedy responses and willingness to answer questions MalaMala is first. Of the reserve's three properties we have profiled two: MalaMala Rattray's Camp (previously known as Rattray's on MalaMala) several times and MalaMala Camp (previously known as MalaMala Main Camp) in South Africa's well known Sabi Sand Reserve adjacent to the famous Kruger National Park. MalaMala Rattray's Camp is reopening this month after a one year closure.
Once in Johannesburg, South Africa the MalaMala camps can be reached via direct flight from that city's international airport on Federal Air (we are awaiting a reply from the airline with details) into the reserve's airstrip a few minutes drive from the camps. Another option is on Airlink into Skukuza Airport. From there a road transfer is necessary.
"All our camps will be open from 01 June 2021 including MalaMala Rattray's Camp," said Alison Morphet, managing director, MalaMala by email about the reserve's camps. "We are offering a pay 3 / stay 4 for travellers and yes there is high speed internet access in all the rooms. It is not available in the public area's out of consideration to other guests enjoying their safari experience. A limited number of private vehicles are available and of course all our suites and rooms are stand alone. Guests may opt to have room service for their meals but with the relevant social distancing between tables, the outdoor nature of a safari experience and all our staff wearing masks, most guests choose to have their meals on the deck (and boma dinners when available).
The game viewing is better than ever and I am delighted to report that Covid has had some silver linings. We have had time to re think our product offerings and refine these over the long lock down. We have also relied on feedback from the South African market who travel extensively to Southern African bush destinations and their feedback has been invaluable."
Minibars and in-room dining amenities are a godsend on days when travel or the excitement of the game drives leaves us spent, seeking comfort food and indoor relaxation. One of the MalaMala updates we like is the buffets were replaced with plated meals and a la carte dining. Having said that during past stays our contributors found Rattray's willing to provide room service with no fuss.
At Rattray's we fondly recall the intimate setting, spacious rooms with double bathrooms and private plunge pool, workout facilities, full size swimming pool, and service oriented staff. From the game viewing perspective MalaMala rangers drew attention to the creatures large and small in the bush while focusing on the Big Five, and one of our favorite features anywhere, Rattray's four guest maximum per safari vehicle. That is as good as it gets shy of a private game viewing vehicle.
For details of our experiences and original photos at the two MalaMala camps see our profile of MalaMala Camp from 2006 and our most recent profile of MalaMala Rattray's Camp from 2016 at Rattray's on Malamala.