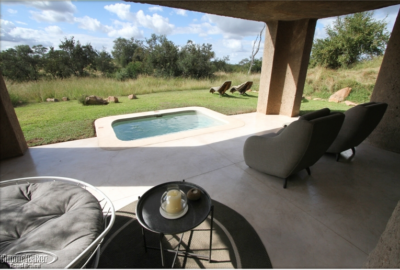 In 2017 our Sabi Sabi Earth Lodge guestrooms had private plunge pools.
Ordinarily our articles are based exclusively on the experiences and photography of our contributors at a destination and property. The near complete Covid-19 pandemic travel pause made it necessary to offer alternatives for those adventurous souls ready to seek new horizons or return to ones visited previously before we do. To that end we are reaching out to properties our contributors have visited (often more than once) and asking about their status and updates.
Our first Sabi Sabi profiles, of Earth Lodge and Selati Camp in South Africa, date to 2007. In 2017 our contributors returned to the Sabi Sabi Private Game Reserve within the Sabi Sand Reserve, part of the Greater Kruger National Reserve, an area world famous for its quality game viewing. While there they spent one night at Bush Lodge and revisited Earth Lodge. Earth Lodge, Bush Lodge and Selati Camp are three of four Sabi Sabi properties. Little Bush Lodge is the fourth.
By July 1, 2021 three of the Sabi Sabi safari properties are due to be open and by August 1, 2021 all four are scheduled to be open, according to a Sabi Sabi spokesperson who replied by email to our questions. The properties can be reached via nearby airports (as far as we know there is commercial service to Mpumalanga, Skukuza and Hoedspruit) and road transfers, by road transfer from Johannesburg and via Federal Airlines from Johannesburg to the reserve, in the past our favorite option.
"There is wifi at all lodges, however it is important to note that due to the environment we are in, interruptions may happen due to wildlife or weather interference," she said when asked about high speed internet access at the reserve. When asked about exclusive use accommodations, private vehicles and extended stays she replied that they are subject to availability and on request.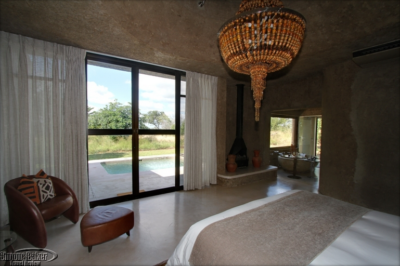 The Amber Presidential Suite had the amenities of regular guestrooms as well as extra space, seclusion, privacy and a bush and pool facing master bedroom.
According to an undated property brochure she provided Sabi Sabi has adjusted to the pandemic as follows: "Our daily routines and activities have been adjusted to ensure the highest safety standards are met. However, you will still experience the Sabi Sabi quality guiding and safari experience that we have crafted since 1979." The brochure indicates the availability of round the clock medical response, quarantine facilities in the form of fully equipped suites, a doctor on call from a remote location, sanitizers and hygiene packs onsite; "dining areas have been increased to allow for safe social-distancing," and a maximum occupancy of six guests per game viewing vehicle (eight for groups traveling together and requesting such conditions).
See details of our experiences and original photos at the three Sabi Sabi properties in 2007 at Selati Camp (we understand the property has undergone a renovation) and in 2017 Sabi Sabi Bush Lodge and Earth Lodge (At Sabi Sabi Bush Lodge excellent game viewing).  Earth Lodge was our favorite for its boutique features, outstanding meals, excellent game viewing and warm and attentive service. The Amber Presidential Suite had the amenities of regular guestrooms as well as extra space, seclusion and privacy. It also had a bush and pool facing master bedroom, extra large en suite bathroom and oversize walk-in closet. There was also a second full bathroom, library, living room, dining room and kitchenette. The attentive property managers, air conditioned workout room with glass wall facing a water feature (see photo in Earth Lodge profile) is one of the amenities we recall along with the many wildlife sightings from the main area of the lodge in between the twice daily game drives.