By Elena del Valle
Photos by Gary Cox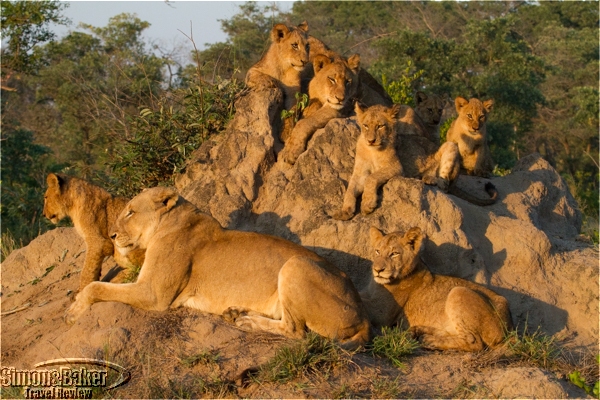 Watching the sun come up with the Southern Pride was one of the highlights of our trip.
On a recent safari trip to South Africa we stayed at Sabi Sabi Earth Lodge and Sabi Sabi Bush Lodge (Sabi Sabi Private Game Reserve, Sabi Sand Wildtuin, Mpumalanga, South Africa, lodge +27 13 7355-656, Sabi Sabi head office +27 11 447-7172, www.sabisabi.com, res@sabisabi.com). The two five star properties, members of the National Geographic Unique Lodges of the World, were family owned and located within the 6,000 hectare Sabi Sabi Private Game Reserve, which is within the Sabi Sand Reserve. It in turn is a Big Five reserve adjacent (without fences) to the famous Kruger National Park. At Bush Lodge we stayed in comfortable and spacious rooms, and we especially enjoyed the game viewing in a private vehicle and spa massage.
Our beds had color coordinated mosquito netting, a change from the customary white netting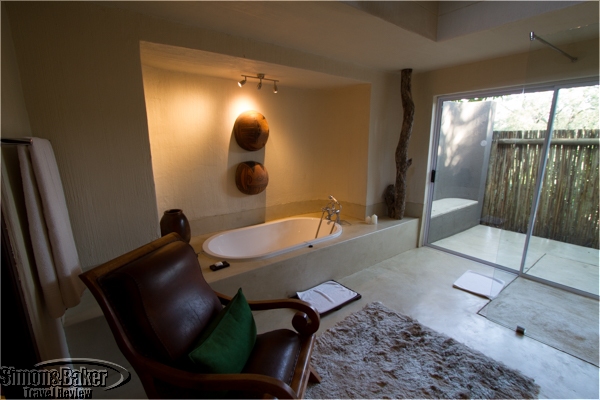 Our spacious bathrooms had a bathtub as well as indoor and outdoor showers.
During our visit, Stefan Schoeman, general manager lodges, Sabi Sabi, assisted us with camera related issues with speed and ease. We were glad to have our cameras in good working order since we saw the Big Five at Bush Lodge. On our first of two game drives we saw four of the Big Five. We drove around in an open Toyota LandCruiser in search of wildlife and interesting natural features to observe. We were delighted to have the game vehicle and Francois Rosslee, ranger, and Dollen Nkosi, tracker, to our selves. We have found that private game drives enhance our bush experience. So it was at Bush Lodge. Francois, a friendly man fond of his job, had been our ranger at Earth Lodge, where we had shared the vehicle with two other guests. That facilitated our arrival and check-in at its sister lodge.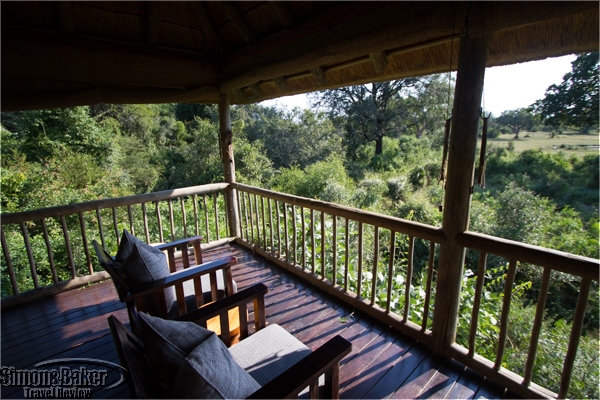 The main deck had several lookout points over the dry river
Francois was a Full Trails Guide Level 2 of the Field Guides Association of Southern Africa (FGASA) with six years of experience and a seemingly inexhaustible supply of energy. Dollen had attained a FGASA Tracker Level 2 and had been with Sabi Sabi for nine years.
Our ranger Francois Rosslee (right) horsing around with Lawrence Mkansi, assistant lodge manager and head ranger
At Bush Lodge we saw the following mammals: buffalo, common duiker, dwarf mongoose, elephants, hippopotamus, kudu, leopard, lion, scrub hare, side-striped jackal, spotted hyena, tree squirrel, vervet monkey, warthog, waterbuck, white rhinoceros; insects: African monarch butterfly, Broad-bordered grass yellow, blue pansy, scarlet tip; trees and shrubs: jackalberry, knobthorn, leadwood, buffalo-thorn, silver cluster-leaf, large-leaved rock fig, greenthorn, and tamboti; and plants: wild cucumber, fannel weed, feather-top chloris, herringbone, and thatching yellow.
We saw or heard the following bird: African fish eagle, African grey hornbill, African scops-owl, bateleur eagle, Burchell's starling, Cape glossy starling, Cape turtle dove, crested barbet, crested francolin, dark-capped bulbul, emerald-spotted wood-dove, fork-tailed drongo, go-away-bird, greater blue-eared glossy starling, green woodhoopoe, magpie shrike, rattling cisticola, redbilled oxpecker, southern yellow-billed hornbill, spotted thick-knee, Swainson's spurfowl, laughing dove, Flappet lark.
One of the lions
Approaching a sighting in progress
The 25 room family friendly property owned by Hilton and Jacqui Loon had two swimming pools, an amply stocked boutique shop (branded clothing, jewelry, coffee table books, art, accessories), Amani Health Spa, and EleFun Children's Centre. Although the game reserve and lodge opened in 1979, during 2015 and 2016 the public areas and rooms were completely refurbished.
Our rooms had a sitting area, desk and small outdoor patio facing the dry riverbed.
Our 80 square meter well appointed Luxury Suites faced a dry riverbed. They were comfortably furnished (I especially appreciated the large pleasantly firm bed), quiet, cool when it was hot outside and warm when it was cold. Like its sister property it had a number of amenities such as coffee machine, mini refrigerator and perfume scented Charlotte Rhys toiletries as well as thoughtful touches like a convenient location for electric plugs on the desk and pre-stamped postcards.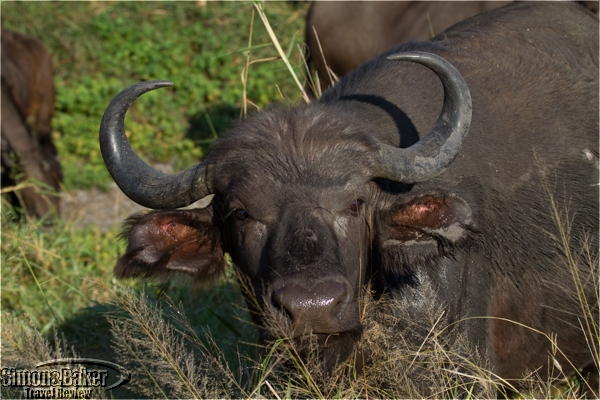 We had excellent closeup sightings of Cape buffalo, one of the Big Five.
A young kudu male with horns just developing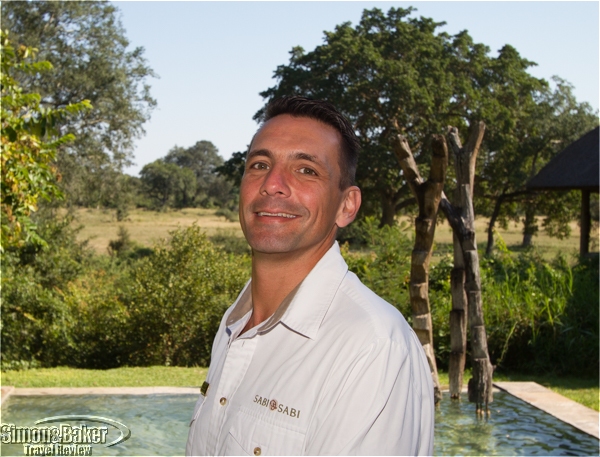 Stefan Schoeman, general manager, was a gracious host.
Meals were buffet style, with a made to order station, in an open air dining room in the main area. We sat at the table of our choice, where staff took our beverage orders. We enjoyed a delicious dinner, including Lamb neck, grilled meat and venison (gemsbock) in the boma (African open air enclosure).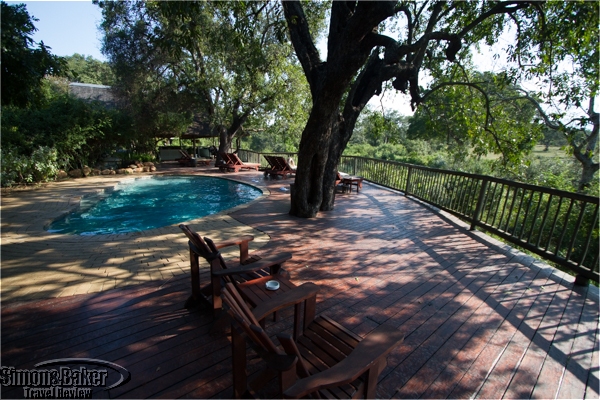 The pool deck had a view of the river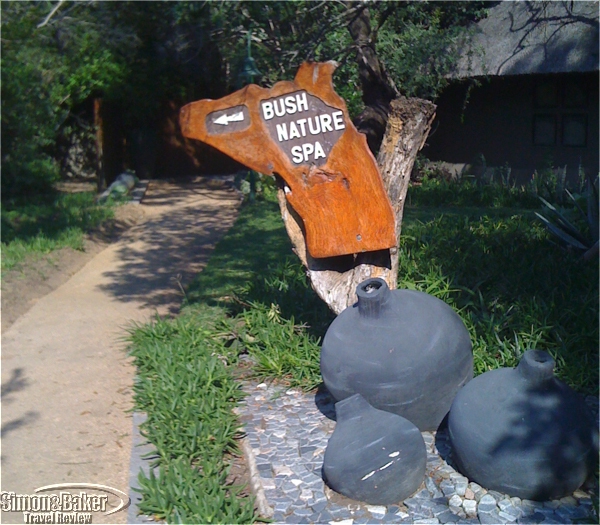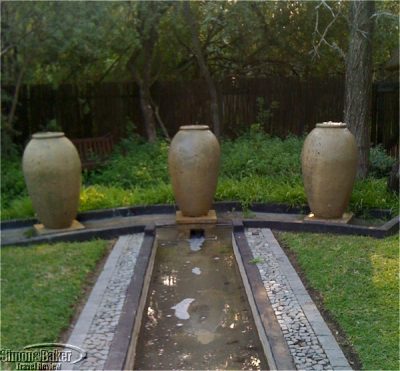 One of my favorite activities was a massage treatment with Tarren, the spa manager and Francois's girlfriend. Had there been more time I would have explored the spa menu further. The excellent Big Five game viewing and spa treatment made our stay at Bush Lodge special. I would return and recommend it to friends seeking a family and group friendly stay in the Sabi Sand Reserve.