Article and photos by Scott S. Smith
The 37-acres of Lotusland were divided into two dozen areas with a total of more than 30,000 plants.
Although my wife, Sandra Wells and I had no plans to visit Lotusland (695 Ashley Road, Santa Barbara, California 93108, +1 805 969-9990, www.lotusland.org) while we were in Santa Barbara, California we were glad we did. We had more than enough already crammed into the two days we expected to be in the area, located 90 miles north of Los Angeles and known as the Central Coast Wine Country. Perhaps because the city had been featured in the 2004 movie Sideways or because of its pleasant weather and lively arts scene many celebrities have homes there. Let's just say we were very skeptical when we started and came away converts to the idea that gardens can be fascinating, educational, and fun.
Although the address is on Ashley Road the visitor entrance was at Cold Springs Road and Sycamore Canyon Road. Its long-in-the-making Japanese Garden had just opened two weeks prior to our visit and demand for tickets was backed up. I believe the heavy demand was due to the attraction's location in a residential neighborhood that capped the number of visitors.
The 37-acres of Lotusland were divided into two dozen areas with a total of more than 30,000 plants, including 3,000 different types of plants, starting with the Australian Gardens at the entrance, which featured, among others, the tea trees from which the well-known healing oil is extracted. Just beyond the gate was the Japanese section (started in 1968, with a final budget of $6 million). It was being finished when we arrived, including the addition of a pagoda as well as the placement of koi and catfish in the pond.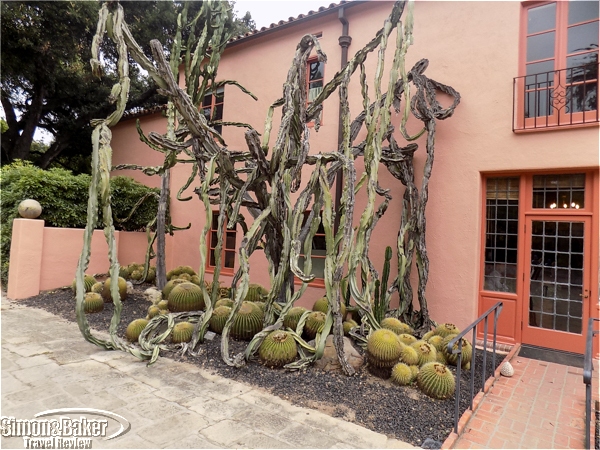 Part of Madame Ganna Walska's home where the Lotusland offices are now located
Our guide was the well-informed Craig Morgan, whose passion for the beauty and benefits of plants in general and enthusiasm, especially for the garden, sparked our interest. When we later read The Healing Power of Gardens by Oliver Sacks, M.D., in his collected essays, Everything In Its Place, in which the famed observer of the human condition spoke about his experiences using gardens as healing centers we thought of Lotusland.
Then there is the colorful back story. Ralph Stevens bought the property in 1882 for his commercial nursery and home. His widow operated it as a guest ranch, and put it to other uses for 17 years. President Herbert Hoover visited for a garden fundraiser in 1937.
Future owner Ganna Walska was born Hanna Puacz in Brest-Liovsk, Poland, in 1887. At 25, she eloped with a Russian count and seven years later was studying singing in Paris and working under her new stage name. The following year the Russian Orthodox Church dissolved their marriage and Walska moved to New York City to escape World War I. While singing at a theater, she developed a throat ailment that took her to Joseph Fraenkel, M.D. They married 10 days later. In 1918, she made her concert debut on the same bill as legendary tenor Enrico Caruso. At her operatic debut in Havana, Cuba, at the end of the year she met Harold McCormick of International Harvester, a sponsor of the Chicago Opera.
After Fraenkel died, Walska was devastated. When she met rich heir Alexander Cochran on a voyage to Paris they married. Back in New York, she pursued her budding interest in mysticism and seances, as well as a friendship with McCormick, who arranged her debut with the Chicago Opera. A jealous Cochran forced her to cancel her performance. She divorced him in 1922 and married McCormick. He planned a 23-city United States concert tour, but she cancelled the first half when he underwent an appendectomy. He bought her a theater in Paris, which she managed for 10 years and ended up owning for nearly half a century. She made concert tours of America in 1923, 1925, and 1928, the only times during their marriage she visited the United States, despite McCormick's residence in Chicago. He divorced her in 1931 on the grounds of desertion, but they remained friends. She lived half the year in France, half in New York, where she continued to explore Indian philosophy and her fascination with hypnotism. In 1940, she escaped France on the last commercial passenger ship before the Nazi occupation.
In New York, she studied yoga with Theos Bernard, known as the White Lama. After Walska's next husband, a physician, died in 1940, Bernard proposed and they decided to buy what was then known as Cuesta Linda, renaming it Tibetanland, with a plan to turn it into a monastery for Tibetan monks. They began planting a variety of gardens and Walska published her autobiography, Always Room at the Top, in 1943. Three years later, they divorced and she never remarried, dedicating her life to collecting rare plants from around the world and creating a unique landscape. She renamed the garden Lotusland because the lotus, which grows in mud but produces a beautiful flower and could be a metaphor for human aspiration, is regarded by many cultures as a symbol of enlightenment and rebirth. She died in 1984. The Ganna Walska Lotusland Foundation spent the next nine years preparing the property for public tours.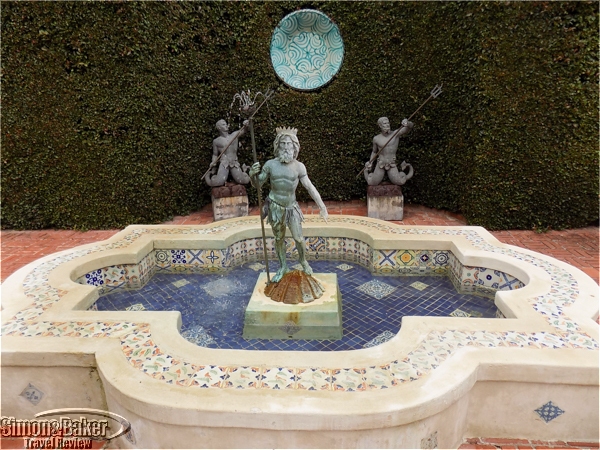 There was art amidst the plants at Lotusland
Lotusland was full of sculptures, such as in the Theatre Garden, which featured a collection of grotesques, 17th century stone figures of an Italian entertainment troupe of dwarves. They were so valued that Walska had them buried with her jewelry when she fled the German occupation. Around some of the pools, like the one in the Aloe Garden (with its 140 species), were giant open clam shells, colorful abalone shells, and turquoise glass (retrieved from the slag at the factory making Sparkletts water bottles). Colored tiles, stones, and sand were used to create pictures and designs by the sides of the paths. There was a Topiary Garden featuring plants growing over wire frames that represented a menagerie, as well as an enormous working clock of flowers. According to Lotusland promotional materials Walska was one of the first garden designers to plant groups en masse to create a dramatic impression.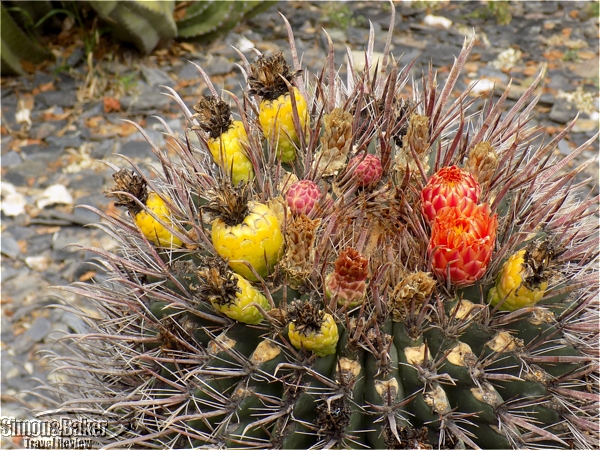 Cactus flowers provided unexpected color
The Cactus Garden contained more than 300 species (one-sixth of the total known), grouped by their country of origin (native to the Americas, they spread to the rest of the world). All have adapted to conserve water, such as thickened parts for storage and the spines, which are its leaves that curb water loss by reducing air flow close to the stem and providing some shade (as well as defense against critters). Unlike other plants, their photosynthesis process, in which carbon dioxide enters the plant and water escapes, cacti delay the latter until night, reducing water loss. A mature saguaro can absorb as much as 200 gallons of water in a single rainstorm. We were amazed at how cacti differed in their shapes, colors, flowers, and the way they twisted to adapt to their neighbors.
It was surprising to come across other species in the Tropical Garden, such as the epiphyllum native to the Brazilian rainforest. We had never thought of cactus being a tropical plant.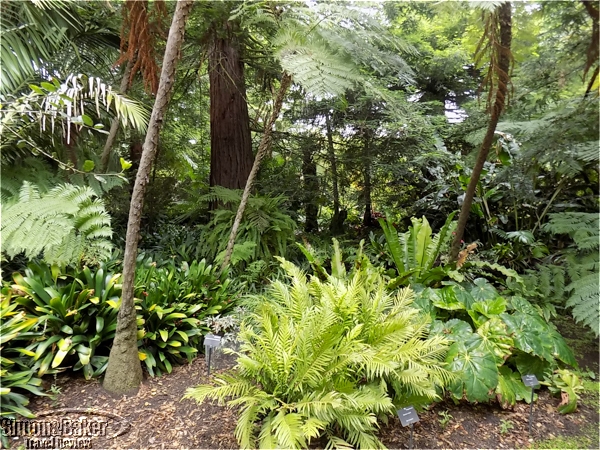 Broad-leafed begonias among the ferns and a mature Dragon Tree, with its umbrella-like branches.
Although we thought of Lotusland as an oasis for desert flora and there were sections for dry-climate trees like palm and olive, it was also lush with a wide variety of plants of other climes.
We thought of Lotusland as an oasis for desert flora and there were sections for dry-climate trees like palm and olive, but it was also lush with a wide variety of plants of other climes. Lotuses and lilies covered a pond in the Water Garden and the Insectary Garden attracted butterflies and insects that have helped gardeners avoid using pesticides. Ferns shared shade with broad-leafed begonias (whose asymmetrical leaves are unique to the plant world in not matching), while other sections were devoted to cypress trees and roses. Mature dragon trees, whose branches reached almost vertically toward the sky, were striking and emitted a red resin known as dragon's blood, used in folk medicine and favored by Roman gladiators to give them a fierce appearance. Lotusland had one of the most significant collections of bromeliads in the United States, a diverse family whose members trap moisture. They were clustered in several of the gardens, ranging from Spanish moss to pineapple.
One area in transition was the Blue Garden, which Walska had stocked with blue and silver-gray foliage. Tall trees had blocked the sun and the area was being replanted.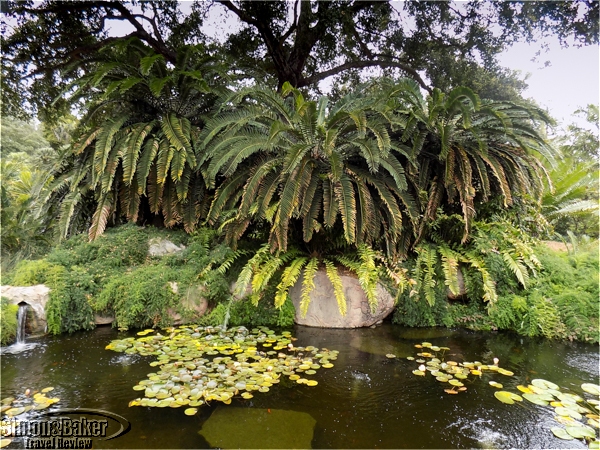 Three of the rarest plants on the planet, giant cycads
The most important section was devoted to the cycads, plants found in the fossil records going back 300 years, whose enormous cone-like reproductive structures called strobili (some weighing 30 pounds) were eaten by dinosaurs. Individual plants are either entirely male or female and may live as long as 1,000 years. They have stout, woody trunks that are often under the ground, while the foliage emerges from the top and grows in a rosette form, so they can look somewhat like ferns or palms. There were 900 specimens in the Cycad Garden.
In 1977, Walska auctioned her jewelry to pay $980,000 for two of the rarest plants in the world, two encyphalartos woodii cycads. Another was added later at an undisclosed price. Five were left in the world, all in private hands and all of one gender. It was believed that there were none left in the wild.
The horticultural wonderland of Lotusland impressed us. We were constantly surprised by the garden's rare species, the exotic appearance of so many plants, and their beauty (not to mention the interesting story of Madame Walska). We now understand what she meant when she said in her autobiography that she was "the enemy of the average." We look forward to exploring other gardens across the world.