By Elena del Valle
Photos by Gary Cox
We go on safari to see nature. Thankfully that does not always mean missing out on exercise.
While on safari safety is a priority. Frequently wild animals, some of them dangerous, roam freely near the luxury lodges where guests stay. They may stroll through the property. This means that in many places staff escorts are required for guests at night and sometimes in the early morning around dawn. At the dozens of properties where I have stayed, with some exceptions, jogging and running were discouraged or not allowed. This makes exercising beyond in-room basic stretching difficult.
The two swimming pools at Singita Ebony were large enough for laps.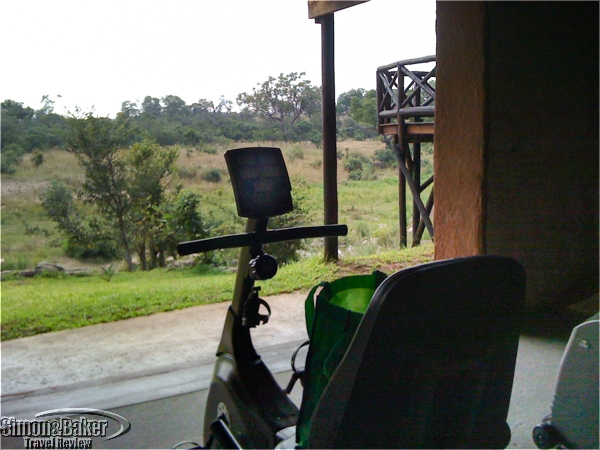 The workout room at Lukimbi was open air.
I suspect that many fitness aficionados smile with pleasure on discovering somewhere to safely stretch their legs while in the African bush. Yet running, jogging and exercise in general were difficult or not possible in many of the Big Five properties I have visited, especially in those without electric fences surrounding the property itself. That is why I remember the lodges with a full length swimming pool or a dedicated workout area with particular fondness.
While at Fitzpatrick's Lodge at Jock Safari Lodge we had access to the Jock exercise room a short drive away.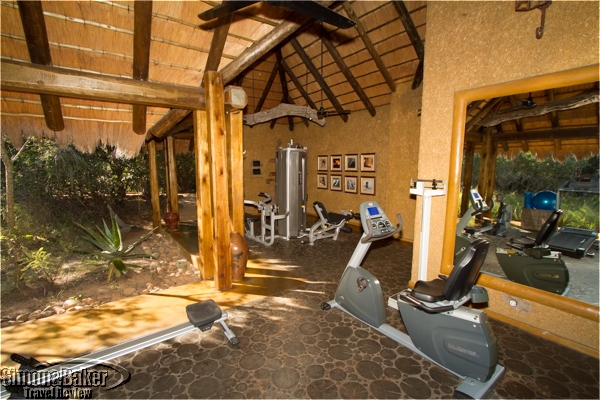 The open air workout area at Camp Jabulani was covered
While on safari days fly by in a blur of activities, mainly twice daily game drives and sometimes guided walks. Early mornings and three course dinners make finding time to exercise a challenge. For those willing to do so having a pool to swim laps, treadmill, elliptical machine or free weights can be the ultimate luxury. On our  2017 trip to South Africa, several five star safari lodges, Lukimbi Safari Lodge, Fitzpatrick's Lodge at Jock Safari Lodge (www.jocksafarilodge.com, +27 (0) 13 010 0019, Fax  +27 (0) 86 601 9961, Reservations@jocksafarilodge.com), Sabi Sabi Earth Lodge, Singita Ebony, Simbambili Game Lodge, and Camp Jabulani, had fitness facilities.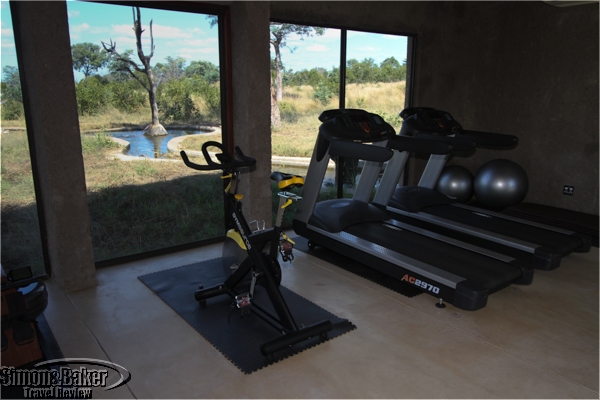 The air conditioned exercise room at Sabi Sabi Earth Lodge with a pretty view was a favorite.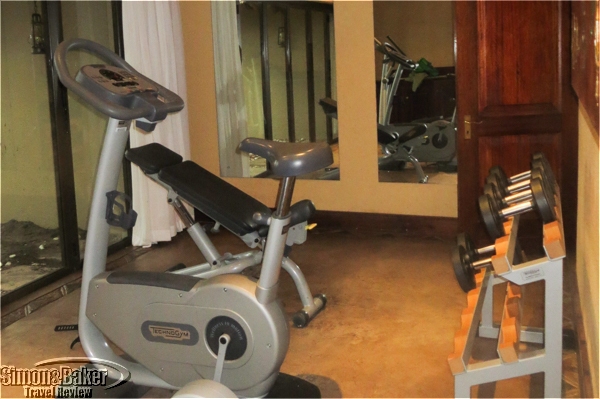 The workout room at Jock's had a rack of dumbbells and a slanted bench
Lukimbi, on the southern end of the well known Kruger National Park, had an open air fitness and treatment room facing the lawn and bush across the Lwakahle River. The pool was visible from the workout room as well. The room housed a workout space with weights station, Running Machine, Cycle, and Step Machine.
I liked the glass wall at the air conditioned Singita Ebony workout room, which was in the same building as the spa.
Earth lodge featured a variety of aerobic machines and a resistance circuit machine.
As a guest at Fitzpatrick's I had access to the small workout room within the Jock's Safari Lodge 150 square meter spa building. The sister properties were within a two minute drive. Anelda, our friendly host, kindly drove me over from Fitzpatrick's to Jock's. The visit also provided me an opportunity to browse in the curio shop as Fitzpatrick's was too small for its own shopping space. When I was ready to return I asked the staff person at Jock's to call her. Within minutes she picked me up. Thanks to the room's glass wall I enjoyed bush views during my workout. A thirty minute careful jog along the property's wet pathways (it rained during most of our three night stay) rounded out my morning.
Simbambili had an indoor workout room in the same building as its meeting room.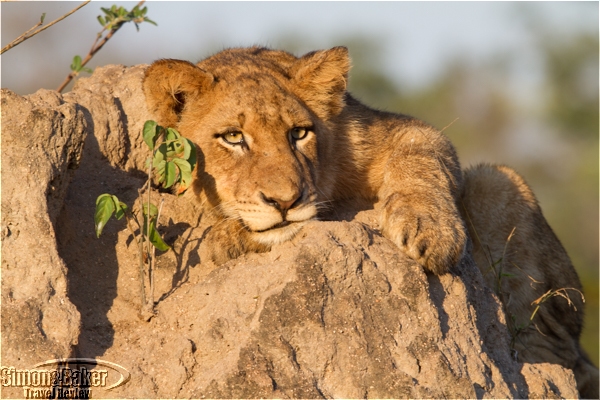 While this cub could exercise safely in the reserve the humans had to stay indoors.
Sabi Sabi Earth Lodge, one of our favorite properties on that trip, had a dedicated air conditioned 50 square meter (5 meter by 10 meter) workout room in a stand alone building. Some of the workout room's glass walls faced the bush and a water feature. I especially enjoyed watching the many birds attracted by the water feature in the morning during my workout. The fitness room housed two treadmills (Impulse AC2970), spinning bicycle (Gym Source Tour), water rower (Water Rower Club), Multigym (Impact FIT200 Classic), freestanding bench, Kettle Bells in two kilo increments ranging from four to eight kilos, two Pilates balls, three yoga mats. Amenities include chilled sparkling and still mineral water, Powerade, hand towels, sanitizing spray and paper rolls. I later found out there is an adjoining shower for guests who wish to freshen up.
"The beauty of the location of the gym is such is that it does not impact on the main lodge but is hidden away and also blends into the environment," said Heath Thompson, lodge manager, via email when asked what makes the gym stand out. "The structure is built with the same concept as that of the main lodge with a natural, organic type structure and the majority of the gym is glass, with views of a waterhole – allowing for uninterrupted views of the bush veld whilst training or exercising. We have often had remarks from our guests who have spotted elephant drinking from the waterhole. The bird life is also phenomenal due to the availability of a water source."
A fan of bush walks he added, "Whilst this performs the mainstream basis of keeping fit (from all that delicious food of course), there is also the opportunity to go on one of our environmental awareness walking safaris, so whilst this is not traditionally an 'exercise' based excursion and the idea behind this is to expose guests to a safari from a different angle and experience the "small stuff" that one generally misses whilst out on a an open vehicle, it does nonetheless necessitate walking (up to 1.5 hours). So whilst gaining a holistic experience of the African bush from a walking perspective, one's body also benefits from the walking."
The workout machines at Camp Jabulani were under thatch next to the massage area.
Singita Ebony's fitness room shared a building with the spa. The air conditioned space had wood floors, a row of machines, and a bush facing glass wall. In addition to our en suite heated private plunge pools (a favorite) Singita Ebony also had two common area swimming pools. Although the water was chilly it was wonderful to have a midday swim to offset the blistering summer heat.
"Singita Ebony Lodge has a very unique bush spa with gym attached," said Chantelle Maritz, co-manager, Singita Ebony Lodge. "The two rooms at the spa are comfortable and decorated alongside the classic safari look with sliding doors that open. The gym side is a rock wall with large glass windows."
The 49 square meter (11.3 meter by 4.3 meter) gym was stocked with individual size bottled water and coconut water, towels, television and two showers (shared with spa guests).
As of May 2018 the gym offered the following weights in kilos: 10 to 20 sizes, kettle bells in 4, 8 and 16 kilos, medicine balls in 3 and 5 kilos. There were: foam roller, five floor mats, yoga block, two wellness balls and Technogym equipment: bench, two treadmills, two exercise bicycles, multi-functional trainer, shoulder press machine, chest press machine, cable station, leg extension, and vertical traction machine.
While seeing the animals is still the best part being able to exercise is healthful.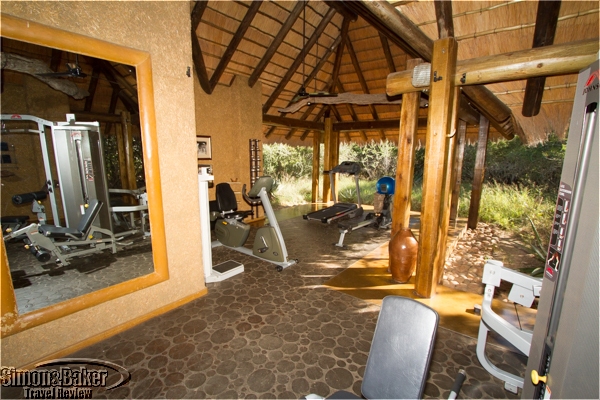 Camp Jabulani had a steam room and sauna.
Our three-bedroom, three bathroom Zindoga Villa accommodations at Camp Jabulani were so spacious and comfortable I had little need to spend time in the common areas with the exception was the dining room at meal times. The pretty 53 square meter open air workout area, equipped with: Johnson multipurpose machine, static bicycle and Johnson rowing machine, Trojan treadmill, six sets of free weight Trojan dumbbells and Detecto scale, was inviting. There was also a new looking six square meter sauna with a glass wall. Had we spent another night at the property I would have made time to work out; and should we plan a future safari trip to the area Camp Jabulani will be high on my list, among other reasons, for its workout facility. For more South Africa safari properties with workout facilities when we were there see Safari properties that offered exercise facilities among favorites.