A leopard in a tree during a game drive at Rattray's on MalaMala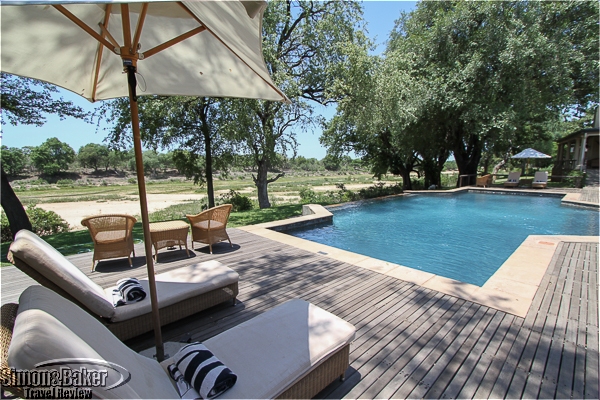 The pool at Ratttray's had a view of the dry river bed
When on safari the repetitive cycle of daily game drives and copious meals can leave us tired without the healthful benefits of exercise. On our most recent itinerary featuring safari properties in Botswana, Namibia and South Africa two lodges stood out for their fitness and pool features. Both lodges, within the Sabi Sand Reserve, a private reserve adjacent to South Africa's Kruger National Park, had private plunge pools in the rooms as well as a main area swimming pool large enough to swim short laps.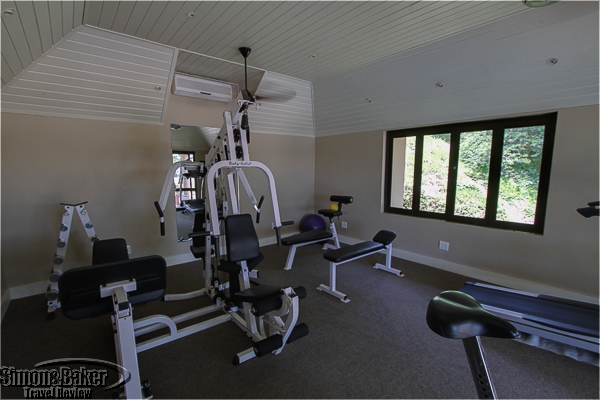 The exercise room at Rattray's
A white rhino during a game drive at Rattray's
In the Mala Mala Reserve, Rattray's on MalaMala had a dedicated fitness room for guests with exercise equipment and a few weights. Next to the fitness room there was a sauna. In front of the fitness room there was a swimming pool. Both had expansive views of the lawn and dry river bed. In addition, there were private plunge pools on the river facing deck of each spacious room.
 The main pool at Chitwa Chitwa Private Game Lodge faced a dam
From the pool deck we observed elephants visiting the dam
Chitwa Chitwa Private Game Lodge, in the northern end of Sabi Sand Reserve, also had a dedicated workout room with electric exercise machines. The art filled sunlit room with glass walls was adjacent to the property's dedicated spa treatment room. Guest rooms had private decks with bush and dam views as well as plunge pools. In the main area, there was a rimless swimming pool facing the property dam.
The exercise room at Chitwa Chitwa
A lion seen during a game drive at Chitwa Chitwa