Article and photos by Aaron Lubarsky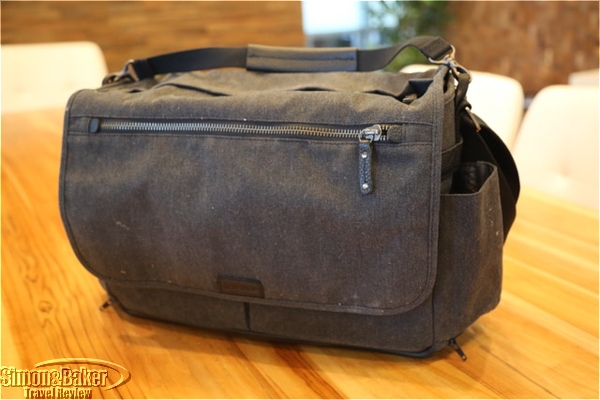 The Tenba 15 Cooper Bag was made from a light grey canvas material with black leather accents. 
The first thing I noticed about the Tenba 15 Cooper Bag (Tenba, 75 Virginia Road, North White Plains, New York 10603, +1 914 347 3300, www.tenba.com, info@tenba.com) was that it is handsome, movie star handsome. Made from a light grey canvas material with black leather accents, the minimal design is at once sophisticated and restrained. Style-wise it was a big upgrade from my bulky black Lowepro camera backpack.
 I counted ten pockets
I recently put the Cooper 15 through its paces during a documentary shoot in San Francisco, California. I flew from New York, and as a carry-on bag it's a class-act with enough exterior pockets and pouches to handle all of my needs, from a water bottle to a Kindle to a boarding pass. Tenba says the bag has "tons of pockets" but I counted ten, which was sufficient for me, including two slim expandable side pockets. The compartment for the laptop was easily accessible and just padded enough to comfortably hold my 15 inch MacBook Pro.
The bag's interior was deceptively large.
Made in China, it's light weight (3.6 pounds) with a peach-wax cotton canvas water-repellent exterior. The base is leather and waterproof, a feature I appreciate, although it doesn't feel like the kind of bag that I would take out in rough weather conditions, even though it should be able to handle it.
The bag's interior was deceptively large. Its dimensions are 15 inches wide by 11 inches tall and 6.5 inches deep. I was able to pack all of my regular gear (including sound gear) with room to spare. Surprisingly, it held as much as my larger, bulkier camera backpack. It has a removable padded camera insert, which I configured to my taste. Because the storage area is one large deep pocket, I had to stack things on top of each other. When I had a lot of items it was necessary to do a little unpacking to grab what I needed, which wasn't ideal for run-and-gun situations.
It held as much as my larger, bulkier camera backpack.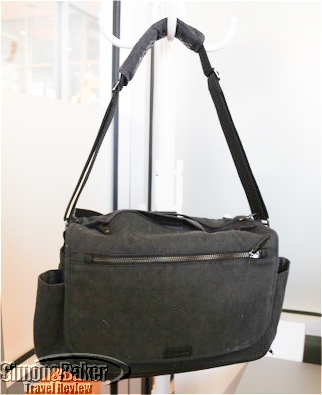 A shoulder bag that fits in anywhere
But, I wouldn't categorize the Cooper 15 as a run-and-gun workhorse. This is the bag I take with me to a meeting with a high-end client. It's a shoulder bag which meant I wore it over my shoulder (go figure) or carried it like a briefcase. It has a useful trolley strap, but there were times I wanted to toss it on my back, making me miss my go-to camera backpack, which makes me look like a third grader coming home from school, but at least left both of my hands free.
I like its zen-like balance of style and function.
The only part of the design I found irksome was the top-zipper. The idea is nice: to grab my camera quickly I unzip the top of the bag and voila I should be able to reach my camera. But two layers of zippers made it cumbersome to reach my gear. Once I tucked in the interior layer I solved the problem. Another thing to keep in mind: dirt and stains showed easily on the light gray canvas. To keep this bag's dashing appearance requires some maintenance, but it's easy to wipe clean.
The main thing I like about this bag is the zen-like balance of style and function, appropriate for an out-of-town shoot. Even though it was designed as a camera bag, it could suit travelers without cameras who need a large, stylish briefcase. I'll be taking it with me to my next uptown meeting.