By Scott S. Smith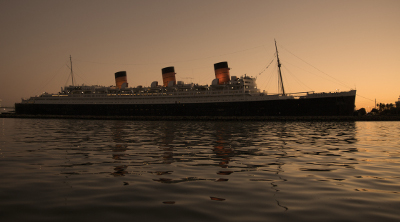 The Queen Mary at dusk from "Mighty Ship At War: The Queen Mary"*
I previewed the Smithsonian Channel's new "Mighty Ship At War: The Queen Mary," the engrossing tale of one of the greatest ocean liners favored by celebrities, which became a critical troop transport and Allied command center during World War II. It is now docked in the port of Long Beach, California, as a museum, special events venue, and luxury hotel (also featured prominently in this excellent documentary, produced by STV Productions for the Smithsonian Channel and BBC Scotland). The one-hour special, produced and directed by Matt Pinder to commemorate the 80 anniversary of the ship's maiden voyage, will premiere Sunday, August 21, at 8 p.m. ET/PT. 
It is a fascinating story of the most famous of the Cunard vessels. The documentary moves at a fast pace, balancing historic film and still photos with interviews of those who sailed or worked on it. Construction in Scottish shipyards in the early 1930s helped many survive the Great Depression. The naming ceremony for the largest and most powerful ship of its kind drew 250,000. It was moved to its home port of Southhampton, England, and sailed to New York City in May 1936 in just over four days. A floating palace with five dining areas, a grand ballroom, and a squash court, it was wildly popular for the next three years, favored by stars like Clark Gable and Marlene Dietrich and featuring entertainers such as Bob Hope.
As Nazi Germany became a threat, Jewish families fled Europe on the liner. Its last civilian voyage was in September 1939. Transformed into the largest and fastest troop transport, the 81,000 ton ship could carry up to 16,000, ultimately delivering over one million, including helping with the D-Day invasion. Hitler offered $250,000 to any U-Boat captain who could sink the 81,000 ton vessel. Aboard it Prime Minister Winston Churchill and the British high command planned strategy on the way to Allied conferences. As a journalist specializing in World War II, I found this part the most gripping, but no segment lasted too long.
After the war and refitting, the Queen Mary enjoyed two decades of glory, carrying an average of 1,000 passengers per voyage. But in 1965, with competition that could fly from London to New York in hours, it began losing money and its last Atlantic crossing came two years later. Over two million passengers had enjoyed its service as it sailed 3.8 million miles.
Long Beach opened the doors to tourists in 1971 and the Queen Mary has had its ups and downs under various managers. The latest firm recently announced an investment of $250 million in the area (I found the Russian submarine Scorpion and the Battleship Iowa nearby well worth visiting). None of these rough seas in retirement have dimmed the public's fascination with the legendary vessel, which has attracted 50 million visitors. Among the draws are a chance to stay in the original 346 first-class suites, a five-star restaurant, a spa, special exhibits (currently on Princess Diana), a 4-D theater, and numerous tour options. I rate the documentary and the Queen Mary an A grade for anyone interested in the great ships which sailed through such important moments of our history.
*Photo courtesy Smithsonian Channel