Article and photos by Elena del Valle
The outer gate at The Last Word Franschhoek
During a recent visit to the beautiful Franschhoek Valley in South Africa's well known Winelands, I spent one night at The Last Word Franschhoek (68 Huguenot Street, Franschhoek 7690, South Africa, +27 021 876 4723, http://www.thelastword.co.za/en/home/, franschhoek@thelastword.co.za), a boutique bed and breakfast in the heart of the village of Franschhoek. Franklin Menloor, assistant manager, welcomed me on arrival and showed me around the 10-room boutique property owned by Peter Fleck and Nicky Coenen.
There was a 350 year old tree by the door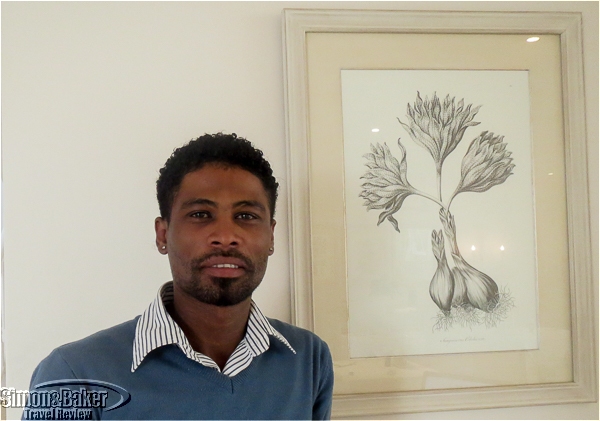 Franklin Menloor, assistant manager, showed me around the 10-room boutique property
I liked my homey second floor 35-square meter Superior Double Room facing the rear of the property and decorated in earth tones. Although I could hear neighborhood and street noises, considering its central location in the heart of the village it was relatively quiet. It had WiFi, comfortable and pretty cloth furniture, double curtains, a large Samsung flat screen television, and wall to wall carpeting. The temperature could be adjusted via underfloor heating and a remote controlled ceiling air conditioning and heating unit.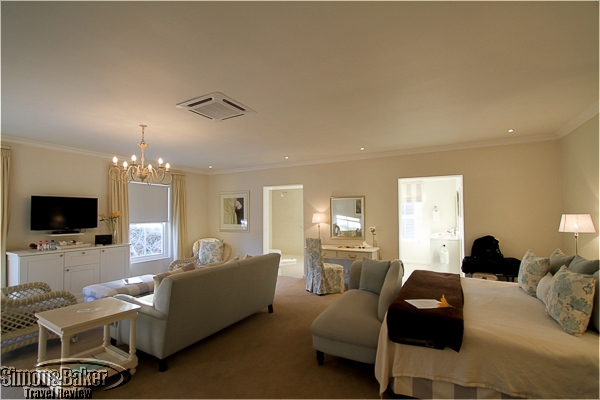 Room 7, my 35 square meter room with a sitting area
Room 7 was in the property's new section built following a flood nine months prior to my visit. The modern room was on the second floor of the former private house facing the rear of the property parking area and a residential street. It was the first room at the top of the stairs that led from the living and dining areas of the bed and breakfast. It was adjacent to an open terrace that faced the intimate ground floor pool area. While it was too chilly to spend time poolside I loved the expansive view of the verdant surrounding mountains from the terrace.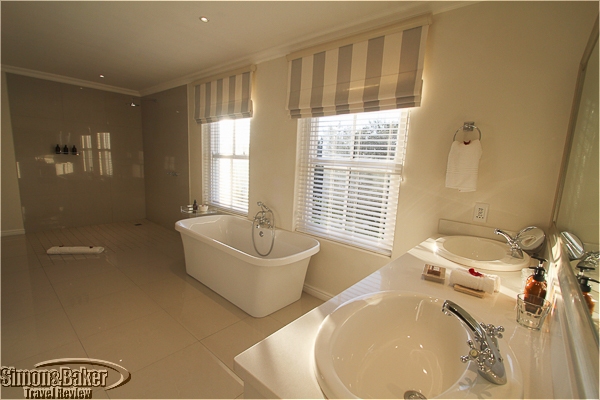 My spacious and sunlit bathroom was spotless
Amenities included a slice of cream pie on arrival, a well stocked mini refrigerator and mini bar including a bottle of South African red wine, two red apples, snacks, and a hot beverages drawer with coffee pot, hot water pitcher, coffee and tea. Also included in the room rate were turn down sweets, like a small cup of crème brulee, and breakfast.
The creme brulee turn down snack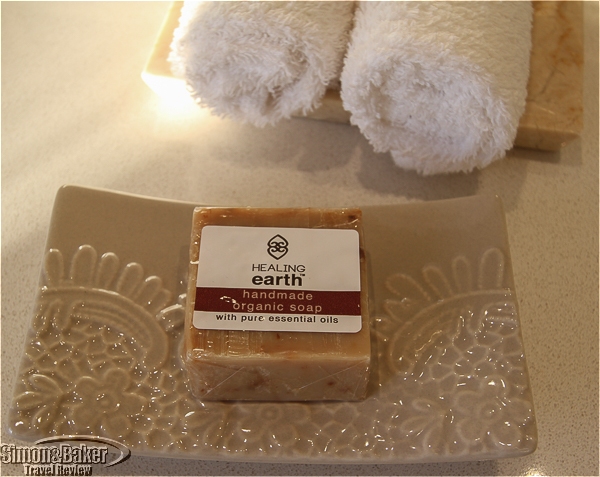 I liked the healing Earth toiletries
The large bathroom had: oversize door-less shower, water closet, separate bathtub, stool, twin sinks, and a built-in closet. During my stay, I tried Healing Earth South African made toiletries for the first time. In the light filled bathroom, there were 200 milliliter bottles of pleasantly scented shampoo, shower gel, conditioner, bath salts, and one small bar of soap. Fresh flowers and a handful of rose petals added a romantic touch.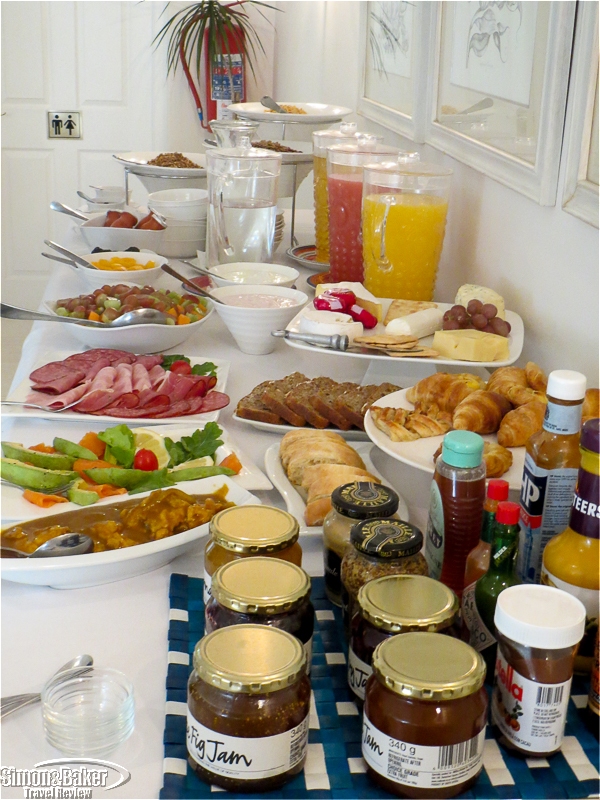 The breakfast buffet
At breakfast there was a small buffet of pastries, jams, nuts, dried fruit, fruit in syrup, cereals, fruit juice, deli meats, cheese, crackers, salmon and avocado. It was also possible to order a hot made to order breakfast, which consisted of mostly egg options and pancakes. Sides for the egg dishes were sausage, bacon, mushrooms, tomato, and toast.