Article and photos by Elena del Valle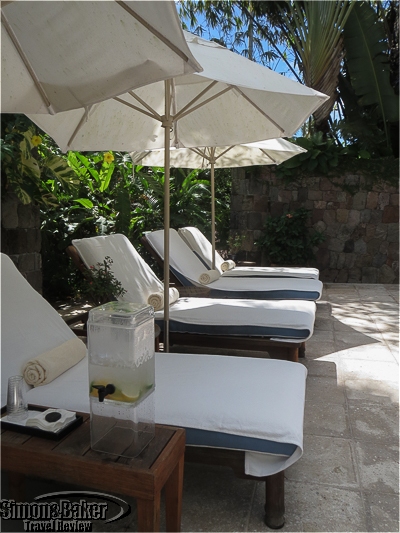 One of several outdoor areas at the Four Seasons Spa
Heading to the tiny island of Nevis in the West Indies I was unsure what to expect in the way of spas. I was pleased to discover several options. I tried three facilities, the spa at the island's largest and best known resort, a family run spa and salon in a residential area, and a small salon in the main town of Charlestown, both locally owned.
The Compassionate Touch Spa and Salon was in a residential area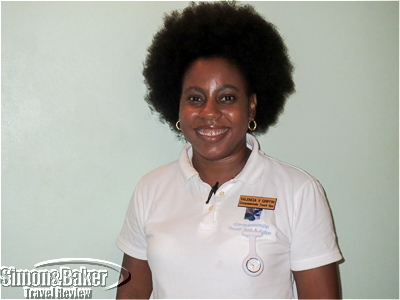 Valencia Griffin, co-owner and therapist, Compassionate Touch Spa and Salon
The spotlessly clean 1,848 square foot Compassionate Touch Spa (Nisbet Estate, Saint James Parish, Nevis, +1 869 469 9748, +1 718 594 1712,wwwcompassionatetouchspa.com, tdgriff@sisterisles.kn) in a tranquil village on the north side of the island could accommodate up to five guests at a time. Because we arrived late my Nevis Therapeutic Massage was cut short, although there was time for an owner led walk through the facility before my treatment. Established in 2001, the spa had been renovated in 2007. In addition to owners David and Valencia Griffin there were three staff. Ms. Griffin trained at the Nothern Institute of Massage of the Essex School of Beauty. There was a wet treatment room, a pedicure room, three massage or facial rooms, one manicure room and a waiting area. There were lockers, robes and slippers.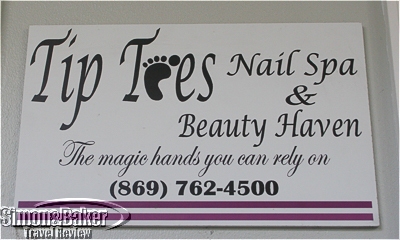 Tip Toes Nail Salon was in the main town of Nevis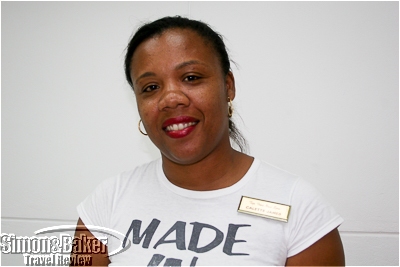 Calette James, owner, Tip Toes Nail Salon
I stopped in Charlestown for a massage by Calette James at the Tip Toes Nail Spa and Beauty Haven (Hunkins Plaza, Charlestown, Nevis, +869 762 4500, tiptoesnailsspa869@gmail.com), a facility near the main road. It had a reception area and a treatment room. Guests had access to a locked and clean shared restroom behind the salon.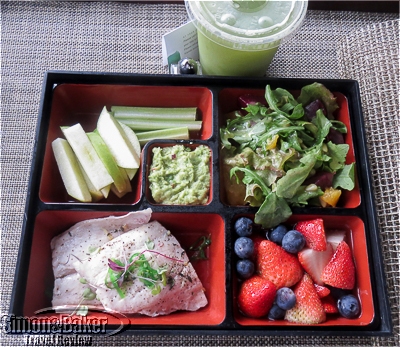 My smoothie and a bento box with fresh fish at The Spa at Four Seasons Resort Nevis tasted as good as it looked
 The Spa at Four Seasons Resort Nevis (P.O. Box 565, Pinney's Beach, Charlestown, +869 469-1111, http://www.fourseasons.com/nevis/spa/spa_overview/, spaConcierge.nev@fourseasons.com) was located within the resort, which in turn was on Pinney's Beach. Open to hotel guests and the public the spa was popular, though not crowded, while I was there in the low season. A staff of 23 worked at the 12,000 square foot establishment with 12 treatment rooms, six outdoor freestanding cottages and six indoor treatment rooms.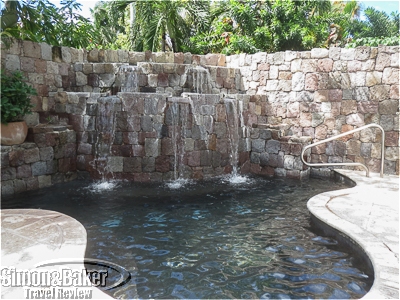 The heated jacuzzi at The Four Seasons Spa was popular
The manager at the Four Seasons Spa
During several hours of spa indulgence I spent time in the outdoor volcanic stone whirlpool bath, cold plunge sala style pool with viewing deck of Nevis Peak (Mount Nevis) and a golf course, had a Spa Cuisine Bento Box Lunch made fresh at the resort, and received a Nevisian Massage (no longer available) in an outdoor cottage. The spa manager, Bernadette Gonnet, was in the reception area when I arrived and made several helpful suggestions. The staff members I met were friendly and the facilities quiet and pleasant. It was one of the highlights of my Nevis trip.