By Elena del Valle and photos by Gary Cox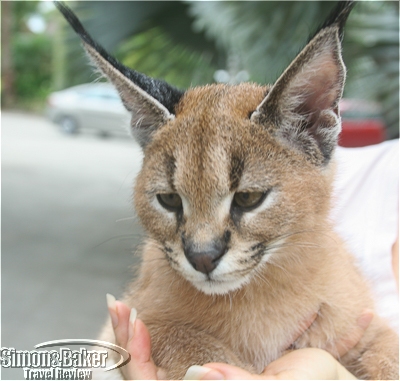 Freya, a caracal lynx
As I stood near a lion themed water fountain in a subtropical garden at the Zoological Wildlife Foundation in the southwestern suburbs of Miami, Florida holding Freya, a relaxed caracal lynx, an African khaki colored wild cat with pointy ears, I marveled and took a mental snap shot of the special moment. Never in the many safari drives and walks I have been fortunate enough to enjoy over the years had I come close to the elusive bush animal. Freya allowed me to pet its head and back. I was surprised at how soft the fur felt and how comfortable Freya was settled in my arms.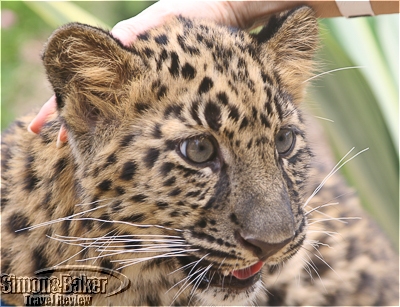 Vadim, a rare amur leopard
Sure, the caracal's attention span was fleeting. It turned left toward a group of visitors near the monkey cages and right as the sounds of nearby construction drew its attention. Yet it was calm, allowing me to savor the experience while my partner struggled to photograph it because while its body remained immobile its head swiveled around constantly. It was curious and distracted, making it difficult to capture even a single clear image.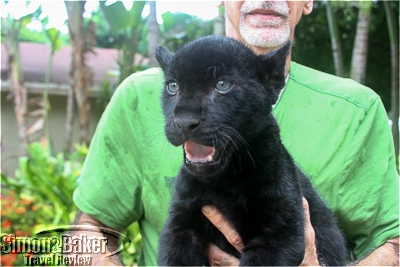 Mario Trabaue holding Onyx, a restless black jaguar
Next, we had a chance to hold Onyx, a young black jaguar. Despite the clouded midday sky we could see the muted rosettes on his black coat. They were stunning. Freya seemed downright angelic in comparison to the gorgeous jaguar who would not be still, not even in the arms of its expert handler. After a few moments of intense and futile wrangling I passed Onyx back to him. He had little more luck than I did. Eventually it was my travel partner's turn to hold the cat. When for an instant Onyx calmed down I lifted the camera to take photos until my partner yelped. The reason the cat had seemed less agitated was because it was defecating and the excrement landed on his arm. The incident did nothing to dampen our enthusiasm. He cleaned his arm as best as he could with the chilled iced tea bottle we had at hand while we watched Onyx leave in the company of its owners, Maria C. Tabraue and Mario Trabaue, who had come to greet us during our Zoological Wildlife Foundation Private Tour with a primate and feline interaction session.
Sarabi, a playful tiger cub
Stephen Gregorio, our friendly guide and the Foundation's zookeeper, had Vadim, a rare amur leopard, on a leash a few feet away from us. They had been standing there during our interaction with Onyx. Vadim too returned to his enclosure shortly after Onyx. In the interim, we awaited the arrival of Sarabi, an adorable tiger cub. We could not get enough of him. He acted like the aloof celebrity he was, gently biting his handler's pants, pouncing on plants, and stalking invisible prey. We also spent quality time with Amorette, a capuchin monkey, and after her Chung, a gibbon. Curious and playful she arrived with a stuffed companion and was relatively calm in my arms. Chung, on the other hand, wouldn't hold still for a moment, and was desperate to flee and explore on his own.
Stephen Gregorio, zookeeper at the Foundation, and Amorette, a capuchin monkey
Many of the non human inhabitants of the Foundation were born there (50 percent of the babies had been born and remained at the facility) or transferred from Zoological Association of America accredited facilities. Some were rescues from people who could no longer house them while others had been seized from owners without permits or wildlife violators. Still others had been abandoned, injured or brought for rehabilitation. Whenever possible the Foundation released rehabilitated animals, a spokesperson explained.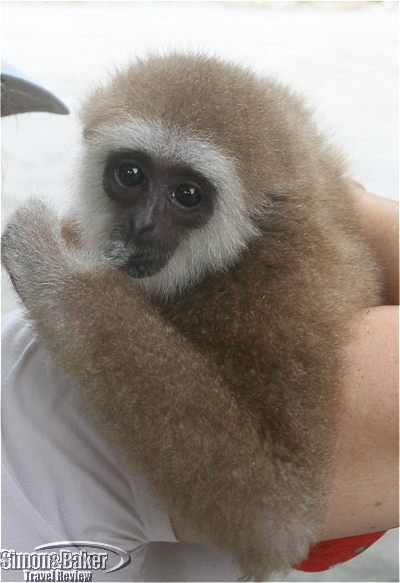 Chung, a gibbon, wanted to explore
The five-acre facility welcomed approximately 20,000 visitors per year. While we awaited our tour guide in the check-in arrival area we heard several foreign languages. It was no surprise since slightly more than half of the visitors were from out of the state or the country. I imagined the intimate wildlife experience drew many of the tourists from near, like us, and far away. According to a 2014 article by Sharon Guynup in NationalGeographic.com only 3,000 tigers may remain in the wild.
According to WildLifeConservationSociety.com only 25 to 40 amur leopards remain in the wild. During our visit to the Foundation we saw a tiger and an amur leopard. They were clean and appeared to be well looked after by the staff. While my preference remains to see wildlife in its natural habitat, in those cases where the animals may no longer survive and thrive in the wild a captive environment may be the only alternative. The Foundation provided a home for its animal residents and an opportunity for visitors to support the upkeep of the animals and at the same time visit them. It was a memorable experience worth repeating.