Article and photos by Josette King
The Gulf of Corinth
I thought I knew Greece. I had visited a couple of its legendary islands and snorkeled in the crystalline waters of its rocky coves. I had stayed in Athens long enough to explore most of its nearby ancient ruins. I had enjoyed the taverna food and the street musicians playing their ornate nine-string bouzouki. And I had learned to stay clear of ouzo, the fiery local brew. So, yes I thought I knew Greece. Until I came across an eight-day Tripology Adventures itinerary from Athens to the Pindus Mountains with overnight stops in Delphi, Ano Chora, Karpenisi, Kalampaka and back to Athens.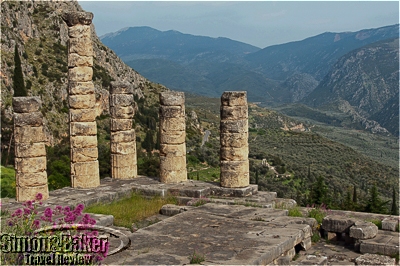 Columns of the temple of Apollo in Delphi
Tripology is an adventure travel company that has been leading self-drive caravans of all-wheel drive vehicles into remote history-rich areas of the planet for over two decades. The Pindus Mountain Range, the vast backbone of peaks, valleys and gorges that traverses the Greek mainland from the northwest to the southeast definitely fit that profile. It is covered with forests so impenetrable that its central region, the Agrafa (Greek for unchartered), succeeded in maintaining its autonomy throughout the four centuries of Ottoman occupation of the country, becoming a refuge for the fiercely independent souls who wanted to escape the oppressors. That wild, sparsely inhabited region has remained relatively pristine to this day. Most of the roads that wind their way up and down its steep slopes are still unpaved. That was a unique opportunity to venture on terrains that I knew better than to attempt on my own and explore a Greece I hadn't realized still existed.
Statuary from the Delphi Archeological site now on display in its museum
Our five-vehicle convoy left Athens on a sunny spring morning, four late model 4 x 4 vehicles packed with eager adventurers, 14 of us in all, following the lead land cruiser with our guide, Yoav Barashi, a seven year veteran of Tripology tours in the area. Our lead driver Nikos Manolis, an expert all terrains driver, was also a noted figure in the Greek rally community. The highlights of the first day, a relaxed seaside lunch on the Gulf of Corinth and a privately guided tour of the archeological site of Delphi, were a pleasant nod to familiar Greece, and an ideal opportunity for us to get acquainted with our traveling companions and our vehicles.
Tiny roadside shrines were a frequent sight
The next morning, the roller-coaster ride that was to become the norm for our entire 1,200 kilometer trip began in earnest as we negotiated Bauxite Way. The 24 kilometer (15 mile) uphill strip of gravel and tight turns is one of the best known stages of the Acropolis Rally of Greece, named after the nearby aluminum ore mine and the prevalent red dust. After the exhilarating driving experience followed by a break at the shaded terrace of a village taverna, we were on our way again. That time we climbed up a rough unpaved trail that hugged the rock face and curved incessantly upon itself on our way to a mountaintop picnic. Our lunch scenery was a jaw-dropping view of densely forested canyons and craggy peaks. Then after an equally tortuous descent we ended up at a rustic village inn for the night.
Lake Mornos
Day after day, as we drove deeper into the Pindus and entered the Agrafa area, the mountains became higher, the canyon deeper and the trails hewed out of the rock more forbidding. Those dramatic vistas bursting with the colors of spring were a photographer's paradise. Each turn revealed a better view of snow capped peaks, a turquoise lake sculpted by canyons in the shape of a giant octopus or a hill dotted with the purple blooms of Judas trees. Tiny roadside shrines were a frequent sight, presumably meant to petition for divine protection on behalf of intrepid travelers or offer thanks for road catastrophes avoided as much as to mark the spot of one that had been.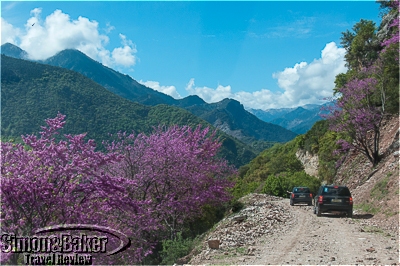 The mountain roads were lined with Judas trees in full bloom
We could drive for hours without seeing a sign of human life, much less another car. Then a shepherd with his flock of long haired sheep appeared, or a herd of goats plundering the high grass at the edge of road or beekeepers tending their hives. One more bend in the road would reveal a village of sturdy stone houses stacked against the mountain, and blending into the rock. We would stop in the central platia, the village square at the heart of every Greek village bookended by the ubiquitous taverna on one side and the village church on the other. Even the smallest of churches was a treasure trove of gilded icons and byzantine style frescoes.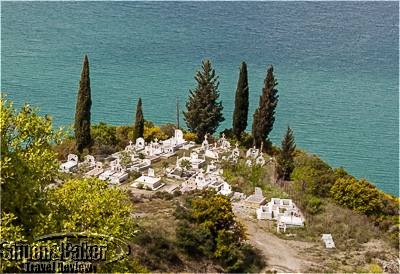 Cemetery on the shore of Lake Kremaston
Our guide Yoav was remarkable for his extensive knowledge of the region and also for his passionate interest in it, which he shared over our two way radio channel. He brought places and events into human context, shedding light on a vibrant and often tragic history that is little more than a footnote in western history books. He was equally knowledgeable of the tales of Greek mythology, mimicking to great effect the foibles of Zeus, Apollo, Hermes and even Aphrodite or Psyche. Had my high school history teacher possessed a fraction of his story telling talent, I might have been an ancient Greece scholar today.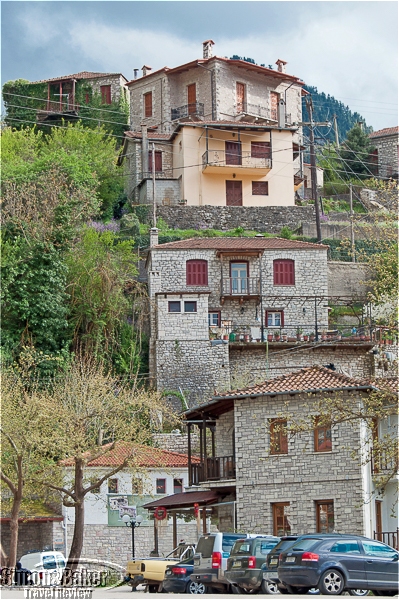 Villages were stacked against the hillsides
Do I know Greece now? I do, a little better at least. But more importantly, thanks to this road journey, I fell in love with the country. I now yearn to return at the first opportunity. And best of all, I so enjoyed the Tripology Adventures way of exploring new horizons that I am already searching their destinations for my next road adventure.