By Elena del Valle
Photos by Gary Cox
The front window of Vinland faces the Portland Museum of Art
The theory of locally sourced gourmet meals offered by Vinland restaurant in Portland, Maine appealed to us. Wondering how well theory translated to practice we made dinner reservations. We were pleasantly surprised.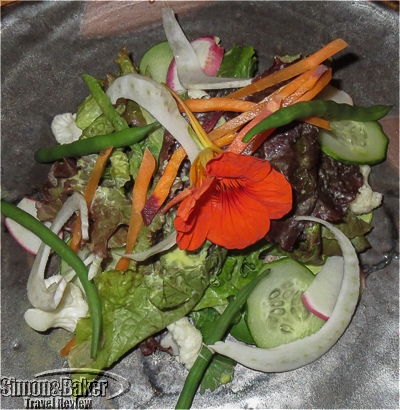 The salad of local greens and herbs
The first thing we noticed was the minimalist décor with an open kitchen in the back of the single space and the warm welcome (Dylan and Timothy looked after us) and ambiance. Wood floors and few adornments lent it a streamlined functional appearance. The armless seats were less than comfortable, and by the end of the meal we were eager to leave just to part company with the seats. In the rear there was a unisex bathroom.
The mussels with polenta 
The menu featured multi-plate options as well as an 18-item tasting menu, and wine pairings. On our first visit, we sampled the multi-plate menus. For the following dinner, we opted for the Tasting Menu with wine pairing to get a broad sampling of the cuisine and celebrate a special occasion. Wines were biodynamic, natural (unfiltered, wild fermented and without sulfites) or wild fermented.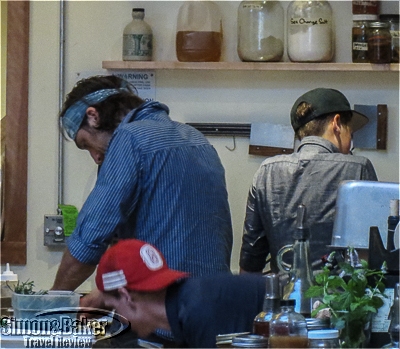 The open kitchen allowed diners to watch the chef and his staff at work
From Beet chips served with crispy beets, chevre cheese and micro greens to the  messy but nice mascarpone Buckwheat Fennel Seed Cookies at the end, and the Austrian, French, and Italian wines by the glass paired to the menu we had a most enjoyable and unique dinner.
Locally sourced lobster served on a stone platter
As the evening progressed the dining room filled and the noise level grew. Staff became busier although we were not neglected. We appreciated our meals at Vinland and look forward to dining there again the next time our travels take us to Portland.