By Elena del Valle
Photos by Gary Cox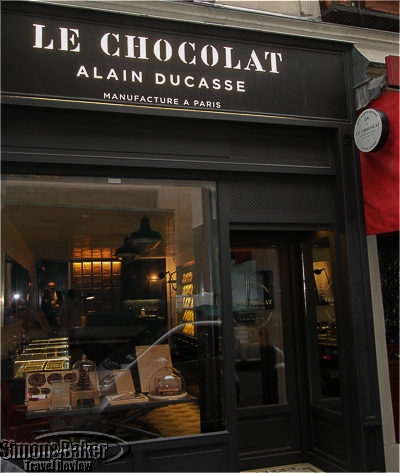 Le Chocolat storefront on Rue Saint-benoite
Paris, France is a city where many bakeries sell chocolates and specialized chocolate shops abound. Some shops sell handmade chocolates made onsite while others tout imported bonbons. Some vendors, especially in tourist areas, attract buyers with elaborate chocolate art and sculptures, sparsely stocked display cases, uniformed and gloved staff, and the high prices that might mean high quality, but don't necessarily deliver on the implied promises.
Inside the store there was information and a display of the raw ingredients for chocolate (click to enlarge)
With such a plethora of choices what makes one chocolate seller rise above the rest despite simple, some might say understated, wrapping and boxes? Chocolates, especially single source dark chocolate bars, made from scratch in the shop's own factory with organic ingredients. At this newly opened shop there were no artificial or from frozen ingredients, flavor enhancers, additives or preservatives in the products. In December 2013 we featured the factory (see The art of making chocolate Alain Ducasse style in Paris).
Specialty chocolate gift items in the window display
On our most recent visit to the City of Lights we discovered Le Chocolat Alain Ducasse's new Left Bank location on a side street off the famed Boulevard Saint Germain (26, rue Saint-benoit, 75006, Paris, +33 01 45 48 87 89, http://www.lechocolat-alainducasse.com, contact@lechocolat-alainducasse.com). We returned often during our stay.
A video about the making of the chocolate ran on a screen (click to enlarge)
A chocolate spread and hot chocolate mix display (click to enlarge)
Opened in March 2014 the 30 square meter shop was owned by Alain Ducasse, he of the culinary empire. Despite the unobtrusive facade (we almost missed it on our first visit due to nearby construction) the shop was busy every time we were there. We were so distracted browsing the chocolate filled shelves and display cases on either side we almost missed the wall mounted television screen with presentations on the factory and manufacturing process, and the pretty original tiled floor.
Note the chocolate bars on display and the historic tile floor (click to enlarge).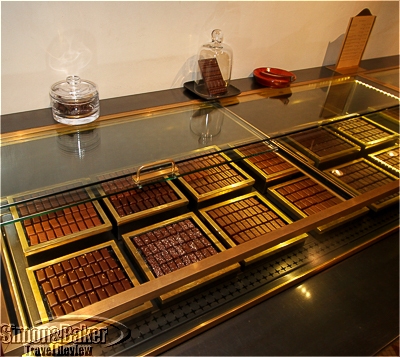 A glass covered display case housed a variety of chocolate covered bonbons (click to enlarge).
On sale in a tall wall case, in brown paper foil lined resealable bags, were 48 varieties of chocolate bars. The design on the bars, available in 100 percent (only one), 75 percent, 65 percent, and 45 percent, was by Pierre Tachon. On the opposite side of the shop, there were also 25 types of bonbons, dragées, roc's, soveria candied fruits, chocolate chips and chocolate spread (in glass jars) all made at the city factory in the eleventh arrondisement.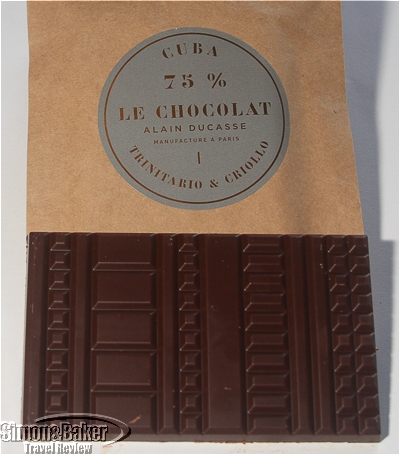 Chocolate made from Cuban Trinitario and Criollo beans
Chocolate and hazelnut spread
Under the careful supervision of the factory staff, the products were manufactured from cacao imported from small farms in 13 countries: Ecuador, Venezuela, Peru, Madagascar, Mexico, Granada, Sao Tome, Java, Dominican Republic, Trinidad, Vietnam, Cuba, and Brazil. To sweeten the brown paste the makers used organic non refined sugar. Italian artisan candied fruits were added to some bars including the muesli chocolate. The milk chocolate muesli chocolate bars, Mendiant Lacte Muesli 45 percent, quickly became my favorite item. Like the truffles and pralines they had a relatively short shelf life compared to the dark chocolate bars, but that was never a problem as they didn't last long. I can't wait to return to Paris to buy a stack.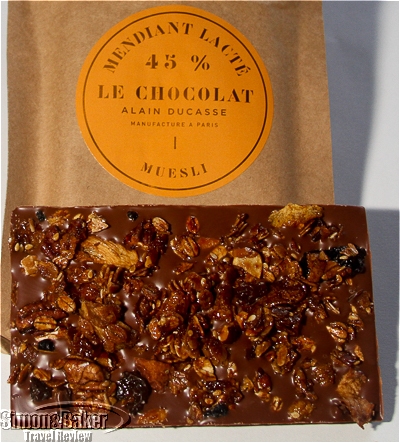 A favorite: milk chocolate with muesli
Peruvian chocolate that had not been conched
We sampled the chocolate spread, and a box each of truffles and praline chocolates. From the chocolate bars we had mostly plain dark chocolate varieties although the Fourree made with coconut and passion fruit filling was another favorite. The single source bars we tried were 75 percent dark chocolate Venezuela Porcelana Criollo (a favorite with a sweet and tart finish), Sao Tome Forastero Amelonado, Cuba Trinitario Criollo (satisfyingly dark without being too sharp), Tradition Perou Non Conche (a favorite from our previous tasting, it was slightly gritty yet rewarding), and Bresil Trinitario. The Brazilian had a dark flavor with hints of tobacco while the Sao Tome was tart with a touch of spice. The Brazilian and Cuban flavors were new and was the 100 percent Peruvian chocolate bar. We tried 100 percent Perou Trinitario, made exclusively from Peruvian cacao. It was sharp and bitter, an acquired taste.
Various chocolate truffles coated with cocoa powder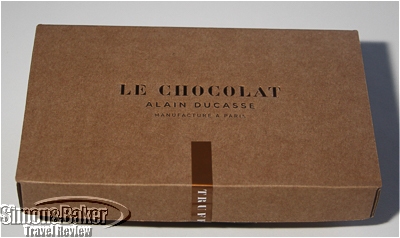 The truffles came in a cardboard box
Kudos to Alain Ducasse and Nicolas Berger, the passionate man behind the chocolate factory, for their artisanal chocolate products, in particular the single source dark chocolate bars (and muesli milk chocolate bars for milk chocolate fans) worthy of a detour.