By Elena del Valle
Photos by Gary Cox
The balcony in the master bedroom in Firefly
We arrived at Migis Lodge on Sebago Lake, a property on the shores of Lake Sebago in Maine, a bit stressed following a week of tourist activities and a frustrating longer than necessary drive from Portland. The relaxed atmosphere at reception, the serenity of the wooded setting in the early stages of fall foliage color changes, and our comfortable three bedroom two bathroom suite in a stand alone wood building went a long went toward helping us unwind.
Fall colors were just reaching the shore of the lake when we visited Migis Lodge (click to enlarge)
It was especially soothing to look out onto the lake from the front porch or living room of our suite without any particular plans, activities or commitments. Knowing all our meals were included in the American Plan allowed us to relax and took the decision making out of our stay. Should the weather worsen, as the forecast indicated, dinner was steps away from our building. If it improved we had the option of exploring the region in search of the brightest and best autumn trails.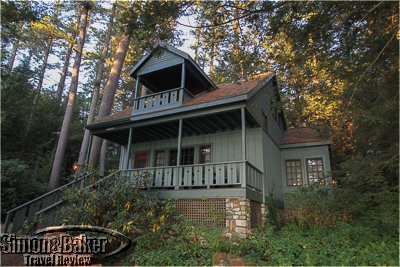 Firefly cabin at Migis
Five days later when we drove away, we were re-energized and ready to discover another part of Maine. Migis struck me as a wonderful place to reconnect with personal priorities, spend time with family and friends, for an artist retreat or a romantic getaway.