By Elena del Valle

Photos by Gary Cox
The exterior of the Left Bank shop
About two years ago we visited the Jacques Genin, fondeur en chocolat factory and shop in the Right Bank of Paris, France (Passionate chocolate, candy maker draw to Paris Marais shop) where we met the enthusiastic chocolate and candy maker and tasted some of his creations. Recently, we visited his new 80 square meter Left Bank corner shop (27 rue de Varenne, 75007 Paris, France,+33 1 53 71 72 21, www.jacquesgenin.fr) and carried home goodies to taste. We liked that they were made fresh at the Jacques Genin factory in Paris from all natural ingredients.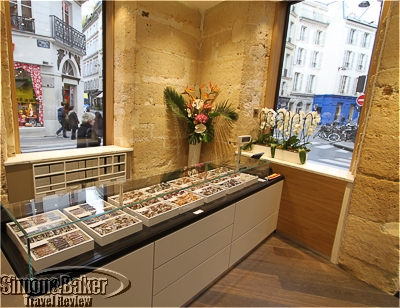 Flowers and large windows made the shop bright and cheerful – click to enlarge
The brightly lit spacious shop was a treasure trove of candy, displayed behind elegant glass topped cases. It occupied a prominent corner in the well heeled seventh arrondissement.
A box of milk chocolates – click to enlarge
Distinctive markings formed designs that identified the various flavors – click to enlarge.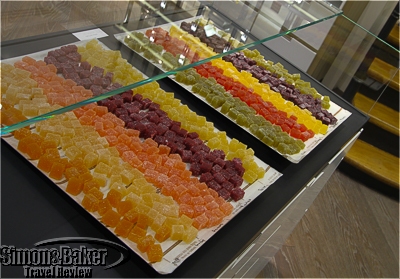 Fruit and vegetable candies added a touch of color – click to enlarge.
Once again we were delighted with the fragrant and delicate flavors in his bite size chocolates which had to be consumed within a week. A distinctive pattern or design on each chocolate was useful in identifying the filling by referring to a card the staff provided with our two boxes of nine chocolates each. Three types of chocolate were described in French on the card as well as candy like the caramels and pates de fruit flavors. There were three main categories of chocolate: dark, milk and praline. The praline was available in dark and milk chocolate flavors. Among the flavors we sampled was dark chocolate chestnut honey, dark chocolate mint and almond, dark chocolate praline, dark chocolate almond praline and milk chocolate hazelnut praline. We were unable to identify all of the flavors.
The chocolate and pate de fruit came in the distinctive square metallic boxes we recognized from our previous visits to the chocolate shops. We tasted some of the products from his new line of pates de fruits vegetable candy made from seasonal produce such as turnip, beetroot, carrot, celery, fennel, sweet pepper, and cucumber. While we appreciate their special nature they were not favorites. The next time we visit one of his shops, we'll revert back to the fruit candy we have enjoyed in the past.
The box of chocolates and praline we tried – click to enlarge
The box of chocolates we tried – click to enlarge
The box of the new vegetable Pate de fruit we tried
Caramels in a variety of flavors were on display in the Left Bank shop.
We also tried several caramels including the popular passion fruit as well as blackcurrant, raspberry, honey, almond, and salt butter. They were outstanding.