By Elena del Valle
Photos by Gary Cox
The shop and laboratory share space in this building
Jacques Genin loves chocolate. The self taught fondeur en chocolat, a chocolate maker who works with chocolate mixes (rather than raw cocoa beans), loves to make chocolates, candy and pastries, and eat them. We visited his spacious and modern shop in the Haute Marais neighborhood in Paris, France looking to answer two questions: What could make his shop special in a city riddled with chocolate and pastry shops? Would his products be so good as to draw us across town to the third arrondissement?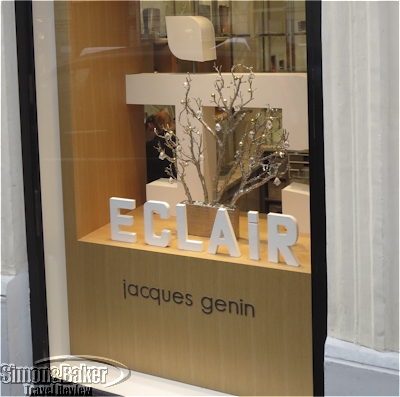 Each window featured one of the product lines
When we first approached the corner shop in a 17th-century double-fronted building we were surprised to see a voiturer or valet service at the entrance. Although we have seen valet service at many upscale shops and gourmet restaurants in Paris it was the first time we noticed one at a chocolate and candy shop. From the outside the window displays, even during the festive end of year season, were understated. As we entered the shop we were greeted by one of a half dozen staff members and directed to a table at the rear corner, behind a spiral staircase where a few minutes later we sampled hot beverages, chocolate and pates de fruit.
The public area on the ground floor of the shop was designed by Guillaume Leclercq
The busy shop, occupying the bottom part of a 400 square meter space, was uncluttered, organized and elegant. Designed by Guillaume Leclercq the public area featured exposed stone, steel beams and columns, red brick columns, panels of cream plasterwork, oak floors, polished stainless steel and a spiral staircase leading upstairs where the products were made fresh daily.
The pastries were made following traditional recipes (click to enlarge)
Friendly staff, some with gloved hands, assisted a steady flow of customers, many of them Japanese. We found out later that one third of the shop customers are from Japan. Near the entrance, there was a check-out counter where customers paid for their purchases after selecting their products at the section of their choice. A handful of steps led down to the main area with glass counters housing old style pastries (our chocolate eclair was delicious), caramels, chocolates, and nougats on the left. Pate de fruit, small sweet fruit paste cubes bursting with flavor, were in a stand alone counter in the middle. A selection of teas and coffee was available as well.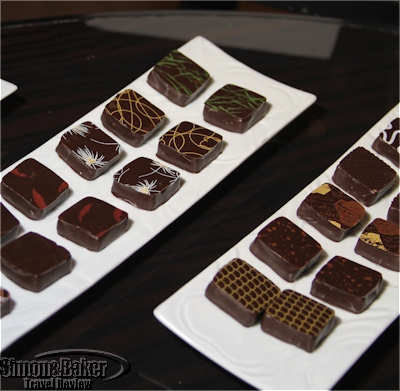 A selection of dark chocolates
So far so good, I thought. It wasn't until, comfortably seated in leather armchairs next to the staircase, we sampled some of the fifty menu items that we understood what made Jacques Genin products noteworthy. Each bite size morsel had a flavor all its own, intense and unique. These flavors were worth a special effort.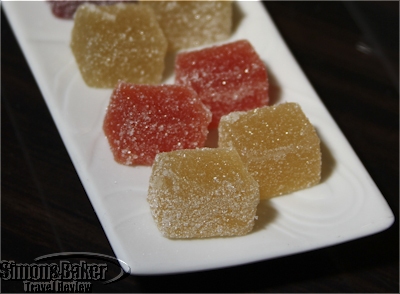 The pates de fruit were exceptional
The pates de fruit, available in nine flavors that day, were the best we have sampled. The flavor combinations, which vary with the season, were harmonious, sometimes unexpected. The ones we tried were were banana, black currant, blood orange, cherry, raspberry and rose, mango and passion fruit, rhubarb, pear and pineapple. To our surprise the pear flavor had a texture reminiscent of, well, pear.
The milk chocolates
The chocolates, made fresh upstairs from 65 percent chocolate, were pretty with a strong distinctive taste. The fragrant ganache filling was well balanced and covered with an outer coat of chocolate, milk or dark. As soon as we bit into a chocolate piece the flavor popped. Moments later, the buttery chocolate joined the ganache in a perfect blend. While the dark chocolates, in the majority, were our favorites the milk chocolates were good as well.
Some of the dark chocolate varieties we sampled were: Mascarille made with Madagascar vanilla; Le beau tenebreux, just dark chocolate; Tonka teck, the tonka bean had an earthy taste; Sucre d'or made with chestnut honey; La belle epineuse with raspberry; Menthe amante (a favorite); Un grain with Szechuan pepper; Caravelle with mild spices; Rousse with cinnamon; C'est Noel with gingerbread; Bergame with bergamot; The toi with tea; Orangelique with orange; and Basilic instinct (a favorite).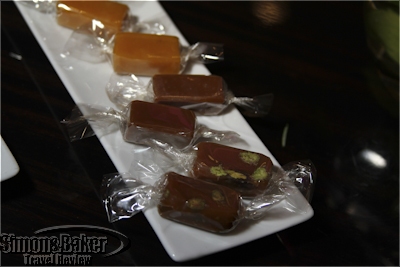 The caramels, like the chocolates and pates de fruit, were flavor filled
Jacques Genin products are natural and fresh, never frozen, the owner explained. To obtain the most natural flavors he prefers to infuse plants and spices. As a result the chocolates have a short shelf life. For example, our box of chocolates from December 18 expired January 3. We ate the chocolates past their expiration date, and while they were perfectly eatable and buttery the strong distinctive flavors we had loved at the shop had slowly faded.
Some of the chocolates and candy tasted familiar like the mango and passion fruit caramel. It was no wonder since Jacques Genin used to sell his products to two hundred hotels and gourmet restaurants before he opened the shop in 2009.
Jacques Genin was first drawn to chocolates for his daughter
As soon as he sat down to chat with us Jacques Genin, a reserved middle aged man who came alive when discussing his passion for chocolates and candy, began popping chocolates from our tasting tray into his mouth. When we asked which ones we should sample first and if there was a perfect order he smiled, reached for another chocolate and explained we should try them at random and simply enjoy them. When I wondered where the best chocolate came from he answered unequivocally, "Venezuela."
The chocolate and pates de fruit were sold in metal containers to keep them fresh (click to enlarge)
Genin, a chef originally, began making chocolates for his young daughter and over time the business took over his life. It was evident to us that he loved the products he made and looked forward to arriving at work every day, a man who worked for passion and pleasure rather than to make a living or only to make money. The payoff was in the fresh and uniquely flavored chocolates and candy we sampled. The answer to both of the questions we had on arrival was yes. Chocolaterie Jacque Genin (133 rue de Turenne, 75003 Paris, France +33 1 45 77 29 01, contact@jacquesgenin.fr) became a favorite stopping point in our gourmet wanderings in Paris.