Article and photos by Josette King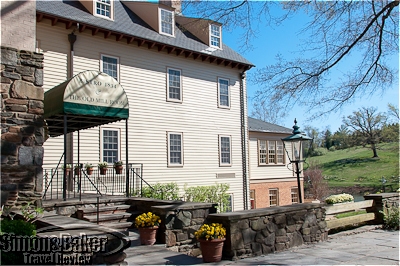 The Old Mill Room restaurant was located in the historic part of the property
The Old Mill Room is a restaurant with a distinguished past and a cuisine grounded in the present. Located in the historical core of the Boar's Head in Charlottesville, Virginia, it was built from a valued piece of local history, the repurposed timber from an abandoned 1834 gristmill famous for having survived the Civil War and gone on to operate a whole six decades after it. Moved piece by pieced from is original site on the banks of the Hardware River, it was integrated in the construction of an inn's main building in the early 1960's.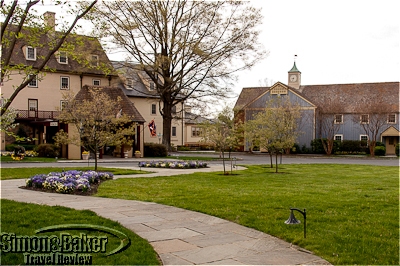 The shaded central lawn of The Boar's Head evoked of a town common of old
The décor of the restaurant had been designed to showcase those striking architectural details while creating a refined environment that evoked timeless southern grace. It was an ideal setting for the elegant classic cuisine with a Virginia flair and international contemporary touches dished out by Bill Justus, executive chef, and his team.
At the Old Mill Room the building was not the only custodian of a proud history. When Chef Justus joined the Boar's Head as executive chef in 2010, he took over a restaurant with the singular distinction of being the longest holder of a AAA Four Diamonds designation in the Commonwealth of Virginia.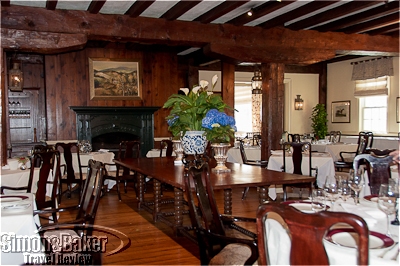 The historic Old Mill Room was built from the timber of an abandoned 1834 gristmill
Justus maintained the award winning culinary excellence while bringing to the menu the lighter dishes, farm to table freshness of local ingredients and imaginative flavor and texture pairings I appreciated. At the time of my visit, the Old Mill Room had been awarded once again its Four Diamonds, for the 27 consecutive time.
Executive Chef Bill Justus
From the amuse bouche of chilled watermelon with goat cheese mousse to the perfectly caramelized creme brulee, my meal was a shining example of the creativity that went on in the kitchen. My appetizer skillfully balanced the sweet tenderness of exquisitely seared scallops with a light crust of smoky ancho chili pepper and bitter cocoa. As for the sunburst trout filets of my main course, they were dusted with blue cornmeal and served with a colorful accompaniment of tiny black Peruvian potatoes and Atlantic lobster succotash, and a discrete dash of Pernod in the light lobster sauce. It was interesting and delicious.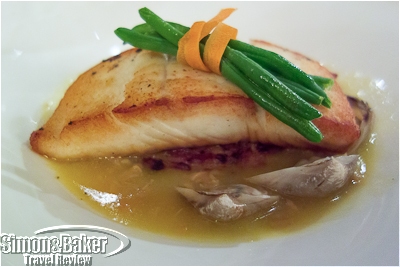 Pan seared halibut with steamed clams in a light saffron sauce
It stands to reason that my local friends regard the Old Mill Room as one of the greater Charlottesville area de rigueur places to celebrate special occasions. I will plan to return myself, the next time my travels take me back to Central Virginia.