Birds of the Serengeti
A good bird field guide is a superb addition to a safari. Many game viewing destinations offer optimum bird viewing. While the feathered creatures are often overlooked by first time visitors to Africa who are preoccupied with the ever popular search for the Big Five, bird viewing presents its own worthy challenges and rewards worth exploring. 
Travelers to Tanzania interested in bird viewing may want to have a copy of Birds of the Serengeti and Ngorongoro Conservation Area (Princeton University Press, $20.93) by Adam Scott Kennedy. The 224-page softcover book published last month features 480 color photos, many of them by the author, of 264 species of birds. Images include breeding and non breeding plumage.
The book is divided into: Birds of the Plains; Birds of the Marsh and Water; Birds of Woodland, Scrub and Garden; Birds of Acacia Scrub; Village Birds; Forest and Crater Highlands Birds; Birds of the Air; Night Birds; and Lake Victoria Specials. Some of the sections, such as Village Birds, feature only two types of birds.
Kennedy and his wife, Vicki Kennedy, are private wildlife and photography safari guides. Prior to that they were managers of remote luxury safari camps in Tanzania and Kenya. They are coauthors of Animals of the Masai Mara (see New Masai Mara bird book available).
---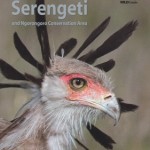 Click to buy Birds of the Serengeti
---