By Elena del Valle
Photos by Gary Cox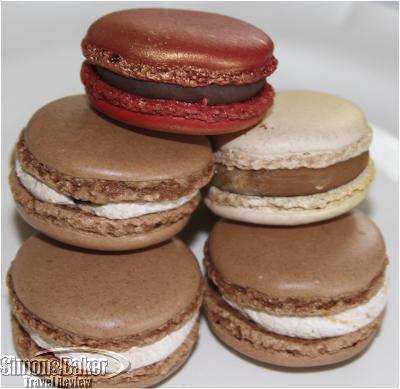 Some of our favorite macaron flavors for the holidays
For several years we have been fans of the Pierre Herme shop, specifically the macarons, on rue Napoleon in the Latin Quarter of Paris. On our most recent visit to the French capital, we made our usual stop at the shop and also visited, for the first time, its larger sister shop on the rue de Vaugirard in the fifteenth arrondisement.
An exterior view of the Pierre Herme shop on rue Napoleon in the Latin Quarter
The special Jardin Collection
We had our favorite macaron flavors of Ispahan made with rose, litchi and raspberry, Truffe Blanche et Noisette (white truffel and hazelnut), Infiniment Caramel (caramel and salted butter), Rose, and Chocolate and Foie Gras. We also sampled the special Jardin Collection, a box of 12 macarons only available once a year with a roundup of the monthly Jardin Collection flavors. There was one of each of the 2012 flavors: Jardin Marin made with green tea, chaterelle mushroom and lemon; Jardin du Pardis made with aniseed and saffron; Jardin d'Ete made with lemon and caramelized fennel; Jardin Oriental made with orange blossom, rose and ginger; Jardin Parfume made with rose and jasmin; Jardin d'Eden made with vanilla and basil; Jardin Sauvage made with chocolate and lime; and Jardin d'Antan made with violet and aniseed. There were two each of Jardin Enchante made with lime, raspberry and espelette pepper and Jardin Secret made with rose, vanilla and cloves.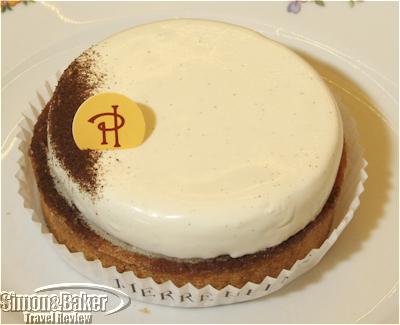 The vanilla tart
Pastries at the Latin Quarter shop
While macarons are the reason we go to the Latin Quarter store every time we go there we are tempted by seasonal specials, chocolates and pastries. This time we decided to expand our tasting selection. We sampled a lemon tart, reminiscent of key lime pie with a tart finish, a vanilla tart, sweet with distinctive and extra rich vanilla bean flavors, and chocolates. The best selling items in the Latin Quarter shop? Ispahan cake (a long time favorite), Tarte Infiniment Vanille (the one we sampled), 2000 feuilles and of course macarons and chocolates, according to a company spokesperson.
A lime with fresh strawberries dessert
We sampled Pierre Herme chocolates made at the Manufacture Pierre Hermé Paris in Wittenheim, Alsace
On previous visits to the shop the staff had offered us samples of their chocolates. When we tried to buy the ones we had sampled we discovered it was only possible to buy a box with a variety of flavors. Disappointed we desisted. This time we threw caution to the wind. We acquired two boxes of 14 delicious bon bons, made mostly of 64 percent dark chocolate from Mexican cocoa (45 percent for the three milk chocolate ones), in mid December 2012. The Pierre Herme chocolates were made at the Manufacture Pierre Hermé Paris in Wittenheim, Alsace. The brown square box with a red center and a red leather string around it weighed 120 grams and expired January 3, 2013. With all the tempting foods available during the trip we missed the expiration date for one of the boxes. We sampled the chocolates in late January and they were still good. Our expanded tasting was a success.
While Pierre Herme macarons are sold elsewhere in Paris we prefer, whenever possible, to visit the company shops. In our experience they offer greater character and more merchandise choices.  We remain fans of the original shop, our favorite of the two for sheer cozy ambiance and geographic convenience, and are now new fans of the rue de Vaugirard boutique. The two shops are on our list of city favorites: Pierre Hermé Paris, 72 rue Bonaparte 75006 Paris, France, +33 (0) 1 43 54 47 77, and Pierre Hermé Paris, 185 rue de Vaugirard 75015 Paris, France, +33 (0) 1 77 37 20 96, www.pierreherme.com, contact.boutiques@pierreherme.com.