By Elena del Valle
Photos by Gary Cox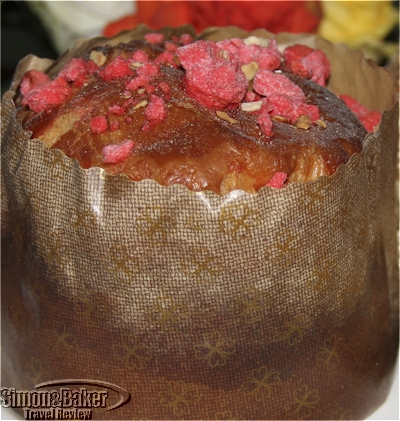 A praline brioche and a sesame baguette
On our most recent trip to Paris, France we discovered a new bakery, well two new bakeries owned by the same person and company. With so many bakeries in the City of Lights what makes these special? The bread. To be precise the bread, the brioche praline and the bite size chocolate (pistachio and regular) financier cakes. The taste of the baked goods we sampled was outstanding. We later found out the baked goods were made fresh daily with no artificial ingredients, additives or colorants and "all bread is prepared, hand kneaded and baked in-house at each and every Kayser company bakery," according to a company spokesperson.
The Maison Kayser shop in Bercy Village
We first went to Maison Kayser Bercy Village (41, cour Saint-Emilion, 75012 Bercy Village, +33 01 43 46 08 89) in the twelfth arrondissement, a bakery with restaurant seating indoors and a shaded outdoor terrace. Since it was winter the outdoor area was vacant but the indoor dining room was popular. We arrived before lunch on a Sunday and were glad we had a reserved table. A steady flow of customers filled the bakery while hungry patrons claimed tables in the dining room. By the time we left it was getting crowded.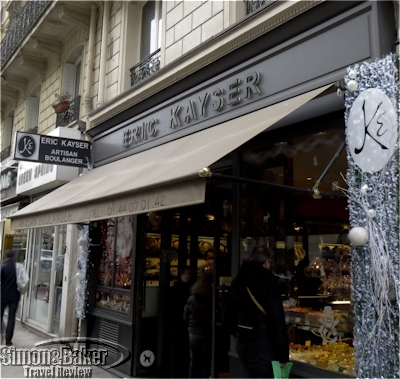 The shop entrance on rue Monge in the Latin Quarter
The following week, we made our way to the shop on Rue Monge (8, rue Monge, 75008, Paris, +33 01 44 07 01 42) in the Latin Quarter, one of twenty-one shops in Paris and 100 overall, in search of more good bread nearer our accommodations. While there the brioche praline, a large brioche topped with bright red sticky bits (we later found some of the sweet and crunchy substance within the brioche), peaked our interest enough to carry it home along with a 200 gram bag of chocolate financiers. We had fallen in love with the bite size cakes made with almond flower and brown butter when we sampled them the previous Sunday at Bercy Village.
It was difficult to choose
As soon as we arrived home we sliced the bread and brioche, wanting to taste them while they were fresh. The bread, with seeds, was crunchy with a rewarding rich flavor. In the brioche, we were surprised to discover a perfect combination of flavor and texture. It was airy with a mild flavor while the praline filing had just the right amount of sweetness and crunch to make sure there was praline on every slice and pile on extra sometimes.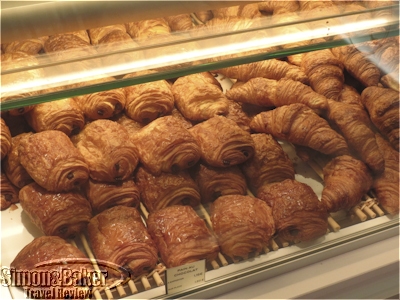 Classic French pastries for sale at Bercy Village
Eric Kayser, the bakery chain's namesake and the son, grandson and great grandson of bakers, is said to have known from the time he was four years old that he wanted to become a baker and travel. "Being a food lover, manual and curious, I loved to touch the dough, taste the leaven and see how this living element developed during fermentation," he said by email.
Dalida Gaoua, manager, at the Bercy Village shop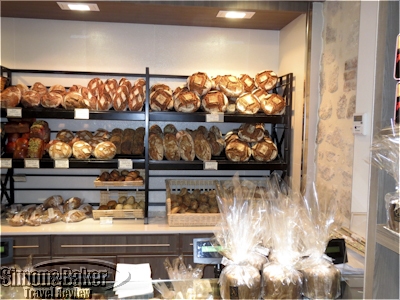 The back wall of the shop was well stocked to supply the steady flow of customers
Kayser began his career at the age of 19 when he went on a baking tour of France for five years. He was attracted, he says, by the bakers "hard working ethos, search for excellence and their ideal of fraternity." He then taught at the National Bakery school (l'Institut National de la Boulangerie Pâtisserie,INBP) for almost a decade, traveling around France and the world, sharing his knowledge of French traditions.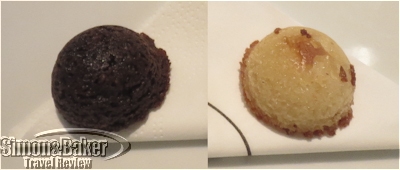 Tiny round financiers in chocolate and regular were favorites
Tarts and pastries with fruit and chocolate were tempting
He helped many bakeries to open, and then decided to set up shop for himself. After our visit to the rue Monge bakery we discovered that it was his first shop, opened in 1996. Next time we are in Paris, we plan to return for our favorites and sample new products at one of the many Paris locations of Maison Kayser (http://www.maison-kayser.com/en/, contact@maison-kayser.com)