Article and photos by Josette King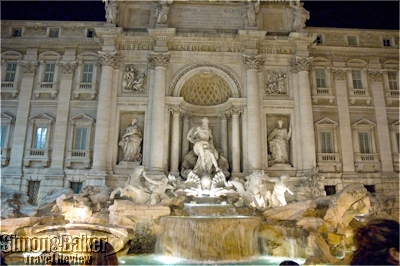 The Trevi Fountain at night
On my first visit to Rome many decades ago I threw the obligatory coin over my shoulder into the Trevi Fountain. It worked. Every few years I seem to come across a new opportunity to return, any excuse will do. Most recently, it was a fortuitous three-day stopover during an extended tour of the region. I deliberately had no agenda other than roaming around the city to soak up the atmosphere of a few favorites spots, and discover new ones along the way. Located in the center of Rome, a five-minute walk from Stazione Termini (Termini for short), the central train station, bus terminal and subway station, and within walking distance from most of the major tourist landmarks, the Hotel Mediterraneo first caught my attention as an ideal base for my explorations; and quickly intrigued me for its Art Deco origins, an architectural style I had not until now associated with the Eternal City.
The bar at the Hotel Mediterraneo
Designed in 1936 by noted architect Mario Loreti for Maurizio Bettoja (then head of Bettoja Hotels), the property opened in 1942. To this day it remains the flagship of Bettoja Hotels, one of the oldest and largest family-owned hotel groups in Italy, now in its fifth generation. And with its original grandeur meticulously maintained by Maurizio's successors, some consider the Mediterraneo among the finest examples of Art Deco architecture and rationalist design in Rome.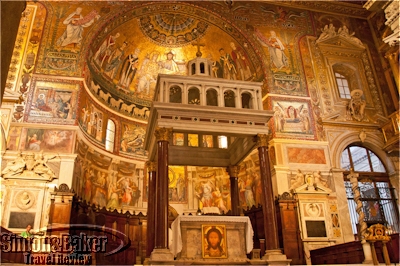 The Santa Maria Maggiore high altar
After a day of wandering through churches and palazzos filled with lavish millennia-old frescoes and extravagantly ornate carvings dripping with gold, the slick polished marble columns and exotic woods paneling of the airy and somewhat austere public spaces characteristic of the Art Deco style were a relaxing contrast. Common areas were filled with remarkable decorative elements of the era, and subtle reminders that, rationalism notwithstanding, eternal Rome endured.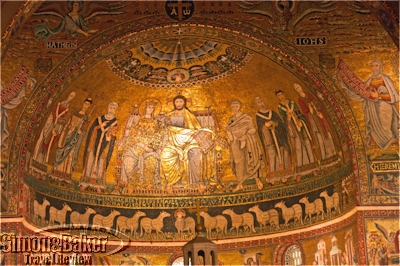 High altar Byzantine mosaic detail at Santa Maria Maggiore
In the lounge, a wall-size parchment map of an ancient perspective of the Mediterranean Sea was a reminder of the property's name, as well as a nod to the Gallery of Maps at the Vatican. In the dining room, a stunning mosaic of a medieval hunt brought to mind the splendid tapestries of Renaissance palaces. Then there were the museum-worthy marble busts of Roman emperors interspersed throughout. I enjoyed walking through the majestic spaces and discovering new artistic details that had previously escaped my attention.
The Caffe della Pace
Although I discovered a new Rome favorite spot at the Mediterraneo, I didn't neglect my old friends. I paid a neighborly visit to Santa Maria Maggiore. Built in the fifth century, this ancient Basilica still glows from the gold of byzantine mosaics that cover its triumphal arch and high altar. I headed to the Trevi Fountain for a quick nod of thanks. I couldn't resist dropping by the Pantheon where for a few euros, tourists from around the world have their pictures taken with centurions in crimson capes and plastic armors. I stepped inside as well, to stand under the perfect rotunda and look up at the sky through its central oculus.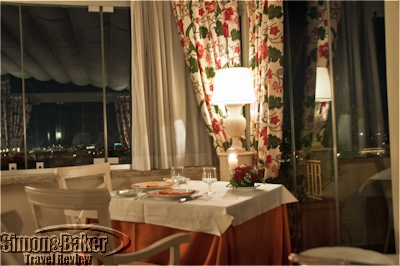 The Hotel Mediterraneo Roof Garden dining room at dinnertime
I went to Piazza Navona to take a fresh look at Bernini's Fountain of the Four Rivers, which had been under wraps for repairs on two previous visits. Then I wandered into the old streets behind the Piazza, to the Caffe della Pace, a neighborhood favorite for over a century, in the street of that lent it its name, for a Spritz (popular local cocktail made of dry white wine, sparking water and bitter Aperol).
A favorite no-name fish eatery near Campo de Fiori
Thus reinvigorated I continued down the street to Santa Maria della Pace (Saint Mary of Peace) for a glimpse at the exquisite Raphael frescoes in the Chigi Chapel. I visited Campo de Fiori for the daily open market and the surrounding back streets where traditional artisans and avant-garde designers share the narrow storefronts and cobbled courtyards. And I stopped at a hole-in-the-wall fish place with paper tablecloths where market vendors drop in for a quick bite over high-decibel conversation, and neighborhood residents dash in for take-home fried fish. I don't believe it has a name, but the fried calamari was out of this world.