Article and photos by Elena del Valle
Nationalistic Guacamole with Requeson and Pomegranate
During a recent trip to Mexico City I attended a four-course dinner at Dulce Patria (Anatole France 100, Col. Polanco, 11560, Mexico City, Mexico, +52 55 33 00 39 99, fax +52 55 33 00 39 95, mortiz@dulcepatriamexico.com), a restaurant serving Updated Mexican Cuisine from Chef Martha Ortiz. The interior of the restaurant was colorful and there was a festive ambiance. Staff were attentive and the dishes were presented artistically on the plates. I would recommend this restaurant to friends who like spicy culinary experiences and a loud ambiance.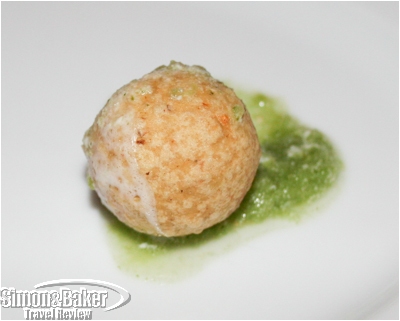 Game of Pork Crackling Marbles with Green Raw Salsa
The popular restaurant, with capacity for eighty guests, appeared sold out the Friday night of our dinner. The sound level was so loud I could barely hear my neighbors at the table or the servers when they approached me to take my order. By the time we left my throat was sore and I was slightly hoarse.
Corn Kite with Tuna and the Spirit of Habanero
I loved the tequila aperitif drinks. There were two kinds, tamarind and rose. While I liked both the delicate rose flavored version with a rose bud floating on top, the house specialty I learned later, was my favorite. Roses with margarita or Margarita Rose was made with Castilla rose essence, good quality tequila, a pinch of salt and lemon sorbet and decorated with rose petals.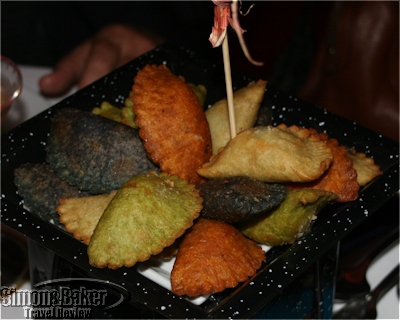 Multicoloured Quesadillas with Salsa Sultana pre-appetizers
To accompany our drinks the staff brought four types of appetizers: Nationalistic Guacamole with Requeson and Pomegranate (Guacamole nacionalista), Corn Kite with Tuna and the Spirit of Habanero (Papalotes de maiz y atun con espiritu de habanero), Game of Pork Crackling Marbles with Green Raw Salsa (Juego de canicas de chicharron con salsa verde cruda) and Multicoloured Quesadillas with Salsa Sultana (Quesadillas multicolores con salsa sultana).
My black bean with foie gras appetizer
We had two choices each for the first and main courses. The server recommended the Velvety Black Bean Soup with Foie Gras and Dark Tortillas (Sopa cremosa de frijol negro con foie gras y tortillas oscuras) and The Chile en Nogada Jewel (La joya de chile en nogada).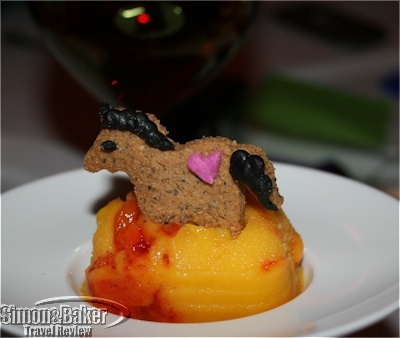 Desserts, like this sorbet, were shared
Desserts, shared by the table, were Sólo sale de noche Belle de Nuit, Warm cacao and maize cake with colourful dragées and decorated animal cookies, Cornbread in a mystical chamomile flower sauce with caramel aureole, Fiesta of ice cream and sorbets of national flavour Soursop. There was also Hibiscus Jello (Gelatina de guanabana e hibiscus) and Pan de Lote. There were three sorbet flavors: spicy mango, lemon coriander, and tuna mezcal. Coffee and candy were served after dessert. The candy came in a pretty tray with tiny decorative airplanes hanging from a central pole.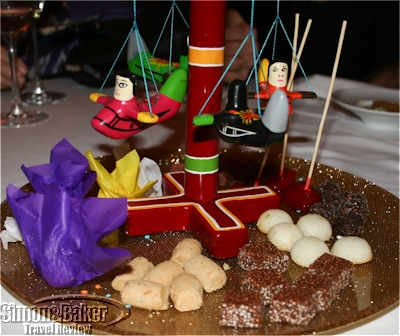 Post meal sweets arrived in a pretty carousel display