The Rick Steves rolling bag
In these days of airline luggage fees light weight high performance bags are more important than ever. We set out to test a light weight rolling carry on bag. We meant to order a regular Rick Steves carry on bag and instead ordered the new lighter weight Rolling Backpack that retails for $160. By the time we discovered the error it was too late for the first trip to Europe and we decided to try the bag since although we were not looking for a backpack it was light weight and small.
The telescoping handle enters smoothly into the recess
We were looking for a light weight carry on with wheels for an itinerary in Europe that involved multiple transfers in trains, planes and automobiles and later for a short domestic itinerary in which the carry on would be the primary luggage piece. This case with two wide-tracking wheels, 1,960 cubic-inch main compartment, telescoping handle and two outer zipper pockets was just the right size for our needs. It also had an air mesh on the back of the bag, a clip-in document pouch and zippered mesh lid compartment the length of the bag.
One side has a handle and the other a mesh pouch
At first it looked like the backpack bag would not remain upright but that issue disappeared once we packed some contents into it. Although we never made use of the backpack function (two straps were tucked handily in the back of the bag) the carry on case performed well on both trips. At 5.5 pounds it was light weight, easy to maneuver around train stations and airports and lift onto the carry on compartments on the planes. The 7 inch by 20 inch by 14 inch case fit easily in all travel spaces.
The backpack straps tuck into a pocket in the back
The recycled high density polyester fabric survived both trips without scratches or stains although it sat in the high speed train (TGV) luggage rack twice and in the airplane overhead compartments on six flights. It also got wet on several occasions and none of the contents including electronics like cameras and iPad became wet or suffered any ill effects.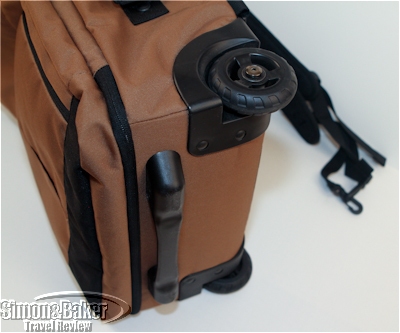 The foot in the bottom doubles as a handle
In both itineraries we were pleased with the bag. We will take it again on short domestic and longer itineraries in which traveling light of weight is a priority.