Article, video by Elena del Valle
Photos, video editing by Gary Cox
A pretty day for flying
Although each time we visit the fair city of Cape Town, South Africa it is a little more touristy than the last time we always leave enchanted. The setting between the ocean and the mountains is mesmerizing. Nowhere is that more evident than from above.
Cape Town and the famous Table Mountain
On our recent visit to Cape Town we went on an Atlantico Tour, a brief 18-minute (our camera time stamps reflected a 14-minute helicopter flight) scenic helicopter tour aboard a 1990 Bell JetRanger for up to four passengers (although we were the only ones aboard that day), with Nac Makana Aviation departing from a helipad very near the famed V & A Waterfront. It was a sunny, breezy and warm morning when we arrived. A friendly young lady at the front desk welcomed us when we walked in. Already there were a dozen or so tourists on the deck facing the departure area. Within minutes the staff had greeted us, weighed us and our hand held items and shared information about the flight. Next, someone provided a life jacket and led us to the helicopter, making sure we were strapped in and had our headsets on so we could communicate during the flight.
A life jacket for safety
Moments later we were airborne, flying over the waterfront and rising quickly above the cityscape. We flew toward Constantia Nek and returned via the Southern Suburbs; this routing, we learned later, was offered weather permitting to allow visitors to see more of Cape Town. Guy Douglas, our pilot with 800 hours of flying experience, made sure we were comfortable and left us to enjoy the view, pointing out the sights occasionally. No sooner did I recognize what an area was and focused my camera on it that the next beautiful sight appeared. Our flight took us over the V & A Waterfront, the outskirts of the city, past Table Mountain, Lion's Head, the new Green Point Stadium, Sea Point, the beaches of Clifton and Camps Bay via the Twelve Apostles mountain range to view Hout Bay, Constantia Nek over the Constantia Wine Lands and back via the residential areas of the Southern Suburbs.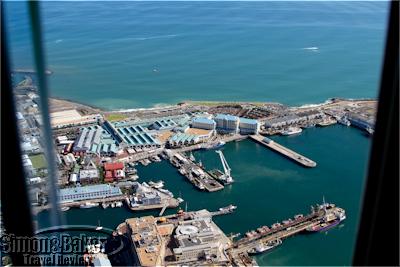 The V&A Waterfront from above
On our return we were whisked back to reception where a staff member offered us a glass of South African bubbly or water and a complimentary copy of Cape Town The Fairest Cape, a 22-minute tourist promotional DVD produced in 2010 by Bright and Gentle Television Productions and directed by Gary Wilson, general manager, NAC Makana Aviation. Atlantico Tour, NAC Makana Aviation, East Pier Road, V&A Waterfront, 8001, Cape Town, South Africa, +27 021 425 3868, www.nacmakana.com, info@nacmakana.com
Our pilot Guy Douglas