Article and photos by Elena del Valle
Swaraj Kumar Banerjee, the owner of the Makaibari Tea Estate
The highlight of our one night stay in northeastern India's famed Darjeeling tea growing area was a tea tasting with Swaraj Kumar Banerjee, the owner of the Makaibari Tea Estate (Kurseong 734203, District Darjeeling, West Bengal, +00 91 33 22878560, fax +00 91 33 22870695, www.makaibari.com, slg_rajah@sancharnet.in). The estate, 573 hectares large with 250 hectares under tea and the remainder under forests, had a total population of 1,549 between newborn to 91 years of age including 656 workers. Makaibari means cornfield.
Tea for shipment
During our visit we had an opportunity to stroll in the organic tea plantation, meet some of the members of the community, visit the factory (because it was a national holiday it was closed), hear a presentation by Banerjee about the biodynamic principals used on the estate and sample some of the teas with his guidance. The Makaibari Estate produced six varieties of premium teas: Silver Tips Imperial, white tea, silver green, oolongs, first flush vintage and muscatel second flush.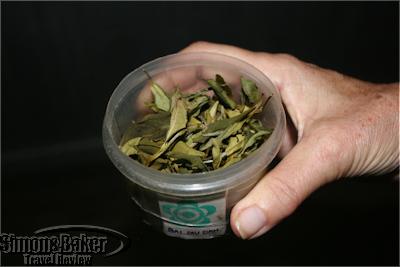 Makaibari tea leaves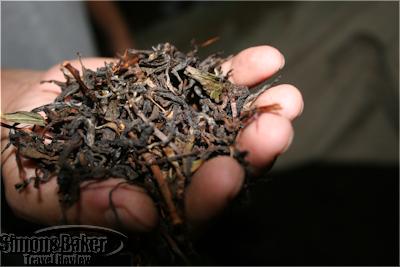 Samples of tea
Although most of the tea production in the area, we were told, is in the hands of large producers and multinational companies, Makaibari remains a family owned affair in continuous operation since 1859. More importantly, for some, the estate owners today strive to set the standard for organic production and responsible tourism practices in the region.
The tea tasting area
The tasting took place in an upstairs area adjacent to a conference room and the owner's office. The tasting room, hot even before the first sip of tea, was filled with tea displays and memorabilia. We were each supplied with a spoon and instructed on how to taste the tea. The process included sipping a spoon full of tea, swirling the tea in our mouths and breathing through our mouths to enhance the flavor prior to spitting it out in a corner sink, one at a time. For each tea we completed this process while circling around the room toward a row of teacups set atop a shelf.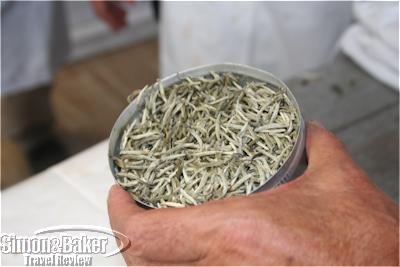 Silver Tips
Among the teas was the Silver Tips Imperial notable because it is collected under the full moon. Priced at $1,600 per kilo it is reputedly the most expensive tea in the world. This was the only tea in the tasting we swallowed rather than spitting it out in the sink. It was surprisingly subtle. At the conclusion of the tasting we were invited to a guided walk through the organic tea plantation.
A view of the Makaibari building from the road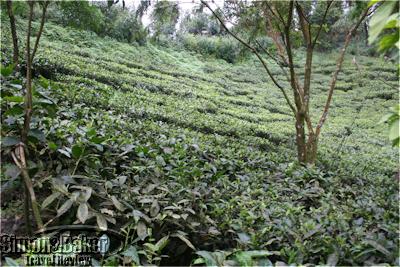 Makaibari tea fields
Before departing I stopped at the tiny shop to buy two small bags to share and remember my experience. Now every time I have a cup it reminds me of the Makaibari Tea and Raja Banerjee, as the staff call him, the Raja of Darjeeling Organic Tea.