Article and photos by Elena del Valle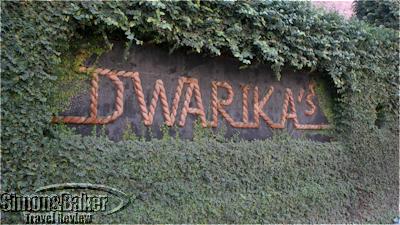 The entrance to Dwarikas
To reach Nepal from the United States east coast I traveled many hours with several stops along the way. When I arrived, the sweltering Kathmandu airport seemed chaotic and on exiting I, at first, missed my guide in the sea of unfamiliar faces. Narrow city streets shared by all manner of vehicles honking intermittently and livestock provided my first impression. I was excited to have secured accommodations at my first choice of the bustling city's luxury hotels. For my arrival day the hotel had been fully booked until a last minute opening made it possible to secure a reservation for my entire stay in Kathmandu.
My first room had a view of the pool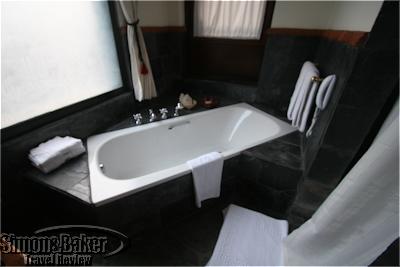 My bathtub at Dwarikas
In my sleep deprived and jet lagged state little enthusiasm to explore remained and I desperately wished for a clean and quiet place to call my own, at least for a few hours. That was not to be the case, at least not right away, as my room was not ready, literally. Workmen were putting the finishing touches on the newly constructed room (and building) assigned to me at Dwarika's Hotel. One of the staff was kind enough to notice that I was tired and offered a temporary solution, a room where I could rest for 90 minutes until mine became available at 6 p.m.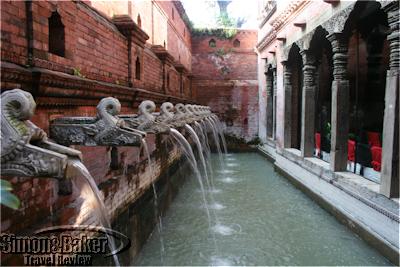 Fountains in a courtyard of the hotel
My rooms (I stayed at two rooms. At the staff's suggestion I was relocated from my original room after the first night due to the loud sounds of construction in my building) were handsome, spacious and comfortable with modern amenities like a mini bar and internet access (for a fee). The breakfast buffet offered a variety of local and international selections. I especially enjoyed breakfast and opted for fresh fruit and the Nepali items like cheeses and pastries.

There were Nepali cheeses at breakfast
The Dwarika's pool was adjacent to one of the restaurants
One night during my stay I had dinner at Krishnarpan, the hotel's gourmet Nepali restaurant. After removing my shoes at the entrance of the restaurant there was a brief ceremonial "hand washing" before I was escorted across the wood floor to a ground level table. The candlelit room was decorated in wood and red tones. Prettily dressed staff ladies who spoke some English looked after guests.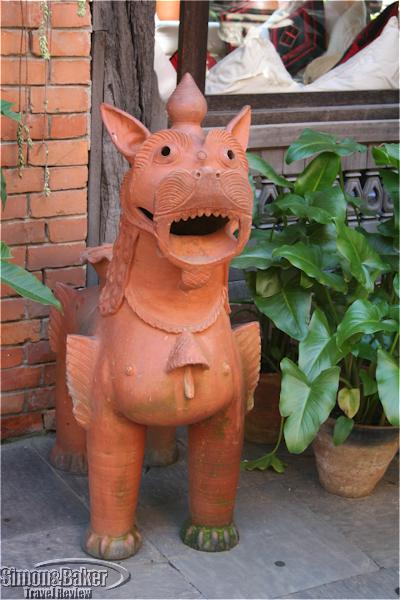 A sentinel in the common areas
It was necessary when booking my reservation with the front desk to decide which of the set menus I would have for dinner. While I was eager to sample Nepali dishes I chose the most modest, the six course dinner, on the staff's recommendation. It consisted of:  Samaya Bajee, an assortment of Nepali hors d'oeuvres served during religious ceremonies; Chyau Ko Sekuwa, Pan grilled oyster mushroom finished with fresh cream (a favorite); Roti, Unleavened griddle roasted bread; Momo, Potatoes and chickpeas cooked with Nepalese spices; Tarkari Ko Jhol, Vegetable soup cooked with Nepali spices (a favorite); Sada Bhuja, Organic steamed rice; Dal Jhaneko, Organic lentil tempered with Himalayan herbs; Kukhura Ko Masu, Traditional Nepali chicken curry cooked with aromatic Nepalese herbs and spices; Saag Jhaneko, Sauteed organic spinach with Nepalese spices; Aloo Ra Parwal Tareko, Stir fried potato and mini gourd; Eskush Ra Bhatamas Ko Tarkari, Sweet gourd and soyabean cooked with Nepali spices; Mis Mas Achar, Homemade vegetable pickle; Lapsee Ko Achaar, a very spicy Homemade hug-plum pickle; Sikarni, Fresh yoghurt flavored with cinnamon sweetened with honey; and Chiya wa Kafi, tea or coffee. Although almost all of the dishes were spicy and hot it was a most enjoyable meal served by attentive staff in an attractive dining room.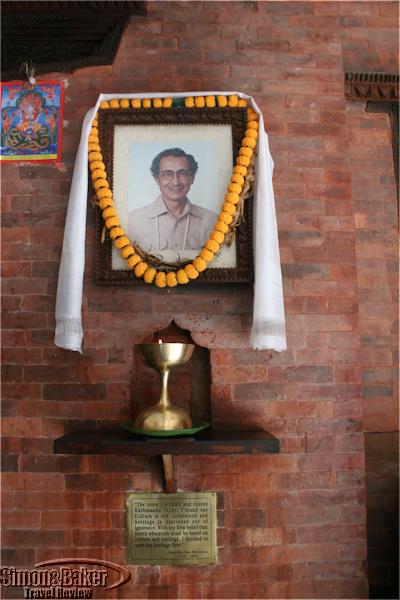 A special area was dedicated to the founder of the hotel
Named for Dwarika Das Shrestha, its founder, Dwarika's Hotel in Kathmandu was outstanding for its combination of luxury features and facilities including a spa, heritage design, well appointed rooms, service and foodie oriented offerings. As I traveled around Nepal I realized how special Dwarika's was and missed it.
One of the many decorative touches
In addition to the architectural and artistic design features, including original thirteenth century artifacts and replicas, which lent the urban hotel a historic and cultural air I enjoyed Dwarika's for the understated casual luxury, safety features and delicious food. Should I find myself in Kathmandu again this would be my first option for accommodations. Dwarika's Hotel, P.O. Box P.O.Box-459, Battisputali, Kathmandu, Nepal, + 977-1 4479488/ 4470770, fax + 977-1 4471379/4478378, http://dwarikas.com, info@dwarikas.com