Article by Laura Scheiber
Photos by Matthew Harris
Coopers Beach, Southampton
When I moved to New York City years ago, a friend advised me that the only way to survive the City's hectic lifestyle was to get out once a month. I couldn't agree more. A weekend in Southampton, New York, was the perfect combination of a tranquil and easy getaway in an upscale setting with natural beauty and interesting local history. Because we went in the fall, we were able to enjoy the many delights of this famous retreat for the rich and famous, without the notorious summertime crowds.
Located on the southeastern end of Long Island, New York, Southampton is one of a number of prestigious villages collectively known as the Hamptons. The village was the first English settlement in the state of New York, dating all the way back to 1640;  and as I soon learned, one of its most charming attributes was its rich history.
Bruce Michael, our enthusiastic tour guide
We arrived Friday evening after a two and half hour train ride from Penn Station, New York. The next day was a beautiful sunny but blustery fall day, and we were excited to discover the many treasures of this exclusive village. We met Bruce Michael, a local resident and tour guide, who led us on a fascinating historical journey of Southampton (Bruce Michael Guided Tours, 327 Central Park West Apt 2C, New York, NY 10025, +1 917 623 6602, http://www.discoverlongisland.com/visitors/more-info.aspx?cli_number=6727&major=, BruceMK@aol.com). What we liked about Bruce Michael as a tour guide was his genuine enthusiasm for the area, as well as the historical insight he provided about the high society families that have resided in Southampton over the last two centuries. We started in the center of town on Jobs Lane, a picturesque tree-shaded street lined with upscale boutiques.
The Parrish Art Museum
Our first stop was the Parrish Art Museum (25 Jobs Lane, Southampton, NY 11968, +1 631 283 2118, fax +1 631 283 7006, http://parrishart.org/, info@parrishart.org). Founded in 1897 by Samuel Longstreth Parrish, a discerning art collector, the museum has since housed a permanent collection of over 2,600 pieces by prominent artists who have lived or worked in the area, including Jackson Pollock, Roy Lichtenstein, William Merritt Chase and Fairfield Porter. Select works were displayed throughout the year in the museum's changing exhibitions.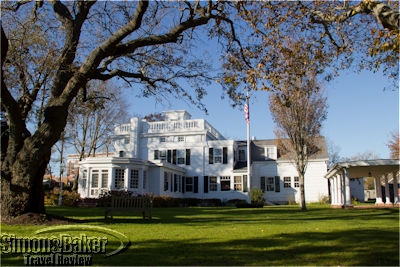 Rogers Mansion, headquarters of the Southampton Historical Museums and Research Center
After leaving the Parrish Art Museum, we walked up the street to a beautifully preserved Greek revival style home called Rogers Mansion, the headquarters of the Southampton Historical Museums and Research Center (17 Meeting House Lane, Southampton, NY 11969, +1 631 283 2494, fax +1 631 283 4540, www.southamptonhistoricalmuseum.org, info@southamptonhistoricalmuseum.org). We explored a handful of period rooms decorated in original furnishings, paintings and books of the home, originally built in 1843 for a wealthy whaling captain. I was particularly moved by the display of photos and newspaper articles describing the 1938 New England hurricane that devastated the area and was responsible for over 600 deaths in Long Island and southern New England. Just behind the mansion was the Old Southampton Village, made up of historic structures, such as a blacksmith's shop, a paint shop and a colonial-era barn.
The Thomas Halsey Homestead
Next, we hopped in a van and visited the Thomas Halsey Homestead, just outside of the center of town (249 South Main Street, Southampton, NY 11969, +1 631 283 2494, fax +1 631 283 4540, http://southamptonhistoricalmuseum.org/museummain.asp?id=3). Built circa 1660, it is believed to be the oldest English-style house in New York State. We walked through the carefully curated rooms filled with original 17th and 18th century artifacts, such as open hearth cooking tools, a spinning wheel, and religious propaganda aimed at converting Native Americans.
The Thomas Halsey Homestead, living standards have changed a lot since 1660
The final stop on our tour was Coopers Beach, a beautifully manicured sandy white beach, roughly 1.8 miles from the center of town. The pristine beach was virtually empty, which made for a tranquil setting. Simply breathing in the fresh seaside air while watching waves crash along the seashore had a calming effect on me.
Heading back to the center of town, we drove down a grid of well-groomed streets lined with palatial mansions. Manors surrounding Lake Agawam had bragging rights to some of the most expensive real estate in the United States, and served as summer homes to some of America's most prestigious families. The two-hour historical tour served as an excellent introduction to some of the village's most important historical sites and captured my imagination of earlier times in Southampton.
The Driver's Seat Restaurant
After the tour we enjoyed lunch at the Driver's Seat Restaurant (66 Jobs Lane, Southampton, NY 11968, +1 631 283 6606, fax +1 631 283 6607, http://www.thedriversseatrestaurant.com/The_Drivers_Seat_Restaurant/Home.html, driversseatrestaurant@gmail.com). The ambiance was a pleasant mix of laid back pub with upscale touches, including a fresh bouquet of roses on every table and white-linen table clothes. We had a friendly chat with the owner, who made us feel welcome. The food was tasty and satisfying. I appreciated the varied and reasonably priced menu, particularly in comparison to some of the other overpriced establishments we visited throughout the weekend.
Jobs Lane in the center of Southampton, home to elegant boutiques
We spent the rest of the afternoon casually strolling down Main Street and Jobs Lane, popping in and out of the many exclusive shops and boutiques. I liked that the diverse clothing stores, antiques, and high-end furniture and jewelry stores were within walking distance, making Southampton an elite shopper's delight. Above and beyond shopping, the well-preserved historic architecture gave the area a colonial feel, added to its overall charm and made walking around the town center particularly pleasant.
Wolffer Estate Vineyard
Just before sunset, we took a 15-minute car ride to Wolffer Estate Vineyard (139 Sagg Road, PO Box 9002, Sagaponack, NY 11962, +1 631 537 5106, fax +1 631 537 5107, www.wolffer.com, info@wolffer.com). The Tuscan-style villa looked out onto 55 acres of beautifully landscaped vineyards. I felt as if we had been transported to a European winery somewhere in the countryside. Wolffer Estate offered tastings ranging in price from $12 to $18 for four distinct wines. Our tasting began with the 2010 Grandioso Rose, followed by the 2007 Sparkling Brut, Blanc de Blanc, the 2008 Perle Chardonnay, and the 2008 Caya Cabernet Franc. Each of the wines had a distinct and appealing flavor. I jotted down their names so I could ask my local wine shop to order the ones I had sampled. Upon leaving the vineyard, I could not resist purchasing a bottle of the 2008 Perle Chardonnay as a reminder of our pleasant visit to Wolffer Estate.
One of the perks of our weekend getaway was its close proximity to New York City and convenient transportation options. Because we did not want to rent a car, we took the Long Island Rail Road departing from Penn Station in New York City, a two and a half hour relaxed journey. Cabs were waiting for us on our arrival at the train station of Southampton. Hometown Taxi charged $10 for my travel partner and I to go to the center of town five minutes away (425 County Road 39A, Southampton, NY 11968, +1 631 287 5200).
By the end of the weekend, I felt refreshed and ready to return to the faster-paced lifestyle of New York City. Overall we had a delightful autumn weekend in Southampton. The hassle-free travel from New York City, and slow-paced setting of the upscale village with its rich history and diverse attractions provided a wonderful respite from the hustle and bustle of the city.