Article and photos by Elena del Valle
A street in Kathmandu
Sitting in the back seat of a taxi early on a holiday morning en route to the Kathmandu airport I was thankful that because of the festivities the often narrow roads, shared by a variety of vehicles and animals, of the usually congested and loud Nepali city were surprisingly empty. After passing through several security checks, presenting my ticket and paying taxes I reached a departure area filled with passengers, many waiting for sightseeing flights. Given how full the hall was it was surprising to think that only a week earlier a plane much as the one I was about to board and headed in the same direction had crashed on the side of a mountain with disastrous consequences.
The Guna Airlines plane
Our flight was delayed. We patiently waited and watched others who had arrived behind us cross the final security point, women on one side and men on the other, to an awaiting bus. Eventually it became our turn. A bus delivered 16 of us to a Beech 1900 with Guna Airlines written on the side. We quickly boarded, each one adjacent to a window seat (the few seats without windows remained empty), and buckled up.
The Kathmandu Valley
Soon we were leaving the Kathmandu Valley behind us while heading toward the 8,848 meter (29,028 feet) tall Sagarmatha, as the locals know it, or Mount Everest for us, and the famous Himalayas. The day was sunny though a bit hazy and we were lucky, one of the staff explained, because the weather had been much less clear over the past few days.
A handy chart of the Himalayan peaks was provided
As we approached the Himalayas it was difficult to distinguish which was which never mind which was the highest mountain in spite of the detailed illustration of the mountains on the inside of our ticket and hard-to-understand explanations over the plane's speaker system. The flight crew invited us to walk up the narrow isle one by one to the cockpit for a brief glimpse and photo of the peaks on the horizon.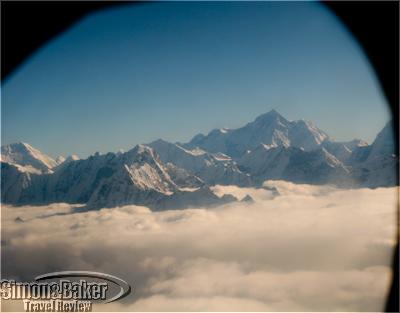 A stunning view of the highest mountains in the world
We did this twice with everyone staring in a mixture of what appeared to be surprise and awe and taking photos with all manner of photographic gear through the aircraft's small and scratched windows. Too soon it was time to return. That brief $179 flight to the Himalayas, I realized later as I headed back to my hotel in the same taxi, had made my trip to Nepal worth all the countless hours of discomfort, flying and changing planes.