Article and photos by Elena del Valle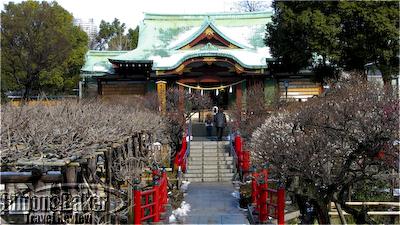 A temple in Tokyo
Earlier this year, before the earthquake hit, I spent a few days in Japan. Although my calendar was overfull it had been years since my last visit to Japan and I couldn't resist a last minute invitation to the Land of the Rising Sun. Finding a desirable seat on the flights nearly caused the trip to fall apart before it even started. In the end I persevered and with the help of a friendly airline agent everything worked out.
A beautiful garden and bridge in Tokyo
On my arrival at Narita International Airport, I cleared the airport formalities with ease and was thrilled the transfer service driver was waiting for me. He spoke English very well, allowing us to chat during the drive to the Hotel Okura Tokyo (2-10-4 Toranomon, Minato-ku, Tokyo 105-0001, + 81 03 3582-0111, http://www.hotelokura.co.jp/tokyo/en/), where I spent the first three nights in the city. The eleven story contemporary hotel located across the street from the United States Embassy, had 801 rooms, modern facilities, nine restaurants, a fitness center with a swimming pool ($70 per day for hotel guests), spa, ATMs friendly to foreign credit cards, WiFi router for rent (a router compatible with my iPad cost 4,725 yen or about $18 a day at the time) and service oriented English speaking staff. My room was contemporary in style and new looking with a glass enclosed shower, a separate bathtub and a Japanese toilet.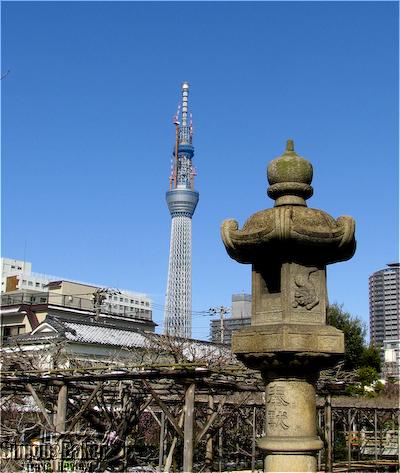 An old versus new contrast with a temple column in the foreground and the Sky Tree in the background
The first day I had breakfast at the Terrace Restaurant, a ground level restaurant facing a snow covered inner courtyard at the hotel. I liked the buffet's Eastern and Western selection and a delicious tea made from fresh herbs. Later during my stay I sampled some of the items sold at the restaurant's shop and was quite pleased with the quality.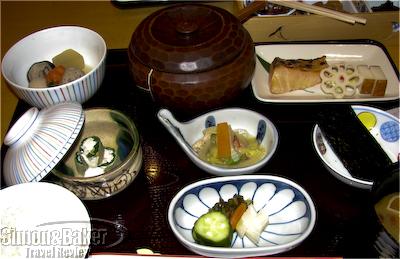 Breakfast at Yamazato restaurant at the Hotel Okura
By far my favorite breakfast in Tokyo was at Yamazato, the hotel's Japanese restaurant. As I descended the stairs to the restaurant a young man at the entrance welcomed me in English and led me to a table. Even though the two times I was there I was the only Westerner I felt welcome. The wait staff spoke a few words of English making it possible for us to communicate basics. The servers brought me a glass of water when they spotted my vitamin pack. One of them offered to serve me beef or pork in case I didn't want fish but what is a Japanese breakfast without fish?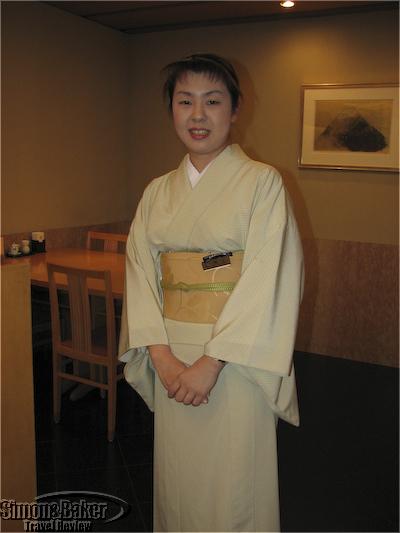 A waitress at Yamazato restaurant at the Hotel Okura
The Japanese breakfast came in a bento box with rice, fish dish (sauteed yellowtail, octopus), hearty and especially flavorful miso soup, pickled vegetables, steamed vegetables, bamboo shoots, mushroom, eggs, and a couple of unidentified dishes. Everything was delicious.
The Tokyo skyline from the Mori Building
In the same way that New York is associated with the Big Apple, Sumiyo, our tour guide, explained, visiting the city of Tokyo can be thought of as exploring an egg. Architecture Guide in Tokyo, a color brochure in English, explained the ways in which Tokyo is like an egg; a handy map on the back pointed to the salient architectural areas of the city. The 284-acre imperial palace appeared in the lower right side of the egg. The inside of the brochure contained a series of descriptions of architectural areas of note within the city based on the egg simile: Omelet-rice for semi-European before 1945, Bacon egg for Western styles before 1945, Atsuyaki tamago Japanese style before 1945, Egg sand for modern style between 1945 and 1975, Boiled egg for plain style between 1976 and 1985, Scrambled egg for post modern style between 1986 and 1995, and Pudding after 1996.
The National Art Center in Tokyo
During the next two days, we would be seeing several neighborhoods within the "egg" of Tokyo, a metropolis of 13 million souls established in 1868 following the collapse of the shogun government. We began across town from our hotel with a visit to Edo Kiriko in Hanashyo (http://www.hanashyo.com), a 60 year old family owned fine cut glass store and workshop. The traditional Japanese home where it was located had such narrow spaces only four or five people could enter at one time. During our visit we watched the owner and his young apprentices engrave and hand polish each colorful piece without using hydrochloric acid at a ground floor workroom, and we saw the finished cut glass pieces on display in a small upper floor showroom. Hanashyo sold Kome-tsunagi, Itokiku-tsunagi and Tama-ichimatsu, three registered proprietary designs. We also visited a second showroom where glass cutting classed were offered. We were invited to experience cutting glass for ourselves for a couple of minutes each. It was fun.
One of my favorite experiences in Japan was a special abbreviated daytime performance of four geishas at Hisago-an restaurant (in Japanese only, http://kaiseki-hisagoan.com/course_hisagoan.html/). The geishas we saw that day normally only perform at the restaurant at night. Three of them danced, one sang briefly and the most senior one played a banjo like instrument. Following the dance they demonstrated one of the games they play while entertaining guests and, with the help of an interpreter, answered questions. In their company we took a rickshaw ride from the restaurant to Senso-ji (http://www.senso-ji.jp/about/index_e.html ), a nearby Buddhist temple, and strolled around the Asakusa area and its well known outdoor shopping arcade next to the temple. It seemed everyone was staring at us until someone explained it was the geishas rare daytime stroll that drew public attention.
One of the geishas who walked with us
From there we drove to Omotesando Ukai-tei (http://www.ukai.co.jp/english/omotesando/index.html), a French influenced restaurant in a shopping mall where we had a Tenderloin Lunch Course, a refined and delicious four-course lunch. During the meal we noticed fine Ercuis French silverware and wood chopsticks, Reidel glassware, and embroidered napkins. We were served Dermotte non vintage Champagne followed by Assorted Appetizers, Roasted Bamboo Shoots, Shellfish Cream Soup, Ukai Beef Tenderloin Pan Fried and Dessert. Although we didn't have a view from our seats the bar area had pretty city views. The restaurant, part of a chain of restaurants and museums, housed an exhibition space with a perfume bottle collection and a dessert lounge with Art Nouveau ceilings and lacquered pillars.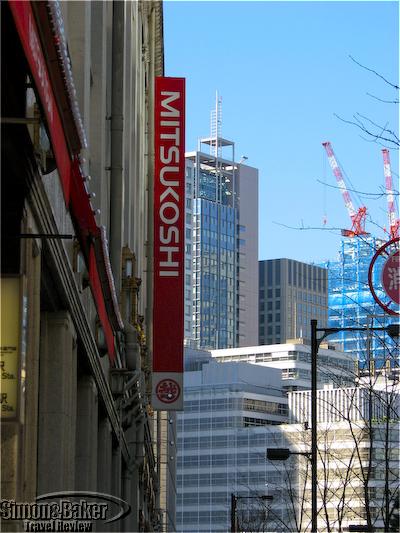 The main location of Mitsukoshi Nihonbahi, one of Tokyo's most exclusive department stores
Following lunch we walked around the Omotesando and Aoyama areas. We visited the Espace Louis Vuitton Tokyo (Louis Vuitton Omotesando Building 7F 5-7-5 Jingumae, Shibuya-ku, Tokyo 150-0001, +81 03 5766 1088, www.espacelouisvuittontokyo.com) which was hosting French artist Xavier Veilhan; and the Ukiyo-e Ota Memorial Museum of Art (http://ukiyoe-ota-muse.jp/index-E.html), housing a collection of Ukiyo-e Japanese woodblock art.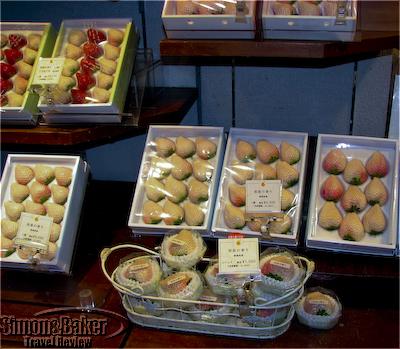 Strawberries for sale in the food hall of the Mitsukoshi Nihonbahi store
The next day after my delightful Japanese breakfast I was ready to face the cold again. This time we visited the main location of Mitsukoshi Nihonbahi store (Nihombashi Muro-machi 1-4-1, Chuo-ku, Tokyo 103-8001, +81 03 3241 3311, http://www.mitsukoshi.co.jp/store/fcs/english/1010/index.html), one of the most exclusive department stores in Tokyo. We arrived just in time to watch the opening ceremony at 10 a.m. during which the store staff welcomed arriving guests with deep bows. My favorite area of the beautiful and well stock multi-story store was the lower level where the food shops were located. It was filled with all types of hard to find eatable items including pastries, seafood, meat, chocolate, vegetable and fruit delicacies. I could have spent at least another hour exploring the food halls and tasting samples.
Another view of the city from the Mori Tower
From there we went to the Mori Tower in Roppongi Hills for an outstanding skyscraper view of Tokyo (http://www.roppongihills.com/tcv/en/ ). That morning we visited Tokyo Midtown, walked by the Mori Art Museum (http://mori.art.museum/eng/index.html) dedicated to promoting "art and life in the 21st century," and the Suntory Museum of Art (http://www.suntory.com/culture-sports/sma/) dedicated to challenging conventional attitudes to the classification of art to reveal its beauty.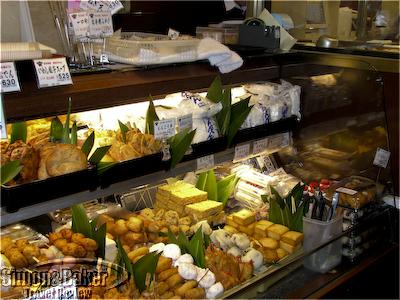 A display at the food hall of the Mitsukoshi Nihonbahi store
Lunch was at Rakutei (+81 3585 3743), a tiny family owned restaurant in Akasaka. Although there was no sign on the building to indicate the existence of a restaurant once inside we were welcomed in Japanese and invited to enter. We sat at a small counter facing an open cooking area. At first it looked like a sushi bar but we soon discovered it was not. An elderly man and his assistant were busy preparing the meal while the man's wife placed dinnerware in front of us and offered us beverages. We had warm sake and a delicious tempura lunch served two bites at a time until we surrendered.
The interior of the National Art Center in Tokyo
After a lightning fast visit to the National Art Center (http://www.nact.jp/english/index.html ), a 14,000 square meter large venue for temporary art exhibitions, we ended the day with a stroll in a Ginza district shopping street. Ginza, meaning place where money is made in Japanese, is one of the most popular and most expensive tourist shopping areas of Tokyo, our tour guide explained.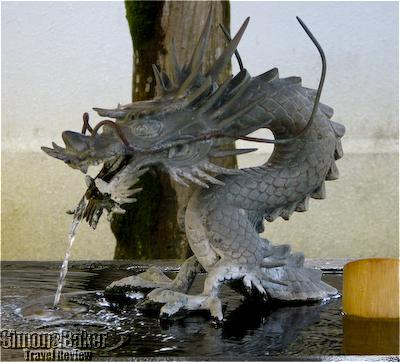 A dragon water fountain in Shuzenji Village
After breakfast the next morning we drove to Shuzenji, a two and a half hour drive from Tokyo, for an overnight stay at Yagyu-no-sho, a traditional Japanese ryokan. By the time we had a tour of the traditional style ryokan, found our rooms and explored the area by the ryokan it was time for dinner and we retreated indoors.
A stone head at the entrance to the Shuzenji Temple
The next day our visit to a local pottery artist's shop was canceled providing an unexpected opportunity to stroll through Shuzenji Village, exploring the shops and visiting the interior of the Shuzenji Temple, a rare treat before our return home.