By Chester Godsy
Photos by Chester Godsy and Joni Johnson-Godsy
Bob Motz of Bald Eagle Safaris
While visiting the Quad Cities we met with naturalist Bob Motz who offers local Bald Eagle Safaris. Bob filled us in on many of the interesting facts about eagles on our drive to an eagle viewing location. He told us he had a number of locations where he would take customers depending on their interests. Our interest on this trip was to get some pictures of eagles and to stay out of the cold weather as much as possible as temperatures were below 0 degrees Fahrenheit.
Eagles roosting
Bob provided us with some top notch spotting scopes that would go from x15 to x45 magnification and a training session on how to use them. When we arrived at the location he had selected we saw, spread across numerous trees, about two dozen eagles. There was a mixture of fully mature eagles (these could be identified by their white heads) and juvenile eagles (under five years of age). We watched the eagles with the spotting scopes and took pictures from the warmth of Bob's car. We were between 25 and 75 yards from the eagles at all times.
Eagle in flight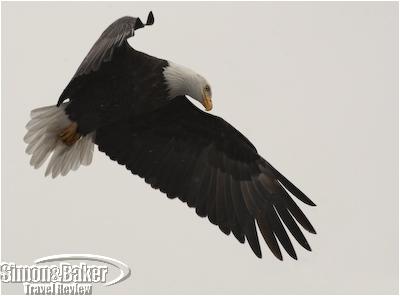 Coming in for a landing
On more than one occasion I had an eagle in full view with a spotting scope where I could clearly see the yellow eye of the eagle blinking. After our time with Bob we were really glad we started our eagle viewing with Bob's Eagle Safaris (Eagle Safaris by Bob Motz, 2535 River Heights Drive, Rock Island, Illinois 61201, +1 (309) 788-8389, eaglemotz@aol.com) because of all we learned about the eagles before setting off to try eagle viewing by ourselves.