By Elena del Valle
Photos by Gary Cox
For years we dined at Lucas Carton, a well known gourmet restaurant, whenever we visited Paris, France. Then one year Alain Senderens, the chef and restaurant owner, converted the restaurant into a bistro; modernized the look and style, changed the menu and reopened under his name, Senderens. We had dined several times at Senderens when we heard that there was a new bar area upstairs that served a limited menu including a set lunch menu.
The main seating area at Bar Le Passage
Twice during a recent winter visit to Paris we had an opportunity to sample the food options at Bar Le Passage. The first time we requested a table upstairs at Bar Le Passage one day in advance. Because the few tables were already reserved we accepted two seats at the bar. Although the bar stools were rather uncomfortable, the room was pleasant, furnished simply with elegant touches, the bar tender was service oriented and spoke some English and, most importantly, our lunch was delicious.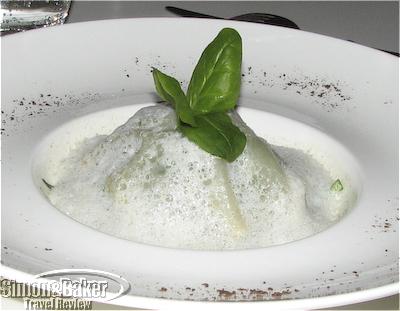 The vanilla lobster
We began with a glass of non vintage Pommery Champagne then ordered one three course set menu (35 euros) which that day was a cold Game Pie, Codfish a La Plancha, and an ice cream and fruit combo as well as a Vanilla lobster (25 euros). An amouse bouche arrived before our order and there was also a plate of bread. For dessert, we recognized and old favorite from the days of Lucas Carton, the Samana chocolate plate (half a portion) with candied cherries (10 euros).
The amouse bouche was soup garnished with pine nuts and herbs
The next time we reserved a table at Bar Le Passage several days in advance. We were running a few minutes late and I called to make sure they would hold our table but I was on hold so long the answering system cut the call. Although we arrived a few minutes late our reservation was still valid. We had two tables to choose from and picked one of the two tables next to the bar itself. We could have chosen to sit at a table in the center of the main seating area of the bar as well.
Pistachio encrusted foie gras
This time we tried the foie gras which was pistachio encrusted and served with stuffed dried figs and a lemon sauce. Once again we ordered the Vanilla lobster and Samaná dessert.
Both meals were tasty and satisfying. The service was attentive and the setting was attractive. We will keep Bar Le Passage at Senderens on our list of options for a quick gourmet bite in the City of Lights, especially if we are in the Place de la Madeleine and its environs. Bar Le Passage, 9, Place de la Madeleine, 75009, telephone +33 1 42 65 56 66, fax +33 1 42 65 06 23, email restaurant@senderens.fr.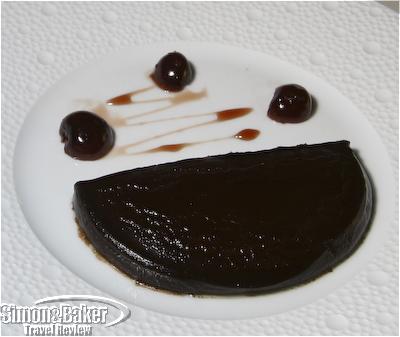 Samaná with candied cherries